Magic-portion of 1% to win
2015 Player preparation and coaches
View(s):
This is the time of arrival and departure of coaches in the Tennis world. Reputed Australian players Lew Hoad, Rod Laver, Roy Emerson and others who dominated the 'World of Tennis' in the fifties and sixties were called the 'Hopman's Boys.'
Harry Hopman who was the Davis Cup captain and coach for Australia left an incredible record in making 'world beaters.' Ever since then, coaches' names were mentioned whenever a player came into prominence. Sweden's late Lennart Bergelin, seven times Swedish champion, coached the legendary Swede, Bjorn Borg for twelve years.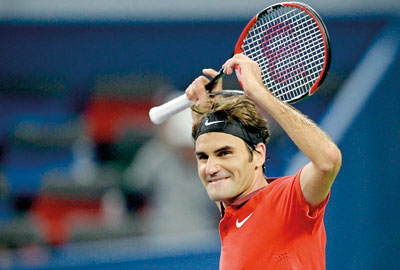 In popularity Bergelin humbly admitted that he did not make Borg, but Borg made him. These are some of the early instances of coach's name coming to prominence in Tennis.
From then on in the prominent international professional circuit, coaches became big news as the players. Most of the big name coaches have made great contributions to Tennis by bringing in talented players who would have otherwise gone unknown. One name many would recollect would be that of American coach, Nick Bolliteri. Most famous player of his lineup was USA's Andre Agassi. The 2015's season's news has started to come in. Coach, is the hot topic now.
Magic portion of 1%
At the moment Simona Halep, who is the world women's number 3, is strolling on the white carpet of snow in her home country Romania enjoying the off-season. She has announced that she will be with a new coach from her own country and with a known name as her 'consultant' in 2015.
She will not be the only one to do this before the 2015 season begins in Australia in December/January. Canadian protégé Eugenie Bouchard has also announced that she will not be with her current coach in 2015.
These surprise me the most. Both these players were not in the top ten in 2013. 2014 is about the best year they have had in rankings and I expected them to keep their coaches. It does not seem to be the case. The reason for change never reaches the public domain easily.What's in a coach? Any player in the top hundred need not be told how to take the racket back, to play a shot. With certainty it could also be said that these players have well over 90% of the competition requirement.
Roger Federer had a stellar career without a coach until very recently. After turning 30 years and unable to sustain his form, he employed Australia's Tony Roach as his coach. Now at 33, he is with Sweden's former world's number one Stefan Edberg. These moves have made a difference. Federer, from his 2013 year ending ranking of number seven, is the second best player in 2014.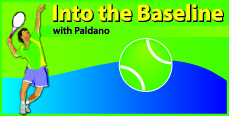 Another big name, Boris Becker is with current world's number one Novak Djokovic. Coaches who have played competition Tennis seem to be able to induce the 'missing magic portion of 1%' that makes the difference into a player. Looking for this correct 1% makes the work of a modern coach, comparable to a man looking for a 'needle in a hay stack.'
It is an expert's job and also this makes coaching good players a risky affair. If the coach selects the wrong area, player's performance will tumble. Then it would be 'operation successful' and the 'patient died' affair. No one wants that to happen.
Uphill only please
Nearly all the coaches of the top ten players today have played their Tennis in the same league as the players they coach. Their experience is their guide to execute the job as a coach to top players now. However, there is a big change here. The Tennis these coaches played is not the Tennis that is being played today. Modern opponents are smarter, more skillful, faster and complete in all winning aspects of the game. All these make the challenge of preparing a player to compete today, a tough task. It is suicidal for the players, if coaches tread the path of 'hit and miss' in their execution of duties.
The most critical challenge for a coach is to see that they do not take the player out of their comfort-zone even by mistake. If the players see that their mind-set is different to that of the coach, conflict develops and performance drops.
A player 'going downhill' is not accepted at all in this business. Often this is the reason behind coach's departures. Suggesting and guiding players and keeping them in the right mind-set to upgrade their performance are a 'tight rope walk for the coaches without the safety net'. Often I found this to be a 'game of nerves.' Coach's knowledge of the game, understanding the skills, ability to teach and player psychology have to used in the right proportion to make the 'magic-Portion of 1 %' to boost the player performance.
Player's 'grill party'
Players change and when young, the changes are more frequent and extreme too. When this happens, it is the coach who has to go and it cannot be any other way. Players also do not play better if they are over trained and nagged at every move. This goes against the 'open-sport' principle of Tennis. Many players have told me that they are over trained and they enter the match, exhausted. Players must be fresh to face the challenges on and off court.
Regardless how Tennis is seen, the player dependency on their coaches will bring the player's performance down. 'Tennis' is fiercely an individual game. This is too often overlooked by coaches. The moment a player communicates with the coach during a match, a third person is entering the player's space. It divides the player's focus and that brings the performance down in a match. I have never seen Federer having eye contact with his coach Edberg. Too often coach's influence during matches is the reason behind poor performance of players. In the right proportion, a coach's contribution is a 'magic proportion' to win.
A great deal of emphasis is given to a post mortems of matches, between players and coaches. My observation is that this is only good with very good players and only when coaches have good understanding with players. When this is made compulsory after every match, a coach's position gets weak. Too often nothing is achieved by this ritual. Many players dislike this ritual which often turns out to be a players 'grill party'.Episodes of Tennis
Before Australia heralds the opening of the 2015 season, some coaches will leave and new ones will go up the pedestal with the promise of delivering the 'Magic-Portion' to players. Tennis drama always has an episode whether it is the season or not. That is the magic portion Tennis has to its enthusiasts year around.
George Paldano, former international player; Accredited Coach of Germany; National coach; Davis Cup and Federation Cup Coach; ITF and USPTR certified
–gptennis.ceylon@gmail.com