The 'Christmas nip' will bite this year
By Nadia Fazlulhaq
View(s):
For most people the chilly December breeze is a reminder of a joyous festive season ahead, but for 69-year-old Dissanayake it is a cold and joyless night; this homeless man gets soaked in the rain and lies shivering throughout the night while others sleep under warm sheets in their homes.
Dissanayake pleaded for a sheet to protect him from the weeks of cold to come.
"I have been sleeping on the streets of Colombo for many years, but I've never experienced such cold," said the ageing man, originally from Gampola, who has worked for decades in Colombo.
"After I got a job as an assistant in a kitchen and burned myself it is worse because the rain soaks through the dressings covering my wounds."
It is not only Dissanayake who shivers: people are seen clinging to meagre belongings, huddled in corners of Lanka's major cities.
The Meteorology Department's forecast of cold weather in the coming weeks will be gloomy news for many of them.The Department's Deputy Director of Forecasts, S.R. Jayasekera, said this year the weather could turn colder than usual, with winds from both the Northern Hemisphere (north India) as well as from the Bay of Bengal blowing across the country.
"The northern winds will be more dry and cold while the winds from the Bay of Bengal will be moister so there will be a blend of mist as well as dry cold weather," he said. The north-east monsoon rains will intensify after this weekend, making matters worse.
Mr. Jayasekera said the central hills would experience much colder weather than in previous years.
"The hill country will receive winds from both wind flows. At present the minimum temperature in Nuwara Eliya is 130C. During the dawn and at night, the temperature might even drop as low as 50C. There will be heavy mist in Nuwara Eliya, the Horton Plains and the surrounding areas," he said.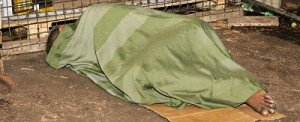 The winds that will reach the Western, Sabaragamuwa and Southern Provinces from the hills will be cold. At present, the temperature in most parts of the country is between 260 and 300C but this will drop to 240C, perhaps even 18-200C in the mornings, and remain thus for the next two months.
This weather is no good news for the homeless, sick and the elderly. There are 3,418 homeless people in the country, according to the Department of Census and Statistics, most of them– (884) – in the Colombo District. Gampaha District has the next highest number of people sleeping on the streets – 398; Kandy, 316; Ratnapura, 248; Anuradhapura, 189 and Galle, 144. In Nuwara Eliya, where the nights will be bitterly cold, there are some 50 homeless people.
Consultant Chest Physician at the National Hospital for Respiratory Diseases (Welisara Chest Hospital) Dr. Bandu Gunasena said the combination of rain and cold weather could aggravate asthma and allergic sinusitis.
Dr. Gunasena said there were widespread cases of cold and flu in these months. "As cold is a mild respiratory illness there is no need of medicines for the first two days, which begins with a sore throat and later with runny nose, congestion, and cough. If fever persists, paracetamol is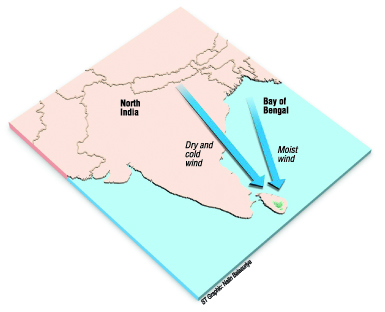 recommended. Rest and adequate warm drinks and food are essential for cold recovery," he said.
The cold weather causes dry skin, said Consultant Dermatologist at the Colombo National Hospital Dr. K. Sathgurunathan. In particular, skin on elbows, face, legs and lips can become dry, he said, recommending moisturising lotions and lip balm for those affected. "Being in air-conditioned spaces is the worst thing as it intensifies the drying process," he said.
Dr. Sathgurunathan recommended drinking plenty of water in order to keep the body hydrated.
The Meteorological Department said that the north, Ampara, Badulla, Hambantota, Moneragala, Batticaloa and Mannar would receive heavy rain in the coming weeks.
Heavy rains last week and early this week led to floods and landslides in several areas, with more than 3,000 families now in temporary shelters. More than 2,800 houses suffered damage from the bad weather conditions last week.
Severe downfalls were experienced in Puttalam, Kinniya in Trincomalee, Ududumbara and Gangawatakoralaya in Kandy District and Hanguranketa in the Nuwara Eliya District. In Jaffna, heavy showers triggered floods in Delft, Karawaddy, Karainagar and Maruthankerny. Floods were also reported in Hambantota.
On Tuesday, the National Building Research Organisation (NBRO) sent warnings to five districts – Kandy, Nuwara Eliya, Kegalle, Badulla and Ratnapura – about possible earthslips and rockfalls in high-risk areas.
There is currently heavy mist in Badulla, Bandarawela and surrounding areas in the hill country and in parts of Nuwara Eliya.