Presidential Election 2015
View(s):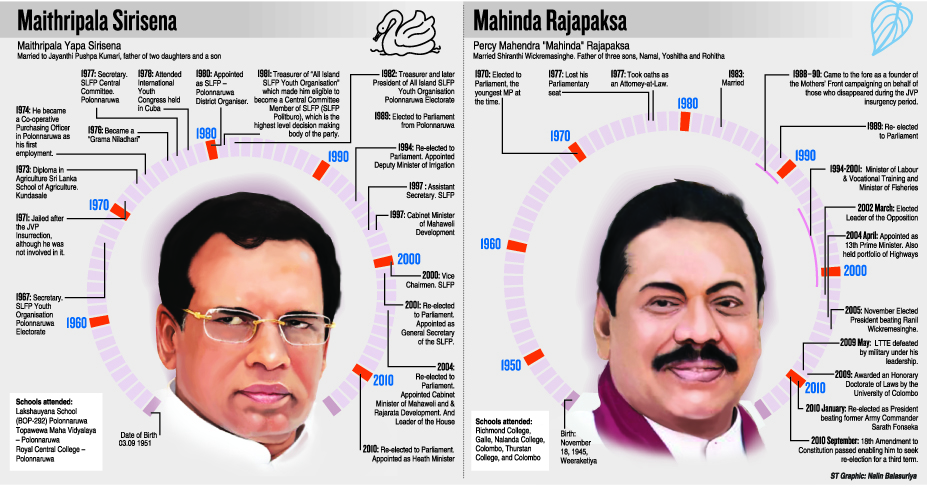 Maithripala Sirisena
"Equality, democracy and people-friendly governance once elected"
The Opposition's Common Candidate for the presidential election Maithripala Sirisena pledged equality, democracy and people-friendly governance, once he is elected to office.
He made the pledge after he signed a Memorandum of Understanding (MoU) at the Viharamahadevi Park open air theatre, where representatives of parties backing his candidacy were present.
"At the moment we are facing several crises. I thank you for having chosen me as the leader of this movement to overcome these problems and make this country an example of good democracy. I will not breach the trust you have kept in me.
"I give you my word that I will do exactly as I have sworn to do. I will work with the people's blessings to achieve what the people desire: fair, democratic and people-friendly governance.
"We will work in the future to buttress the faith people have in us, and to increase the blessings they bestow on us. I declare that I will work to protect all those who have placed their faith in me," he said.
Mr. Sirisena also told a public rally held in his hometown of Polonnaruwa, that there was a need to move away from party politics and work for the good of the country.
"You may recall that we had a number of 'alliances' and 'fronts' in the past in this country. Those political collaborations were formed by political Parties in order to overcome crises the country was confronting, while keeping intact the identity of each party.
"You may recall that, in 2006, the SLFP and the UNP formed an alliance.
"Today, too, we have joined forces in the name of freedom and democracy, to provide permanent solutions to poverty, to make government service impartial by establishing law and order, and to abolish the executive presidency.
"We are going to form a multi-party government; a government with members of all parties in Parliament. We will bring about freedom and democracy, find solutions to the major crises facing us, and consequently, establish democracy and justice. We will bring relief to government servants and public sector workers alike."
Mahinda Rajapaksa
"I will be President for a 3rd term; it's my duty"
President Mahinda Rajapaksa told a large gathering of people in Embilipitiya this week that, he will continue to be the President by the will of the people for a third time, and is confident of remaining in office after the January 8 elections.
He was speaking at the opening ceremony of the Mahajana Pola in Embilipitiya which was built by the Urban Development Authority at a cost of Rs 150 million.
The President stressed that they have been "developing the country and strengthening the economy."
He said: "We are able to grant millions of rupees for development because we are now free of debts incurred when we were fighting terrorism.
"There is no longer need to import rice into the country, because we provided rice farmers with fertiliser, water and other facilities. The (recent) scarcity of rice crop however was due to the droughts.
"We have always worked to stop our money being flown to foreign countries. The hydropower plants we have been building save millions of rupees. It is money thus saved that we have been granting for development. Each electoral seat has been granted Rs 600 million for regional development. The Polonnaruwa district has been granted Rs 1 billion.
"As a country and a nation we have progressed. Up till the '70s the only 'A' grade school offering Science subjects (in the area) was the Weeraketiya Central College (Madhya Maha Vidyala). Laboratories were not available. Today, we have built a thousand Mahindodaya laboratories to facilitate rural children learning Science and Technology.
"Great steps have been taken today towards development. Hambantota is being rebuilt and Colombo is being expanded. A port city of 500 acres is being built. We need the knowledge and the savoir faire to handle these future projects, and that is why we are equipping schools with laboratories such as these.
"We do not want the high-paying jobs of the future to be restricted to a minority. Education must meet high standards. This is also why we have increased the amount granted by the Mahapola Scholarship to university students. They have to master new knowledge. Your children must help our country's progress. We work not for our sake, but for the children; and the children yet to be born: that is our duty
"Let us unite to save our society. I will still be the President come next 8; never fear that. It is my duty."
Profiles in a lost cause: Other candidates running for presidency
Jayantha Kulathunga – Eksath Lanka Maha Sabha Pakshaya
A resident of Grandpass, Colombo, Mr. Kulathunga studied at Kotahena Central College. He subsequently completed his education at the Colombo Open University.
"We want to dismantle the 'CSRF' (Chandrika-Sirisena-Ranil-Fonseka) force at the election. This is our sole motive. And we do not oppose the President," Mr Kulathunga told the Sunday Times
Ven. Battaramulle Seelaratana Thera – Jana Setha Peramuna
Currently a working director at the Mangalagiri Buddhist School, Ven. Seelaratana Thera believes there is greed and love for power in this country, and hopes to change that, while fervently hoping to abolish the executive presidency.
"As a bhikkhu, I have no jealousy nor greed, while it is also our principle not to lie. I hope to lead the people out of the darkness. I am the most suitable person to abolish the executive presidency," he said, adding that all religions have rights in this country, and hopes to uphold those rights.
Duminda Nagamuwa – Frontline Socialist Front
Hailing from Horana, Mr. Nagamuwa is a product of Isipathana College, Colombo. If elected, he hopes to bring about change in the form of governance, and hopes to meet the needs of the people."Both Parties are trying to solve their own problems, rather than address the issues of the people. They are trying to change the people's opinion and increase their votes," he told the Sunday Times.
M.B. Thaminimulla – Okkoma Wasiyo, Okkoma Rajawaru Party
Hailing from the Nuwara Eliya District, Mr. Thaminimulla hopes to bring about a people's system of government.
Thaminimulla has never been active in politics, although he was offered several political positions in the past. His sole intention to contest at elections is to give his political concept of "Okkoma wasiyo, Okkoma Rajawaru," to the people of Sri Lanka.
"In this country, people attain executive power and do their best to hold on to it. I want to change this. Once we get the people's mandate, we will submit a new constitutional concept. The Parliamentary System will be converted and also, all Pradeshiya Sabhas will cease to exist. There will be new institutions established, such as personal committees, neighborhood committees and divisional state councils etc.," Mr. Thaminimulla said.
Sirithunga Jayasuriya – United Socialist Party
Hailing from Colombo, Mr. Jayasuriya is a product of Richmond College, Galle. He is a trade unionist and leader of the United Socialist Party. He started his political career in 1965 in the Lanka Sama Samaja Party, and later joined the Nava Sama Samaja Party. Being involved in politics for almost 50 years, Mr. Jayasuriya hopes to bring a change to the country.
"There have been so many changes of government but nothing has happened. There are still racial discriminations etc. The people need a change. The people are fed up with the Rajapaksa regime," Mr. Jayasuriya said.
"I feel that everyone is looking to get the vote of the majority population. The other ethnicities should be taken into consideration as well. The Tamil leadership for example, has gone from one party to another. But for the past 68 years nothing has happened for the Tamils," he added.
Pani Wijesiriwardena – Socialist Equality Party
A product of Rahula College, Matara and the University of Kelaniya, Mr Wijesiriwardena has engaged in socialist work for almost 30 years. He believes that the whole country is undergoing a grave political crisis and hopes to bring about a revolutionary change to the governance of the country.
"The root cause for this political crisis cannot be solved unless there is a struggle for socialism on a world scale. We are here to replace the capitalist order, and we plan on bringing a revolutionary change to the whole system," Mr .Wijesiriwardena said.
Maulavi Mohamed Mishlar – United Peace Front
A resident of Colombo 12, Mr. Mishlar is a product of Hameed Al Husseini College, Colombo.
"I have worked for seven years to protect the rights of all Muslims in Sri Lanka. Sri Lanka is currently run by a corrupt regime, and I hope to change and safeguard the rights of all the citizens of Sri Lanka," he told the Sunday Times.
Namal Ajith Rajapaksha – Our National Front
A resident of Kelaniya, Mr. Rajapaksha schooled at Carey College, Colombo and Ananda College, Colombo.
A lawyer by profession, Mr. Rajapaksha is also a Human Rights activist. He strongly believes in the protection of human rights and the abolishing of the executive presidency system.
"I do not wish to engage in party politics. But I wish to establish an independent judiciary in the country and uphold the Rule of Law," he said.
Vimal Geeganage – Sri Lanka National Front
Hailing from the Matara District, Mr Geeganage is a product of St Thomas College, Matara.
He was inducted into politics by the late Vijaya Kumaratunga in 1982. As the leader of a third force, Mr Geeganage hopes to extend his support to President Mahinda Rajapaksa at the upcoming election, and meet the needs of the local people in the process."We see that the liberated country cannot be run by anyone other than President Mahinda Rajapaksa, and we hope to continue the peace. We will let the people decide at the upcoming election," he said.
Sundharam Mahendran – Nava Sama Samaja Party
Hailing from the Matara District, Mr Mahendran has been a prominent trade unionist, constantly fighting for the rights of all Sri Lankans. He has also been a constant fighter addressing the issue of disappearances in Sri Lanka.
Mr. Mahendran told the Sunday Times that he is not contesting for election victory; rather, he hopes to support Mr Maithripala Sirisena the Common Opposition Candidate.
A.S.P. Liyanage – Sri Lanka Labour Party
Mr Liyanage received his education at Nalanda College, Colombo.
He is Sri Lanka's High Commissioner to Nigeria and also a businessman. He is the chairman and managing director of the ASP Group, a private real estate group established in 1989. He was a Millennium Development Ambassador to the People's Summit during the G8 in Hokkaido, Japan in 2008, and to the United Nations European headquarters in Geneva in 2007.
He took part in the Sri Lanka Presidential election in 2010 and came third in Colombo.
(More profiles next week)