North in a debt trap
By Namini Wijedasa in the Northern Province
-We are not creating needs only catering to it, says senior finance co. official -End of war sees demand rising for the good things in life
View(s):
Incessant campaigning by finance companies, including door-to-door canvassing, has caused rising debt in the Northern Province amongst people who are only just emerging from a debilitating war, community leaders say.

Newspapers are writing of suicides related to an inability to settle dues, although there has been no scientific research to connect these deaths with indebtedness. Several crop failures caused by drought have severely eroded farmer incomes, making it impossible for many to pay off loans.
"A severe problem is that most of the people are struggling to settle credit," said Father Christy Daniel, an Anglican priest in Kilinochchi. "These loans have been taken at the beginning of life after resettlement. They are now finding it difficult to pay."
An official in a remote corner of Point Pedro said the situation was now serious, with around 60 percent of families (his estimate) in every small village indebted to finance companies. "In September, we complained about this to regional Central Bank officials who attended a seminar organised for local public sector workers," he said, on condition of anonymity. "Unfortunately, most people don't want to make formal complaints because they are afraid they might lose even the little money they have in hand."
"The loans have high interest rates," he continued. "Villagers around here don't have enough money or a steady source of income. They are able to pay for one or two months, then they start piling up debt. So they borrow from many lenders. There is aggressive marketing by finance companies. They go door-to-door."
Ranjini Manivannan's husband died in shelling on March 26, 2009, just weeks before the war's end. She also lost two brothers to the conflict. She has a five-year-old son and ten-year-old daughter and earns Rs. 24,000 from a public sector job. A loan she has taken eats up Rs. 16,000 a month, leaving her with just Rs. 8,000 in hand.
But Ranjini has built a house with the money and her steady income sets her apart from self-employed borrowers who are in dire straits. A World Food Programme (WFP) study titled 'Food Insecurity in the Northern and Eastern Provinces of Sri Lanka' states that the worst areas were the Jaffna, Mullaitivu and Trincomalee districts. It found that 63 to 75 percent of households had taken credit in 2012 and that 12 percent of household incomes went towards debt repayment.
Egged on by the Central Bank, a slew of financial institutions—28 out of 48 registered companies—have set up offices in the North within the past three years. A few even have multiple branches and service centres, all vying for business in a small market. Kilinochchi is densely populated with finance companies in addition to the entire gamut of banks. They occupy prime, roadside property on either side of the A9.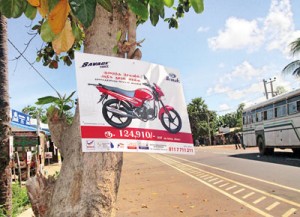 In the Mullaitivu district, some leasing companies have nailed their advertisements onto trees. These can be seen every few hundred yards, touting three-wheelers, tractors and motorcycles to farmers. The race to grab a slice of the pie is still very much on. And it wasn't a large pie to begin with.
"The population is very low in Vavuniya and Kilinochchi," said the manager of a finance company with numerous branches in the North. "In Kilinochchi, there are only about 130,000 people. Of this, the population in the 18-60 age groups is about 60,000." This is the target market for all financial institutions in the area, including banks.
Finance companies maintain that it is unfair to paint them as sharks. They don't create the requirement, said Shammi Jayathilake, Deputy General Manager (Marketing and Product Development) of Commercial Credit and Finance PLC. They cater to it.
"It is natural that we, like others, do campaigns," he said. "It could be door-to-door, street promotions or advertising to attract people and convey the message. The same thing is happening all over the country, not particularly in the North and East. Just as we use these combinations to offer our facilities, the people also must have a requirement. We can't create the requirement."
But community leaders say this isn't always the case. They point out that the Northern population has just emerged from a war that separated them from the rest of the country and, to a large extent, the open market economy.
"I'm not surprised about this because for a long time they lived in a closed economy," said Muttukrishna Sarvananthan, economist and founder of the Point Pedro Institute of Development. "They had nothing to borrow and did basic, subsistence farming. So there was pent up demand. All of a sudden, everything opened up and the North became, more or less, like any other part of the country. People are tempted for things."
Dr. Sarvananthan believes that that the market will correct itself after a period of pain that might involve some suicides and even institutional collapses. "People will realise that they cannot go on like this," he said.
Many finance companies are aware of the high levels of debt in the North and East. One manager, who requested anonymity, said that the phenomenon of multiple loan-taking (mostly microfinance) has been brought to the notice of the Central Bank. He said it was especially bad in the Eastern Province where many borrowers were "invariably in a debt trap".
"The Credit Information Bureau (CRIB) does not register or report microfinance loans so if I go into a particular market, I won't know how many loans a prospective borrower has taken," this manager said. "The Finance Houses Association (FHA) and individual companies have asked CRIB to include smaller loans but they say it would require them to improve their internal mechanisms to include the huge numbers of people who have taken such loans."
The manager said that, while a relatively smaller number of FHA members did microfinance, many small time associations and non-governmental organisations were actively providing such loans. "There are reportedly people committing suicide in the Eastern Province," he claimed. "The situation should be contained as fast as possible or it will go out of hand. It is very serious and everybody knows about it."
But he admitted that further research must be done to determine whether certain suicides were directly linked to debt. He also said that the industry had been expecting new markets to open up in the North after 30 years of war, "The reality is that many people are either elderly or quite young". "Those who can earn a living or get a job abroad have left the areas," he said.
Some finance companies said they had good business in the North while others maintained their branches were making just enough to break even. "During the last one-and-a-half years, the entire area was hit by drought so our repayments were not good," said Shyam Peiris, Assistant General Manager Marketing (Regional Financial Services and Gold Loans) of Alliance Finance Co. PLC. "The company was also affected very badly during that period. But now that the rains have started, we are hoping to come up in all areas."
Meanwhile, repossession of assets (mostly vehicles) is increasing around the country, including in the North. "Non-performing loans went up by two to three percent industry-wide last year," said Nalin Wijekoon, FHA Chairman and Chief Executive Officer of Softlogic Finance PLC. "This year, we have about 7.9 percent non-performing loans."