Flooding brings heartbreak for students sitting O/L
By Chiranthi Senanayake
View(s):
Flooding in five districts has caused severe problems for more than 5000 people, including hapless schoolchildren who face sitting for next week's GCE Ordinary Level examinations without textbooks, uniforms or shoes.
More than 750 families in the Puttalam district were affected when the Periyankulam tank's upper bund was damaged.
An estimated 323 coastal families of the Manthai West and Mannar Divisional Secretariat Divisions belonging to the Mannar district were displaced by floods caused by storm conditions in the deep sea off the coast of Mannar.
They are currently housed in 15 camps in Emil Nagar, Talaimannar in the Mannar region and Thevantitty and Vidathalthivu in Manthai West.
In the Thunukkai Divisional Secretariat Division of the Mullaitivu district, 56 families were evacuated to the Thunukkai government school to escape flooding caused by heavy rains.
Some 230 families in the Kilinochchi district are affected by floods in the Kandanwalai, Poonagnay and Pachchilaipalli areas.
"The situation is not severe enough to move the victims to camps. We are currently monitoring the Iranamadu tank for further flood developments. Those living around the tank could face a flood if the current water level, which is 27 feet, increases to 32 feet," Government Agent Kilinochchi . R Ketheeswaram.
These people live in illegal, makeshift houses built around the Iranamadu tank and have refused to leave despite several warnings about probable floods caused by the tank over-spilling.
Sri Wijayawardaramaya temple has become a temporary refugee camp for 14 families in Palawugama in the Hambantota district.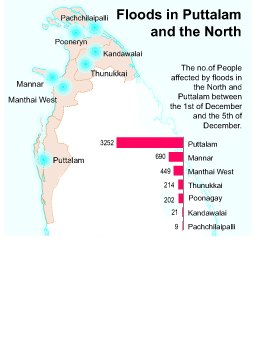 The Ministry of Disaster Management has asked all regional offices to avoid using schools as safety camps given that the GCE Ordinary Level Examinations are scheduled to begin next Tuesday and some schools are examination centres.
The Disaster Management Assistant at the Puttalam Regional Disaster Management Centre, Mr. M.I. Ansifa, said however, that the flood status in the Puttalam region had barred preparation for the O/L exams for many.
Many children who are to sit for the examination next week have lost their notes and textbooks to the waters.
"We were sleeping when water gushed into the house at 1.15am on December 1. I could only salvage my admission for the exam. I don't even have a pair of shoes or a uniform to wear," said G.A. Hiruni Nithya of Tissamaharama in the Hambantota district.