Do you see anything 'common' among these gentlemen and lady?
By Raja Pakshikaya
A coalition of opportunists that want to swim together and sink together
View(s):
The entire nation, it seems, has been caught up in the frenzy of an election which, despite the various Opposition claims of stifling democracy, are being held nineteen to the dozen. And, surprise, surprise, the Opposition has found a 'common' candidate, Maithripala Sirisena — from our own party, the SLFP!
My heart goes out to Sirisena. He is a decent man, which is why he was able to rise through the ranks of our party and become its general secretary and stay in that office for ten years. It speaks for our party too that it gives the common man his due place. He is now the common candidate but my question is, what does he have in common with those who are promoting him?
What does 'Maithri' have in common with Chandrika Kumaratunga? A true son of the soil compared to the daughter of two Prime Ministers? Maithri works hard, is a teetotaler and is not known to shake a leg. Chandrika hardly works, is fond of her vino, and will take any opportunity to swing to the rhythm of the baila. That apart, politically he is a nationalist; she, a federalist.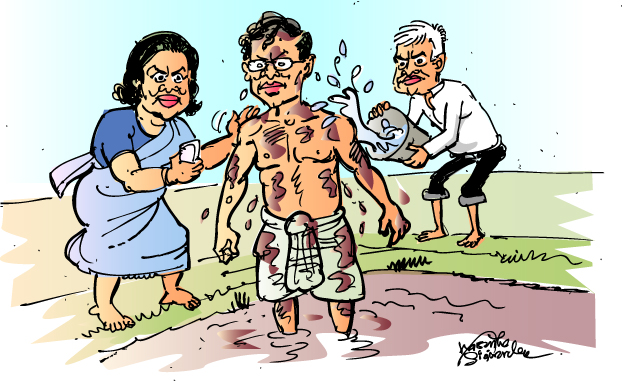 And then, what does 'Maithri' have in common with Ranil Wickremesinghe? After all my years in politics, I have yet to see Ranil in a sarama and I don't think I ever will. The point is, Ranil thinks in English and tries to speak and act in Sinhala, which is why he appears so awkward in public
'Maithri', on the other hand, is a simple man: too simple to outwit Ranil, although he may be thinking he could ride on Ranil's UNP vote bank to the Presidency. He says he will appoint Ranil as his Prime Minister, and I'm told, was asked to give a letter to that effect, but doesn't that sound like some fairy tale which is too good to be true? And, it is.
Let me explain. 'Maithri' wants us to vote for him, so he could become President, strip himself of all the powers that are vested in him, appoint Ranil as his PM and give him all those powers. Then they live happily ever after along with Chandrika Kumaratunga, Sarath Fonseka and Ven. Rathana Thera!
Sri Lankans are gullible, but few people will fall for that, even if they did believe that Chandrika will get rid of the Presidency in six months since she assumed office in 1994. She now trots an excuse of bovine excreta proportions, saying she wanted to do it but her 'package' was rejected. Why on earth she packaged the offering of part of the country to the LTTE with the abolition of the Executive Presidency in the same package only she knows. Now 'Maithri' is talking of an even shorter time frame to do so, even though he doesn't have a simple majority in Parliament, leave alone a two-thirds majority! What tosh do they throw at the electorate.
President Rajapaksa is accused of 'buying' UNPers with Cabinet portfolios to boost his numbers in Parliament. Yes, he did that, to form a strong government that could fight the war to a finish. He could not do so if the fragile numbers in Parliament got defeated. That would have been a victory for the LTTE.
Just imagine what a nightmare it will be for 'Maithri', if — and a big if at that — he gets to choose a cabinet? He will have to accommodate the Wickremesinghes, Kumaratungas, Fonsekas, Ranawakas, and Ranatungas, not to mention the Premadasas, Jayasuriyas, Karunanayakes, Senaratnes and the Samaraweeras. I can't see that Cabinet agreeing on anything, let alone getting any work done.
These gentlemen (and lady) are saying they want to abolish the Executive Presidency. I don't for a moment believe that. Ranil desperately wanted to be President. He contested twice. Chandrika wanted to stay on as President for one more year. Fonseka put everything on the line to get the job.
I would argue that this is a coalition of opportunists. They know that they cannot compete with President Rajapaksa single-handedly. So they get together; they want to swim together and sink together.
Did not the Executive Presidency help us win the war? Would the country have survived as one nation through those years of terrorism, if it was led by a Prime Minister who was a slave to a Parliament infiltrated by Eelamists and Governments kept breaking down like those old CTB buses? While the 'southern' parties were fighting each other, the 'northern' terrorists would have been laughing all the way to a separate state.
Those in this coalition want President Rajapaksa ousted for different reasons. The UNP-after a frustrating two decades in the Opposition-wants power for itself and is seeking a short cut to get there. They have 'out-sourced' their bid to win back power to the SLFP rump. I might concede that a few-Ranawaka maybe and Senaratne perhaps-are acting on principles. Others want revenge; sheer revenge.
Those include Kumaratunga and Fonseka. You can see it in their face, can't you. Kumaratunga was full of it, the ranting at the first press conference she had with 'Maithri'. Hell hath no fury as a woman scorned, they say and she was proof of it. And then, prompting 'Maithri' to say this and say that shows what a puppet on a string he would be to her. Fonseka has a definite grouse because he was jailed and stripped of his decorations.
Chandrika does not miss an opportunity to lambast the President, who I can say as a loyal and long-standing SLFPer, tried to treat her decently. Few would know that when even the Supreme Court debarred her from an official residence as a former President, it was the President who asked his Secretary to release her a house at Independence Avenue. Just last Friday he told editors that he has retained most of her personal staff at President's House even if they may be meeting her in private.
Questions are being asked about my family in politics. Wasn't it Chandrika who said hers was a "family business". President Rajapaksa's family members are all elected by the people — except for 'Gota' who helped us win the 'bloody war'. Then I find that Chandrika, (whom my leader said was his main challenger — not "Maithri') speaks of corruption under the Rajapaksa administration. Isn't that cute for someone who was found guilty by the Supreme Court of giving acres of state land to a family friend with whom she used to stay in the UK, and allowed him to make millions on the deal, better known as the 'Water's Edge' case.
So, my question to the Sri Lankan voter is this: will you opt for the stability that this President has provided-of course, with a few inevitable hiccups on the way — or elect someone who is not the master of his own destiny but is being pulled in different directions by different people with different agendas leading to nothing but chaos?
It is that simple, really. As for my misguided friend Maithripala Sirisena, the saying 'mada soda gathkala goviya rajakamata sudusui' ('wash the mud from the farmer and he is fit to be a king') will not come true for him because, and simply because, when this campaign finishes in a month, there will be so much mud on him, it will take a long time for him to wash it off!
(Next week: Viruddha Paakshikaya responds)