Disorganised planning leaves landslide victims in limbo
By Chathuri Dissanayake
View(s):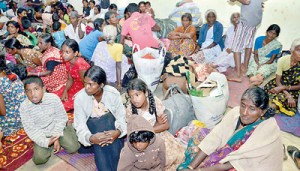 Confusion reigns among the government units tasked with providing transitional housing for families left homeless after the landslide disaster in Meeriyabedde, with the evacuees still camped in makeshift evacuation centres such as schools and temples more than a month after the tragedy.
A plan to build transitional shelters costing Rs. 60,000 each has been drawn up and the Disaster Management Ministry has been holding talks with an NGO on providing the shelters, Disaster Management Minister Mahinda Amaraweera said.
He is not sure, however, when the money will be available to build the shelters.
Mr. Amaraweera says the management of the permanent housing project and handling of funds has been handed over to the Plantation Industries Ministry. But the ministry secretary, Dr. Damitha de Zoysa, says that body's responsibility is limited to identifying suitable land for building.
Then again, Livestock Development Ministry Secretary H.L. Tissera said the identification of land had been carried out by his ministry.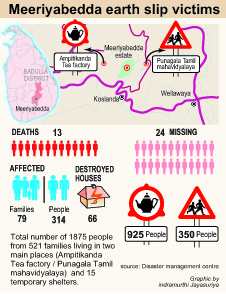 While disputes over fundamental issues dog both the transitional and the permanent housing projects, plans are going ahead for a foundation-laying ceremony on December 17 for the permanent housing project, with Minister A. Thondaman and Defence and Urban Development Ministry Secretary Gotabaya Rajapaksa to be in attendance.
Construction will begin at that time, according to Mr. Tissera.
Mr. Tissera said funding for the project would come through a programme announced in this year's Budget to build 50,000houses for the plantation community.
"The programme, which is under the Urban Development Authority (UDA), was designed to provide 50,000 houses in the plantation sector, and funding has been given to the UDA under this programme," he said.The funding is available only for permanent housing, Minister Amaraweera said, and added that the funding is yet to be released by the Treasury.
O/L mess in school shelter
Close to 100 students are next Tuesday due to sit for their GCE Ordinary Level examination at a school still crammed with 300 people displaced due to landslides.
Poonagala No. 1 Tamil Mahavidyalaya and the Provincial Education authorities have been asking for the displaced people to be relocated, Provincial Education Director R.M.P. Ratnayake said.