Jaffna's youth hit the bottle
'We will face serious threats in society', says official
View(s):
More than 15,000 litres of alcohol are consumed daily in the former war-torn district of Jaffna – a dramatic increase in liquor consumption patterns, statistics from the Excise Department reveal.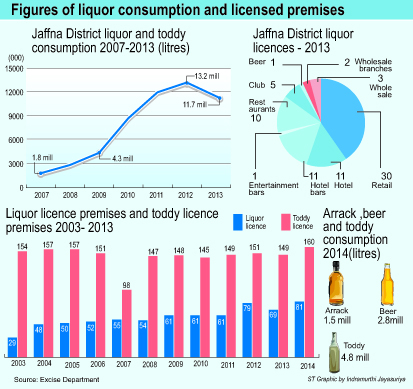 Figures show some 6 million litres of arrack and beer and 5m litres of toddy were consumed last year in Jaffna district, which has a population of under 600,000.
This year, 4.2m litres of beer and arrack were consumed in Jaffna up to September.
The consumption of arrack, which stood at 1m litres in 2002, doubled by 2013, while beerconsumption increased sevenfold to 4m litres and toddy consumption doubled to 5.6m litres in the same period.
Drinking patterns in the province had totally changed: heavy drinking had become a trend among youth, a senior health official based in the north told the Sunday Times.
"If this situation continues we will face serious threats in society," said the official, who asked for anonymity.
He said the easy flow of diaspora money and lack of parental oversight were behind the rise in alcoholism. Also, unemployed youths were at a crossroads and did not know what else to do but engage in this kind of activity for "fun".
The Assistant Commissioner of Excise, Northern Province, Christy Joseph said most of those consuming liquor in Jaffna were youngsters.
"We have found instances where underage children purchase liquor. We have sent undercover officials and made some detections," he said.
Youths are vulnerable to indirect marketing of alcohol. At a recent cricket match between two prominent schools in Jaffna bottles of arrack and cans of beer were distributed by a manufacturing company free of charge to old boys of the schools.
Following the match a tense situation emerged among two groups of drunken youths which resulted in the death of the father of one student.
Concerned authorities are combining forces to try to combat the menace. An excise inspector appointed to every village is collectinginformation.Women's development associations and other NGOs are also sharing information to create a society free of illegal consumption of alcohol.
Commissioner Joseph said his department had 40 inspectors and lacked manpower and transport facilities to function at full efficiency.
"Kuruntham", the only alcohol rehabilitation centre in the province has been able to help 121 individuals to beat addiction since its inception last year.
"We are not admitting anyone here by force. If people want to, we can assist them to give up alcohol and to start a new life. But that number is low," said Dr. T. Kugathasan, Medical Superintendent of Chavakachcheri Hospital.
Officials are also concerned about the availability of low-quality arrack mixed with the other substances.
A resident of Chavakachcheri alleged some shop owners unsealed arrack bottles and mixed the contents with other substances. He said that as a consumer he had encountered this problem and had had to switch to other vendors.
Youths in the north and east of the country are boozing more, bucking the trend in the rest of the country, reports Chathuri Dissanayake (Page 18). Sri Lankans in general drink more alcohol than the rest of the world and consumption of illicit liquor is rising.