Gold for drugs
How Jaffna's austerity is crumbling under addiction
View(s):
A three-wheeler parks outside a boys' school in Jaffna almost every day, seemingly to pick up pupils and take them home.

After school closes, some students enter the vehicle and remain inside for some time.
When they climb out and walk away their pockets are filled with packets of a mix of cannabis and arecanut.
"If you watch them carefully they will have something in their mouths. Their faces are reddened," a vendor near the school told the Sunday Times.
The boys use secret codes to identify the drugs. Maja, one of the popular brands, comes in a plastic bag with Hindi wording and indications that it is smuggled from India. It contains arecanut laced with cannabis.
"Students who consume this stuff appear to be more active than normal and laugh randomly without any reason," said the vendor who has observed this daily occurrence.
He sees them becoming raucous and belligerent, making fun of their schoolmates.
This is how the young generation of Jaffna society is becoming addicted to drugs, with most of the cannabis being smuggled in from India.
The lack of rehabilitation facilities in Jaffna is blocking efforts to break the many addicts – including schoolchildren – of their drug dependency.
"When we visit schools we find students who have become used to this habit at a young age. We have identified them," said Edwin Rojar, Assistant Counsellor, Jaffna district of the National Dangerous Drugs Control Board.
"But," he added, "we do not have a rehabilitation centre in the Northern Province and due to transport and language difficulties they don't want to go to rehab centres in other districts."
The latest detection of cannabis, smuggled from India with the help of fishermen, occurred eight days ago when it was about to be transported to Colombo.
Manjula De Silva, Officer-In-Charge (OIC) of the Illavali police station, on the coast, is witnessing a growing drugs trade.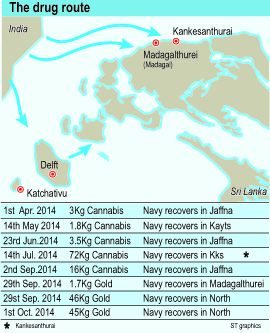 The largest seizure of drugs he has been involved in since taking up duties last month was the discovery of 81kg of cannabis with a street value of Rs. 10.6 million.
"Two suspects aged 19 and 31 were arrested while trying to transport cannabis in a Colombo-registered car.
"The cannabis was brought over from the Indian state of Kerala by fishermen."
The previous month, police had seize a haul of 136kg of cannabis.
Much of the Jaffna coastline is uninhabited, and this helps traffickers because they are able to hide their goods in scrub jungle and transport it when required to selling points, said OIC Silva.
While patrolling the coastline, the Navy has so far this year found more than 110kg of cannabis and 91kg of gold valued at more than Rs. 500 million.
A cross-section of fishermen interviewed by the Sunday Times said gold is being smuggled out of Jaffna in exchange for cannabis from Kerala. The exchange is carried out in mid-ocean.
A Jaffna fishermen speaking anonymously said the traffickers' communication facilities are on the Indian coast at Dhanushkodi.
The transaction date is fixed and communicated from here, and both parties bring their goods to each other at an exact time for the exchange.
"If they can't come together to conclude the deal they make use of the many small sandbanks in the middle of the sea. They hide their bags in them and make identifying marks and leave," the fisherman said.
The boats from both sides try to make contact near the International Maritime Boundary Line line to avoid the risk of being arrested by navy patrols from India and Sri Lanka.
"In case they are caught, the drug traffickers keep the cannabis packed well in waterproof parcels. If there is any danger they put the cannabis bags into a net along with sandbags to add weight to the net," the fisherman added.
"They can pretend to be fishing if anybody approaches to question them.
"What went wrong in the case where eight people including five Indians were arrested in 2011 with heroin was that when they noticed the Navy approaching them they rushed to put the drug packets with the sandbags into the net and drop the net into the water," our informant said.
The sandbags had hit the propeller and been cut open. With the loss of the sand ballast the bags holding drugs had risen to the surface, becoming visible to the navy personnel, who arrested the men.
Jaffna health authorities strongly believe there is a heavy use of drugs among the youth although no statistics are yet unavailable, a senior health official based in the north said.
Because nearly 80 per cent of Jaffna residents have relatives abroad the young generation has access to easy money to satisfy their needs, and a market is readily available for them, the official said.
The Deputy Inspector General of Police (Jaffna), K.S.B. Roshan Dias said nearly 5 per cent of the local population was addicted to drugs.
He indicated that the more widespread threat came from alcohol as many Jaffna citizens had become heavy drinkers.
It is true that the smuggling of cannabis is going on in the region but the usage and trade of drugs is of low intensity, DIG Dias said.
There have been many seizures on drugs this year by the Navy but the detections could be just the tip of the iceberg. Successes include:
-September 29: 1.73kg of gold worth Rs. 8.5 million found hidden inside a fibreglass dinghy on the beach at Madagal
- September 2: 16kg of cannabis (Kerala ganja) found concealed in scrub in Madagal
- July 14: three locals from Delft island taken into custody along with 72kg of cannabis
- June 23: 3.5kg of cannabis seized in Madagal
- May 14: 1.8kg of cannabis found at Velani in Kayts
- April 1: two people in Jaffna arrested in possession of 3kg of cannabis
- On two separate occasions 46kg of gold with a street value of Rs. 248.5 million were seized in the Madagal area. Two persons were arrested and their boats impounded.
Navy spokesman Commander Kosala Warnakulasuriya said there was no need to strengthen security measures as there were sufficient Navy patrols in operation.