Where do we go now for a foreign coach?
By Subhani Hassimdeen – former national football captain and national coach
View(s):
While our National Cricket team has a habit of winning matches and go up in the world rankings, our National football team has got used to lose matches and go down in the rankings. Somewhere in 1995 we were in the 126th position but now dropped to the 178th position.
After spending a colossal sum of money to get down the Brazilian coach our National team got hammered by the Maldives by ten goals to nil at the last South Asian Football Federation Tournament held in Nepal.
Recently our National team guided by a Siberian expert toured Seychelles Island which has only a total population of 91680 who are in the 180th position in world rankings. They beat us 3- 1.
It is ridiculous to watch our present national team coached by the Siberian assisted by three local coaches and headed by a local soccer specialist, struggling to beat an unknown, unrated weak opponent. Definitely something is wrong somewhere. In fact, a big sum of money spent on the Siberian coach too has become an utter waste of funds. In the past some of our local coaches did a fantastic job without receiving any remuneration purely with a patriotic feeling and for the love of the game. What is happening now? The soccer loving crowd of this country is positively taken for a ride. Don't forget our spectators have witnessed quality football in the past including those in the South, North, Central and East of this country. Whom are they trying to hoodwink?
Looking back we find that the late Neville Abeygunawardena was able to train our National squad for only a few weeks to beat the strong Pakistan outfit by 3-0. Lawrence Fernando, within three weeks nourished and trained the national squad to produce an unbeaten champion team at the Southern Quadrangular tournament. V. Nadarajah was able to train our National team only for two weeks to beat the professional side Southampton FC – England. Edward Wickremasuriya in a matter of six months trained the national squad to beat Thailand which was at that time considered to be within Asia's first ten top soccer nations.
I had the privilege of handling the under 19 National youth team that beat Bangladesh – the champions at that time. We also held Tajikistan to a draw – a team of the breakaway Russia at that time who had played football among the European nations. At the SAFF tournament I coached our Senior National team and held the strong Maldivian outfit to a draw. Some of those quality players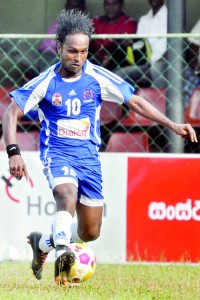 whom I produced then in the calibre of Kasun Chama, E.B. Channa, Mohammed Issadeen and M. Aligar to name a few who are still playing first division soccer in our country.
I strongly believe, though Sri Lanka is a small country we are blessed with talented players and coaches either to be on par or better than most of the other Asian countries. Unfortunately due to unknown reasons these players and coaches are deprived of rendering their valuable service to the country.
The game has suffered immeasurably at the hands of officials who are ignorant of the sport. Who interviewed and appointed such foreign coaches such as the Siberian coach when there are better local coaches who could do a better job.
It is a pity for all those who have played the game at national level and, for thousands of fans and supporters of the common man's sport to see this great national sport which has a history of over 135 years being humiliated and exposed in this manner.Having failed with the Brazilian experts and now by the Siberian, where do you intend to go next? It is simple mathematics – draw and implement a sensible plan and a programme from the grass-root level. Help the schools in the island produce quality players (like In cricket) before you think of hiring foreign coaches. There is no other solution for this pathetic situation.
No doubt finances are very important for the development of the game. However monies freely received and improperly used cannot develop the sport or improve the standards. Minister of Sports Mahindananda Aluthgamage was correct when he said that administrators, coaches and players going on sports pilgrimages disgrace our country. Well! Stay at home and do your home work properly before you leave our soil. This is indeed will be a great favour you could do to our motherland and football.
One need not possess a Socrates' brain to realize that we have truly stagnated at international level. The greatest drawback for the growth of football as a national sport in Sri Lanka and as a serious contender in the Asia circuit, is the absence of a meaningful collegiate football promotional programme. As mentioned one need not have a super natural brain to understand the logic behind the arguments, yet the Controlling Body itself has not implemented the least emphasis in this aspect.
It is sad and disappointing to observe, that both school and club teams lack basic skills in football , such as shooting , passing , ball controlling and heading. With these type of players who are not taught their basic skills and they are also ill-nourished. It is not surprising even the Brazilian or Siberian coaches have failed to produced fruitful results in international matches.
No sport could ever blossom to national or international standards unless the proper nurseries are formed. Players do not fall from the skies nor do they come out of a factory machine. They are actually produced. Players have to be taught basic skills at a tender age and tactics instilled in their formative years, that too by knowledgeable coaches. Here the Controlling Body must identify the correct men to handle the youth players, not to assign every Dick, Tom and Harry who could not kick a ball properly and obtained licence to coach. Licence and Certificates are the cheapest commodity available in the country.
There are other major reasons as well for the downfall of our soccer standard which I would like to briefly elaborate.
- Top position as chairman or Director is held by a person in the Controlling Body without the basic educational qualification and technical knowledge of the sport. Also those who have not played football at a higher level either at school or club.
- Prominent football grounds in the Capital City (which held the lions share in promoting the sport) by the successive governments for other develop purposes without substituting suitable playing grounds to conduct major tournaments and the national teams to train properly before they participate in international tournaments.
- Neglecting football fields and parks all over the island by the local authorities. For example, the Colombo Municipal council which is blessed with fifteen such playgrounds in the Capital City which are totally neglected.
- Schools Football Association which is the controlling body have miserably failed to focus on improving the standards of football from the grass root level.
- The Controlling Body has failed to concentrate and work cordially with the Ministry of Education and Schools Football Association.
- Most of the football leagues affiliated to the Controlling Body are mere paper leagues. Some are inactive and few virtually dead
- The Controlling Body organising stero – type tournaments to hoodwink the soccer loving crowd and the Sports Ministry with the financial support received from the sponsors, without introducing a proper plan and programme to develop and promote football from the grass root level via Schools and leagues.
When all these are taking place, the countries like Japan, South Korea, Iran, Iraq Saudi Arabia and Kuwait who were either par with us or little better during the early 1970s, entered the world football cup final qualifying rounds while we are struggling to beat our immediate neighbours in the SAARC region.
The Controlling Body itself should both by precept and example organise and conduct a limited quantity of national tournaments within a specified period. This should stand as an example to its affiliates to conduct and complete their domestic tournaments on time. The Controlling Body should as a rule , invite at least three Asian National Football Teams annually to our country , so that for all purpose we could gauge our own standards and also offer to our people an opportunity to see the standard and the progress made by the other countries.
It is sad and disappointing to note with the incumbent President of the FFSL occupying the top seat for nearly one and half years , with funds pouring from the World Controlling Body and through other sources in millions has failed to make head way technically or organisationally. No proper plan and programme implemented sensibly and systematically to improve the playing standard of the game or its promotion as a truly national sport. However thanks to Dialog and Cargills for sponsoring the Premier League Club tournament and the under 19 school competition to keep football alive in the country.
It is very unfortunate the Sports Ministry of successive Governments did nothing to correct this anomaly.
If I am not raising a hornets' nest, I sincerely suggest that people with wisdom and knowledge be invited to carry on from this point. There are quite a number of men who posses both technical and administrative competence in our country and they alone can help us to usher in a new football era
The Hon. Minister of Sports this is over to you once again.