S. Thomas' in easy 61 – 38 win over Trinity
Trinity versus STC Cager
View(s):
S. Thomas' College, Mount Lavinia posted an easy 61 to 38 point win over Trinity in their annual basketball fixture to win the Wing Commander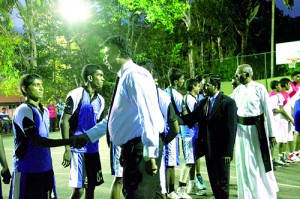 Eksith Peiris Memorial trophy at Mount Lavinia last Saturday.
At the end of the first quarter the Thomian's held a slim 11 to 10 point lead and at half time it was 20 to 16 in their favour. At the end of the third quarter S. Thomas' were still ahead with 46 to Trinity's 28 and when the final whistle was blown S. Thomas' had won the game comfortably with 61 points to Trinity's 38.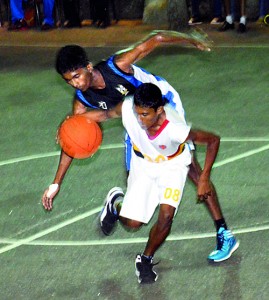 Although Trinity had four six footers in Rahul Karunathilaka, Achintha Bambaranda and Isuru Weeraratne (power forwards) and Lemuel Chandrakumar (forward) doing yeoman service for them and the Thomian's had only three in Ashan Goonasinghe (shooting guard), Adrian Gunawardena (power forward) and Kosala Wijewardena (centre).
However, the home side cagers out sped the visitors over the court and their passing and dribbling was far superior to the visitors.
Of the special awards that were up for grabs, Dion Ferdinandesz and Mathew Senn both of S. Thomas' were awarded the best defensive and most valuable awards, while Lalitha Heenagama the captain was the best offensive player.
For S. Thomas' the pick of the shooters were, Adrian Gunawardena 11 points, Ashan Goonsinghe 10 and Dion Ferdinandesz 13.
For Trinity Keshan Selvarajah 11, L. Heenagama 9 and Dinendra Dhanapala 8 were the best shooters.
- (BM)
Pix by Susantha Liyanawatte.