The butterfly life cycle
View(s):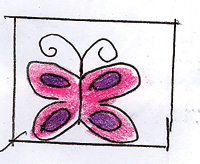 Among insects of the world there is a very  beautiful insect named the  butterfly. It comes with many colours like blue, black, yellow, red, etc.
The butterfly begins from eggs, then the egg breaks and becomes a caterpillar. Caterpillars eat leaves and in a few days the caterpillar makes a cocoon. Then it stays there for a few days. Then out comes the pretty butterfly. Butterflies drink nectar from flowers.
Nethmi Goonasekara (9 years)
Girls' High School, Kandy