Hoppy's Home
By Manoshi de Silva
View(s):
Hoppy the frog swam around the little pond he lived in. Then he hopped on to a lily-pad and sat there looking bored. "What's wrong Hoppy? Why are you looking so down?" asked his friend, the little Guppy. "I am sick of living here!" replied Hoppy. "It's always the same. Nothing exciting ever happens in here!" "But this is your home!" said the Guppy. "Yes, but I am bored staying in here. Maybe it's time I found myself a new home!" said Hoppy. "But we've got all we need right here. This is a very nice pond and I would never want to leave here!" the Guppy said. "Fish can't travel out of water, but frogs can! There is no reason why I should stay here when I can hop about and find myself a new home!" Hoppy thought to himself.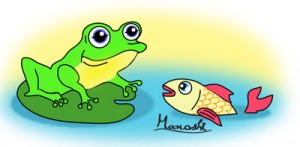 Hoppy looked around. The water was nice and blue. There were beautiful water lilies. He had friends here. But he wanted to experience something new. So he made up his mind and said, "Goodbye!" to the little Guppy and all his other friends who lived in the pond. "I am off to find myself a new home. But don't worry, I will drop-by whenever I can to see you all!" he said and hopped away.
Hoppy kept on hopping through the forest in search of a new home. Finally he couldn't believe his eyes when he saw a big stream with crystal clear water and hundreds of water-lilies of different colours. "How big this place is!" he thought happily. "There must be so much to discover. I'll know I'll never be bored in here!"
So with a splash, he jumped into his new found home and swam about happily. While swimming, he saw sticks sticking in the water. There were so many of them. "What are these?" he wondered going near a pair of them. Just then, down came a beak — a long one. These were no sticks! These were the legs of storks, dozens of them. They tried to catch Hoppy with their long beaks. Thanks to his swimming skills, Hoppy managed to swim away and then jump out of the stream. "This is not a safe place to live!" he said hopping away. "I'll find myself a smaller pond, where there are no storks!"
Hoppy hopped for a while till he saw a pond smaller than the stream but much bigger than where he lived before. He checked to see if there were storks but the pond was small and the storks were not interested in landing there. "This is an ideal home for me!" he said and jumped into the water.
He swam forward and saw a big fish. "I should introduce myself to my new neighbour," he thought and swam towards the fish. But the fish opened his gaping mouth and started chasing after Hoppy. Hoppy knew what the fish was planning to do. Before the fish could gobble him, he darted the other way. He managed to get away from the fish because he was a good swimmer. But the fish was searching for him. He looked hungry and had a huge mouth, big enough to swallow a frog.
"No wonder there are no frogs in this pond!" thought Hoppy and hurriedly got out of the pond and hopped away. "Big ponds have big animals living in them. It's not safe to live in such places," he thought to himself. "I should find a smaller pond!"
So Hoppy hopped and hopped for a long time and finally saw a little pond at a distance. He looked around and realized that it was too small for storks or big fish. So he jumped in. "This will be my home!" he said and started to swim. The little pond was muddy and murky. He could hardly see where he was going. It also had lots of weeds and Hoppy kept on getting tangled in them. There was hardly any space to swim and there was nothing much to see. He jumped out of the muddy water and started hopping away.
"I need to find a nice little place," he thought to himself. "It shouldn't be too big and it should be nice and clean!" He hopped and hopped for a long time and still couldn't find himself a home. Finally he was beginning to get very tired.  "Splash!" Hoppy stopped and listened. That was the sound of water. He peeped through the grass and saw a nice little pond. It was not too big nor was it too small. It had no water-birds.
The water was nice and clear. There were beautiful flowers floating on the surface. "This looks good. But first, I must check!" he thought. So he swam about and felt very happy. Everything was just the way he wanted. "Finally I found myself a home!" shouted Hoppy. "Hello Hoppy!" someone called him by his name. Hoppy turned around in surprise and was even more surprised to see his friend the little Guppy. "How did you get here?" Hoppy asked widening his big eyes. "I was always here!" replied the Guppy, "You are the one who went away in search of a new home!"
Hoppy stared at him in disbelief. "So am I back to where I started from? After all that searching, it looks like I'm back at my old home!" he said. "Well, I am glad you are back!" said the Guppy. "So am I!" replied Hoppy. "Even after all that searching, I never found a better place than here! I never thought I'd appreciate this place so much. You know what little Guppy, I will never leave this place again!" Hoppy told the little Guppy with a big grin.