Riverside retreat away from the mainstream
In his series on Unusual Hotels, Royston Ellis says he has found the perfect option
View(s):
If you want to stay somewhere different from the usual mainstream, five-star, package, boutique or backpacker hotel, where can you go? Sri Lanka is blessed with so many unusual properties with a warm personality offering nifty accommodation, it's hard to choose. However, at last, I think I've found an ideal option: it's the perfect retreat.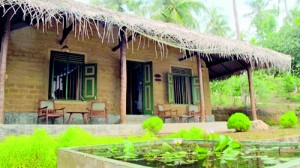 Kadolana Eco Village has a grand name but it is a simple and unpretentious place. Just two air-conditioned individual cottages and four private "eco chalets" together with reception and restaurant pavilions and a swimming pool set in a garden on a hillock above the Madu Ganga. It's not actually a village and the "eco" image is not overwhelming but nevertheless local materials were used in construction and solar energy powers the kitchen.
Although it's in an idyllic and seemingly remote place, it's easy to find. Just after Balapitiya and the 80km marker on the Colombo to Galle coastal road, the well-surfaced Berathuduwa Road leads inland towards the Andadola railway station.
Just before the station, a lane on the right leads up to the gates of Kadolana Eco Village, marked with the Sinhala versions of the letters "K' and "E" in wrought iron. Access is easy too from the new Southern Expressway via the Ambalangoda interchange.
Opened in September 2013, this riverside retreat has already had repeat guests and it is obvious why: it is not only serene, it's also well run and welcoming; no boutique snobbery here. The two-acre area was previously a neglected cinnamon garden. This blissful haven has been created by a Sri Lankan family, and is under the direction of their Australian-educated and much-travelled son.
The entrance pavilion is the reception lobby and serves as an open-sided lounge revealing an impressive vista with a glimpse of a glimmering swimming pool poised above the wide sweep of the river. A path weaves through the garden, past two contemporary cottages and two connecting "eco chalets." These have been built with new clay bricks, made locally, and have roofs thatched with palm leaves (that are not a camouflage for asbestos sheets).
While the a/c cottage rooms are designed and furnished as you would expect if you were staying in a posh hotel, the "eco chalets" have their own character. They are small but each contains a locally made jak-wood four-poster bed, sturdy furniture and an attached bijou bathroom open to the sky. They are all within a few paces of the gorgeous swimming pool which, as it gets dark, twinkles with fibre optic lights rivalling the starlit sky.
Two more "eco chalets" are at a lower level, overlooked by a timber built watch tower, ideal for meditation or for simply relaxing in the balmy shade. The path continues through a wilderness of trees and oddly-shapeddried creepers to the riverbank. There a narrow jetty of boards floating on plastic drums is used for embarking on a boat for a river safari. Hidden in the bushes there is a spa arbour for ayurveda treatment by a skilled therapist arranged by appointment.
With an expansive view of the river, the separate, open-sided restaurant pavilion with a thatched roof has solid tables made locally from wild breadfruit trees. Meals from a modest (and low priced) menu of Sri Lankan or Western dishes,are available (even for non-residents) but only if ordered in advance as nothing comes from a deep freezer.
This contemporary creation of a village retreat has been done with uncomplicated style. While some garden furniture is cubes of concrete, rattan veranda chairs and local-wood sun loungers reflect the retreat's eco credentials. The artwork made of found wood, and vibrant paintings purchased from local artists exhibiting on the Colombo streets, add a smidgen of sophistication.
The ambience is leisurely, the setting spellbinding, the attention personalised but unobtrusive, the food wholesome as everything is freshly prepared, and the rooms are cosily comfortable. Kadolana Eco Village is the kind of place one wants to keep secret (in case it gets spoiled), but it's such a distinctive place one can't help sharing it with others.
Kadolana Eco Village, Andadola, Balapaitiya; tel: 071 216 2229; email: kadolanaecovillage@gmail.com; www.kadolanaecovillage.com has B&B accommodation for two starting at US$90, with a discount for residents of Sri Lanka.