Only when I laugh – a study in silliness
View(s):

A funny thing happened at the theatre the other night. It was a grim scene with the kind of torture to make Torquemada chuckle and send out for another set of thumbscrews. And the audience laughed. Mind you, dears, it was not a comedy or a tragicomedy, or even a farce that some theatre companies smuggle past audiences and censor boards alike, under the guise of satire. No, it was the real thing. A hard-bitten, tough-minded, thought-provoking, play… Utterly and deliciously rotten – right down to its Vichy-water swilling torturers and sadists: Sartre at his nauseating worst. Or being-and-becoming best! You pick…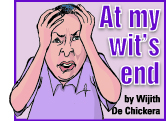 There is no explaining this hilarity. The play started off soberly and sombrely enough, suitably setting the stage for the two hours of existential angst that was to follow with a darkened auditorium to greet the otherwise/ordinarily chattering classes as they traipsed in. The tone was solemn; the tenor edged with tension; the timbre stretched with expectation to the higher octaves of anxiety. So you would be forgiven for assuming that hard-pressed theatregoers expelled some nervous energy with a premature ejaculation of hysterics. Or that a little old lady was frightened out of her wits by all the raw bone-cracking spine-jarring nerve-wracking action on the upper level of a creatively split set. Even that a gaggle of macho men or a bevy of gigglers cut the tense dark house in two with some uncertain cachinnation. Tough luck… No such luck… This was the full Monty of belly laughter: bursting fulsome eructation.
The phenomenon must be investigated! The conspiracy must be exposed if it is indeed a conspiracy against decency or a concatenation of circumstances opposed to the common good or the sensibilities of the nation state! The propaganda machine must be deployed forthwith and employed fruitfully to quell the riot, strike terror into the heart of the humorous anarchists, and sternly admonish if not discipline the mirthful miscreants!
Who laughed? What about? Which ones didn't? Whose expense wasn't spared?
Well, it was a handful of hysterical hyenas, to be sure. Their subject was either the high-jinks of a particular comedic actor more famous for his damp squibs (don't translate that) or the pathetic plight of the poor captive resistance member being tortured so realistically up and centre stage. Not all of the crowd were convinced that this was just the moment for a fit of titters or sniggers. In the limit, some more sensitive members of the audience were left wondering whether it was a mere nervous tic or something deeper and darker in the latent theatregoing post-conflict post-traumatic Sri Lankan psyche that triggered the outburst. Many philistines did not notice nor/neither seemed to care that the music of mirth was an entirely inappropriate counterpoint to the existential tragedy unfolding on the boards.
Which. Reminds. Me. (Don't-mention-the-war!)
There can be several inferences drawn from the funny-peculiar but not so funny ha-ha happening down at the Wendt a fortnight ago.
The first, almost default, explanation is that over three decades of savage violent internecine national conflict has brutalised our society to such an extent that they are inured to the pain and suffering of other human beings. (True/False? You be a judge of such truth/falsity.)
The second sacrificial victim I'd like to offer up here for disembowelling is the inane mentality of some sections of the populist (notice I didn't say popular) theatregoing gangs. They'd laugh if their granny was guttered for gaiters – if it pleased the motley crew they were hanging out with at any given time. (Methinks their mothers protest too much at the harsh judgment on these yahoos and yobbos. Spare me your syrupy sentimentality, dears. Let's if us no ifs and but us no buts!)
Thirdly, the natural – and charitable – explanation is that the humour was in no wise intended to reflect the mood or mindset of the audience in response to play… Rather, the fault, dear Damp Squib, lies in your inspired hamming it up. (Oh, how well nuanced was alias Dominic Kellar's interpretation of a complex character!)
Last, but by no means least, there's the thinking that this is a chink in the Sri Lankan theatregoers' intellectual armour ("they won't get it, they don't get it, they can't get it"). Now, dears, if I swallowed that, I'd as lief jump out of a window and exit the performance prematurely as did Gehan Blok… BTW, another inspired interpretation by design; sadly truncated by Sartre's desire to eliminate the most interesting character (and also character actor, by default) first: the default mode of many existential dramas.
There may be some of you who think this is jumping to a confusion. I'd find that funny if it was not so farcical. Does it hurt? Only when I etc! If only the sound of silence had prevailed in the dark house that dry stone cold night as a sophisticated play/production reminded local audiences that – looking back in anger, bewilderment, consternation, dismay, zeal for an house – we have so very little to laugh about.