New twist to swing dance and burlesque
H- Artistry and Mainstage present Kitten and The Hip
View(s):
H-Artistry – The Global Art of Mixing, is back with another eclectic fusion of art in all its forms. On March 1 in partnership with Mainstage, the H- Artistry event will present different genres of electronic and acoustic music, fashion photography, dance and live art – in a first of its kind event.
H- Artistry aims to create evocative performances, to foster rich dialogue in the arts. Park St. Mews and the Stables will be transformed through the Global Art of Mixing into a spectacular setting, an eclectic playground for the senses.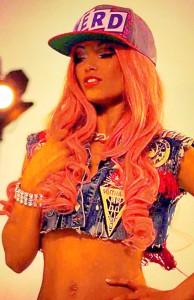 The main performances include renowned Electro Swing artists Kitten and The Hip. This duo, produced by HedKandi Records, fuse the music of the 1920s to 1940s, (swing, jazz, big band) with electro, drum'n'bass, house, dubstep, hip-hop in a theatrical performance. Kitten and the Hip have headlined at a number of international festivals, including Bestival, Beatherder, Boomtown, Wilderness, Secret Garden Party and Glade. They have also toured globally with sold out concerts in Paris, Odessa, Moscow, Kiev, St Petersburg, Luxembourg, Amsterdam and Madrid.
Electro-swing is the latest craze to hit the clubs and festivals and is also connected with a revival of interest in swing dance the popularity of burlesque. Style icons such as Dita Von Teese and television shows like Boardwalk Empire or films of the period like The Great Gatsby have all championed the resurgence in an appreciation of vintage fashion and culture in mainstream society.
The impressive line-up also features popular DJs Tim and Wendell who will add to the electric atmosphere. Wendell's connection with music started in 83', when he hooked up with a schoolmate to drop tunes at private parties and since then it has been an endless stream of gigs. He has played at almost every club in the country.
Over the past decade Sri Lankan party-goers have experienced a dance revolution and throughout each progression Tim has been an influential factor. Today Tim is considered one of Colombo's leading DJ's and event coordinators, a reputation earned over a career spanning 20 years.
Unique and unexpected dance performances throughout the night and a one of a kind live street art installation by Asia are other highlights. Working in London, between 1989 and 2003, Asia's work helped to elevate the reputation of graffiti as an art form. Now based in Sri Lanka, Asia – artist, designer and poet, has a particular interest in the elements which have gone into the building up of the traditions of Ceylonese arts and crafts.
Celebrity photographer Sandun de Silva will incorporate his take on fashion reportage in the event.
With successful, sold-out events like High on Heels and Julian Marley behind them, H- Artistry and Mainstage promise that this show will be no exception.