Letters
View(s):

Ideas for smoother traffic flow on Galle Road and Duplication Road

Construction work is being carried out on both sides of Galle Road and Duplication Road, causing much inconvenience to road users. Let's bear with it for the sake of development.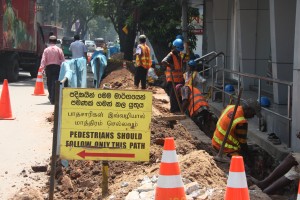 It is said the World Bank has released a large sum of money for improvement of the two roads to enable a smoother flow of traffic.
Some time ago I wrote on the subject of smoother flow of traffic in and out of Colombo.
I believe that the Marine Drive should be a four-lane one-way to Colombo from Dehiwala while Duplication Road should be a four-lane one-way from Kollupitiya to Dehiwala. Galle Road should be made two-way all the way for buses, heavy vehicles, three wheelers, motorcycles. Other vehicles could travel either way if they wish to on Galle Road.
If this system is implemented, about 70 per cent of the travelling people who use buses and three wheelers will not be inconvenienced. They do not have to walk some 200 metres between Galle Rd and Duplication Rd to board buses.
Travel on Marine Drive is fast because buses do not ply on it. Travel on Duplication Rd is slow as buses, three-wheelers, motorcycles crisscross all over the road and stop at designated and undesignated places. Buses, three-wheelers, motorcycles use about 50 per cent of road space on Duplication Road and most drivers have no road discipline.
Parking on Marine Drive should not be allowed between 6.30 a.m. and 9.30 a.m. and on Duplication Rd between 4.30 p.m. and 7.30 p.m.
It will not cost much to have a centre divider reintroduced on Galle Rd from Bambalapitiya to Kollupitiya and change the colour lights now facing south to face north from Kollupitiya to Bambalapitiya
The Traffic Police can run a trial for a few days as done most of the time when One Way systems are introduced. A remarkable smooth flow of traffic will be observed if this suggestion is implemented
Tissa Jayaweera
Frequent driver on Galle Road and Duplication Road
Dual citizenship on or off?
It has been almost three years since the process of granting dual citizenship was stalled probably to make it look better. Since then a few articles have appeared here and there. In January this year, there was an article which said that within a few days or weeks the process would be resumed.
Can someone in authority shed some light on this matter and let the public know where it stands now?
Dunston H.
Via email
Hassle for senior citizens
There is an anomaly with regard to utility bill payments at state banks.
In the People's Bank, payments to the Ceylon Electricity Board are accepted free of charge but a commission is charged for Water Board bill payments. However, in the Bank of Ceylon, Water Board bills are accepted free of charge but a commission is charged on CEB bills.
If anyone wants to avoid the commission, they have to stand in two separate queues at these two state banks, wasting at least 45 minutes in each bank.
Often, senior citizens are at the receiving end as in many households, they undertake to pay the bills.
We appeal to the CEB and the Water Board to look into this matter.
Senior Citizen, Mirihana