CANSA and SLPI workshop on climate change and development journalism
View(s):

The Climate Action Network South Asia (CANSA) in collaboration with the Sri Lanka Press Institute conducted a Workshop on Climate Change and Development Journalism for local journalists on Monday, February 10, at the Sri Lanka Press Institute (SLPI), Colombo 5 that highlighted the energy situation in Sri Lanka, the impact of climate change on the tea industry and how capacity needs to be built by different stakeholders.

Speakers included Energy Forum Director and Ministry of Technology and Research Adviser Asoka Abeygunawardana, and Janathakshan Board Member and National Expert Committee on Adaptation member Ranga Pallawala.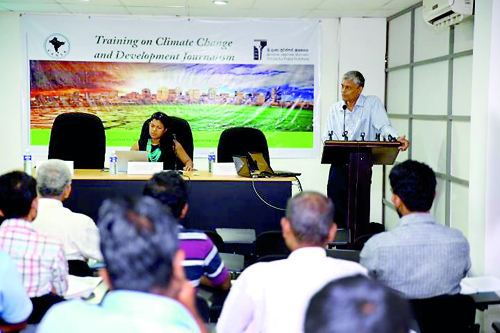 SLPI, Director Media Resource Centre Kumar Lopez emphasised the role played by journalists towards the dissemination of information in his opening address. "This workshop will be the first of many we have organised as part of our partnership with CANSA for 2014. As an institute that trains and produces journalists and advocates for best practices in journalism, we intend to use these workshops to build awareness and the capacity of our journalists to become effective communicators," said Lopez.
Speaking on Sri Lanka's energy future was Energy Forum Director Asoka Abeygunawardana. "Sri Lanka's energy mix by 2015 will be 34% dependent on coal, 32% on oil followed by large hydros and non-conventional energy and will only continue to increase. It has been projected that by 2032, the country will be nearly 80% dependent on coal. Unless we have stronger policy frameworks, remove fossil fuel subsidies and develop long term lending schemes for renewable energy sources, the country's energy future looks bleak," he said.
Speaking on the tea industry and the impact caused by climate change was Janathakshan, Member of the Board of Directors Ranga Pallawala.
"Tea is not only one of the key export crops in Sri Lanka, but nearly 70% of tea production is driven by 60% of tea smallholders. The impact of climate change will result in a multitude of environmental, social, cultural and economic issues the country will face at both macro and micro levels," said Mr. Pallawala.
CANSA Outreach and Advocacy Co-ordinator Vositha Wijenayake who facilitated the workshop spoke on how capacity needs to be built by different stakeholders and CANSA's role towards battling climate change in the South Asian region.
"When addressing development in a country, we need to think of emissions that we make and what their impacts are going to be. Climate change has become a key issue to the global population and mostly to regions such as South Asia where there is a large portion of the world's poor and the vulnerable. As a regional organisation, CANSA has the objective of advocating for policies that focus on sustainable and equitable development," said Wijenayake.
The Sri Lanka Press Institute (SLPI) has established itself as the leading media development institute in Sri Lanka. The Institute offers systematic training for journalists, promotes self-regulation in the print media and advocates for a free and responsible media in Sri Lanka.
CANSA is a coalition of 112 civil society organisations from seven countries of South Asia, demanding that all countries ratify the second commitment period of Kyoto protocol by 2015. CANSA works towards the protection of the global climate in a manner that promotes equity and social justice between peoples, sustainable development of all communities, and protection of the global environment.