appreciations
View(s):

Rohan Medonza

You were too big in life to be ever forgotten

Rohan Bennet Pramuk Medonza had a head start when he joined school in January 1960. His older brother –the debonair Ananda, was already well known as a fine cricketer, and he would keep his peers spellbound with tales of his Aiya's feats with bat and ball. When matches were played on our grounds , the younger Medonza became an authority on the game in progress , and took centre stage during the lunch interval when we all stood close to the boundary line, watching keenly.

It was around this time that our singing teacher the lovely June Boralessa selected some boys to sing live at Radio Ceylon. On the way to the venue, the boys were quite boisterous in the hired CTB bus, and she, and her assistant the petite Doreen Abeywardena were at their wits end. In desperation I guess, June announced that if the boys behaved themselves , they might have the rest of the day off once back in school. No sooner had the bus stopped when we returned to school , Medonza flew out screaming, 'holiday' , and the rest of the pack followed him on to the grounds , despite June's protests. Shortly afterwards , Headmaster J.H.S.Peiris stomped on to the grounds and ordered everyone back to their classrooms, much to the delight of the 'non singers' who were busy doing their lessons, as were the rest of the children in Lower School. Soon it became obvious that chubby Medonza with the prominent nose, was no ordinary little lad and certainly not one to be taken lightly.

The writer received a rugger ball as a birthday gift at age nine, and took it to school. Medonza immediately took charge of the ball and quickly became coach, captain, and selector all in one. For carrying the ball to school every day, I was afforded the privilege of being his scrum half. Whilst this assured me of a game every time we played, the job came with its share of stares, abuse and even threats of bodily harm if passes were delivered even marginally astray of the ample midriff of the budding stand-off. This halves combination survived for several years, and Medonza was soon imitating the feats of greats Maralande and Sahayam with dummies, scissor passes and side steps. He turned out to be a pretty good place kicker as well, though painstakingly slow in placing the ball, often holding up the game for extended periods of time – a perfectionist even then. None dared pull him up, though.

In Middle School , the Junior Science Exhibition held during Old Boys' Week, afforded a plethora of opportunities to exhibitors.Aspiring young scientists and inventors, were given ample time off from school during the day to source material for their exhibits etc .,. Medonza took an unusual interest in the Exhibition that year, and he and his co-exhibitor , were rarely seen in school for most of that week. On the day of the exhibition , he stormed in carrying a cardboard box filled with sand. After a few minutes he had a small light bulb standing upright in the box barely touching the sand, glowing brightly. His partner produced a small sign saying, 'Electricity From Sand'. Our own exhibit was directly opposite and he called me to a side and instructed me to tell any visitors who stopped by that ' the exhibitors would be here soon to give details of their invention'. Neither of them were to be seen thereafter. Many a parent was seen examining this unique invention closely , and walking away looking quite puzzled. The writer had also been asked to 'carefully pull the bulb out ' after the exhibition . The following morning we were busy dismantling our exhibits ,when Medo rushed in to the lab , dug his hand deep into the box full of sand , and with a cheeky grin on his face, pulled out a torch battery and a couple of wires.

Medonza was a good student and breezed through all his exams with minimum effort. He represented school in both Cricket and Rugby. The enigmatic, impeccably dressed , good looking Medonza always created excitement wherever he went. He was fiercely loyal to his classmates and I have been present on a few occasions when he moved in physically, to rescue a friend in a spot of bother. On leaving school, he bagged a Law Degree from the University of Colombo with consummate ease.

I touched base with Rohan in the mid 90's, and the friendship took off all over again. By this time he had wedded the elegant Dushy Aluvihare and little Shareika had also come along . The bustling Medonza we knew had mellowed. The shock of jet black hair had streaks of gray in it and he had transformed into a charismatic, strong, robust, middle-aged man in the prime of his life. He regularly played an intense game of squash, jogged and kept himself in peak physical fitness . He was every bit the caring family man who doted on his little daughter hardly letting her out of his sight.

On trips out of Colombo with families of classmates, Medo would bring his own music setup and CDs . In the evenings he would treat us to his meticulously planned repetoire of music, quite gleefully doubling up as bartender and DJ. He was the ultimate host, going out of his way to keep his guests comfortable and entertained.

Rohan, at this stage was reading and writing prolifically.His uncle, eminent physician Dr. Oliver Medonza was a renowned intellectual whose articles featured regularly in the local press .This inspired Rohan to investigate the various philosophies himself delving deep, putting his incisive mind to good use. However, philosophy notwithstanding , he still had a short fuse, and would flare up occasionally – a trait he blushingly attributed to his Balapitiya ancestry.

To say that Rohan had a way with people would be the ultimate understatement .Walk into any sports club in Colombo with him and waiters and barmen would flock to Medonza Mahatthaya . 'Kohomada kollo' he'd call out to ageing men he had known since his teens. He always had a kind word for staff at his friends' offices and homes. At class get-togethers he would talk to each and every one of his classmates, individually, quite often about some prank they had been up to in school.

Rohan loved his siblings and their spouses dearly, and was proud of his nieces and nephews. He had a special relationship with his Mother, who was probably his closest and most trusted friend. Some Sunday mornings he'd turn up at her door and drive her to Church for morning mass and catch a few hours of much needed sleep in the car until her return.

Rohan joined Dushy and Shareika in the US in 2006, and was in great physical shape until he was diagnosed with a life-threatening ailment in late 2012. He fought his relatively brief illness with unyielding courage to the end. Dushy, Shareika and Ross together with his siblings and their families were steadfastly at his side till the very end. Goodbye my dear friend, we'll surely meet and have a chuckle or two somewhere along the way, on this unending journey of life, and death.

Wimal Heenetigala

Rupa Perera, nee Unantenne

I am who I am, thanks to all that you and thaththi taught me

Ammi, on February 22nd it will be exactly three months since you went ahead of us to be with our Lord Jesus Christ a day after your 86th birthday and the grief is still as fresh as it was that day.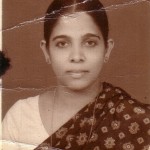 I miss you so much because you were my strength when I had none, but you taught me from the time I was a baby that believing in God Almighty and accepting Jesus Christ as our Lord means that we will be an unbroken family circle together in eternity. This is the comforting thought in the midst of intense grief.
Hailing from a respectable Kandyan family, you were a dutiful daughter and an affectionate sister. Thereafter you chose teaching as your vocation and it is obvious that your students loved you and you them as you cherished the parting gifts they had given you many years ago by way of embroidered linen articles up until even the time of your parting from this earth. Now I have put them into safe keeping as part of your legacy to my children.
You had told me that you were always determined to marry only a Christian gentleman and that you had rejected many proposals that came your way. So you waited till thaththi came into the scene. Both of you had a perfect family life despite the many trials that came your way, and it was perfect not because of riches, but because the foundation of your union was God.
When I was small you and thaththi were parents, but when I became an adult, both of you were my best friends and I am so grateful to you and thaththi for all that you have done for me, for being there for me at all times and the many sacrifices in life you may have gone through for my sake. I am who I am because of both of you. When I think back, I can see that you both did not simply ensure that I had the best of education or opportunities, but carefully nurtured me into becoming who I am today. You also ensured that I grasped the fact that education, money or position in life did not matter so much but what was important was to be a good human being who cared about others and to have God in your life.
The day your grandchildren were born was your happiest day, and I am so grateful that the first words that they spoke was Jesus as taught by you. Even now when they sing "Jesus Loves Me…., they refer it to as ape achchi's song. You also loved your son-in-law as your own son, and there have been many a time when both of you had ganged up against me – always with my best interest in your hearts. There were never son in law – mother-in-law issues in our house.
Ammi amidst all your duties and family obligations you always had time for your neighbours as per the definition of a neighbour that is in the Bible. Your heart always went out to those who had emotional needs especially to those who were experiencing some sort of rejection, and those to whom you had lent your strength are so grateful to you as they have told me. Our house was always open to people and no one who came went without food. I used to joke to thaththi and you saying that our house was like a local Sumithrayo.
Seventeen years ago when thaththi went to be with the Lord, I told you at the hospital that I was angry with God for taking him away so soon, but you told me amidst your tears and your grief to take back my words and said whatever we feel now, God will comfort us and He knows best.
When He took you away three months ago I again asked God "Why", which is human thinking. But Ammi what I want to say is that I am so thankful to God for giving you as my mother and for the 86 years of your life on this earth and also for making the parting peaceful for you even though its suddenness was a shock to us. I believe that you are watching over us with thaththi who would be happy to have you with him now.
Till we meet again in His Kingdom.
Your daughter
Dr. Usha Perera
Rita Perera
You were always there for us at all times
Born in Matara, eldest in the family of four sisters and one brother, the family moved to Kotahena after the premature death of my grandfather at the age of 43 years. My mother attended school at Good Shepherd Convent Kotahena and the friends she made there became friends for life.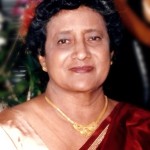 She married my father Doctor Wilfred Perera and the family moved to England for my father's higher studies to become an Obstetrician and Gynaecologist. We were four children- two boys and two girls. After my father completed his studies in Britain the family returned to Sri Lanka in 1960.
My father was stationed in Ratnapura, Badulla , Galle, Kurunegala and finally Kalubowila before beginning a private practice in Colombo in 1972.
Many friends and relatives used to come for the deliveries of their children where ever he was stationed and my mother used to enjoy looking after them. Eventually the family resided in Colombo when my father started his private practice in Colombo. The biggest tragedy that befell the family was the loss of my eldest sister Sadha at the age of 16. I believe this incident was a great emotional drain on the whole family.
My mother was full of life and energy. She was a well organised person. She enjoyed the weekly visit to the family coconut estate where she also grew pineapple, coffee, pepper, ginger etc. She was well read on caring for the cultivations grown at the estates. Ammi was a caring mother, even after we left home after marriage. She was with us through thick and thin. She adored her grandchildren and they too enjoyed and loved to be in her company. Ammi was mischievous at times compared to my father even to the end of her days.Though a diabetic, she loved eating chocolates, cake and ice cream.
Our home in Bambalapitiya Terrace
(known as Bamba Archchi's home by the grandchildren) was an open house to many.
My mother was a director of my father's St.Anne's nursing home at Bambalapitiya and took great care in all the aspects of the preparation of food and décor. She also took an interest in the annual Christmas meetings of the Lions held at our home.
My mother loved and adored my father in their 60 years of marriage. She was no doubt his unpaid secretary , who kept perfect records. Her persistent nature and taking most of the responsibilities of home and family was I believe the key to my father's success as a renowned gynaechologist of his time.
She handled all the entertainment part when my father became President of the Sri Lanka Medical Association (SLMA) and Sri Lanka College of Obstetricians & Gynaecologists (SLCOG).
She was a generous and helpful person especially to those in need. She was also a great listener and had an uncanny ability to solve problems diplomatically and pacify without interference. Even during the long stay in hospital before her death, she inquired about other people's needs and gave instructions on how to help them .
Ammi and Thathi both were very spiritual and very strong Catholics. They never failed to get up early and consecrate the day to the Lord, followed by attending morning mass. Even up to the time she passed away, she never lost the sparkle in her eyes. Their love was so strong, that my father has visited her grave twice a week or more than 100 times for the year.
May she rest in the heavenly abode until we meet again on that beautiful shore. We all love you ammi and miss your joyful presence.
Sidath Putha
Edward Ranabahu
You were my brother, friend and much
more- all rolled into one
My dearest brother,
You were the elder brother of nine in our family. Though we miss you immensely, you will remain in our hearts until our last breath.
You treated your family and the family you were born into as one unit without any difference or partiality. Whenever you went on an outing you would take all of us and we enjoyed being together.
You never used any harsh words on anyone. You were were so active that no one guessed your age. You started working from the day you left school, some days up to more than 12-14 hours a day.
You were my lawyer, accountant, doctor and architect in addition to being my brother and good friend.
Whenever I faced a problem, you would give me a clear answer, more than I could expect from any professional. You had an all-round knowledge in addition to a powerful and charming personality.
You were always careful of the food you ate and were so health conscious that I find it hard to understand how you fell ill. But when you were diagnosed with a terminal illness, your wife and children looked after you lovingly and attended to all your needs until the very last.
We never thought you would take your last journey so soon. May your soul attain peace in Nibbana.
Kusum Buddadasa
NIMAL VISWAKULA
Loved by all he gave generously to those in need
He was a gentleman par excellence. His friends affectionately called him the "gentle giant". Huge in size but gentle at heart – that was my brother-in-law Nimal Viswakula, who touched hearts in many special ways.
We cannot believe that six months have already passed since you left us on August 10, 2013, but the days have not gone by without us thinking of you.
Nimal received his primary education at St. Thomas ' Prep School and thereafter at St. Thomas' Guruthalawa. He completed his A/level examination at Thurstan College Colombo. However, he was unable to pursue higher studies due to the sudden death of his father.
Being the eldest in a family of seven, at the young age of 17, the responsibility of caring for his mother and young siblings together with managing the well known family business that is Viswakula Sons Jewellers Kandy branch, fell on his young shoulders.
He married Verena in 1972 and was blessed with four children Jinen, Shanker, Dhishni and Chinthu. He led a life of ahimsa which he taught his children by example and inculcated good values in them. He believed in giving generously rather than receiving and taught his children to do so too if they wish to receive satisfaction in life.
His wife Verena whom he affectionately called "Verie" was a pillar of strength who stood by Nimal in good times and bad and he often said that he would be "lost without his Verie". During his period of illness until his death it was his "Verie " who cared for him day and night assisted by his children. His sisters and brothers too were a great source of help to the family.
He was closely associated with the Late Ven. Madihe Pannaseeha Thera of the Maharagama Bhikku Training Centre under whose guidance Nimal was instrumental in donating the first house to a poor family in Maharagama, identified by the late Thera in accordance with the late President R.Premadasa's housing project for the poor.
Nimal also donated land from the premises he was residing in, to the Nava Polonnaruwa Galvihara temple bordering his property for the expansion of the dharmashala and another small extent of land from his vineyard in Vanathawilluwa to build a hermitage for a Buddhist monk. Of course all his generosity cannot be detailed here as we may run out of space. In all this he was humble and never wanted publicity but gave generously.
Many a time he helped his employees' families when in need of financial help, even paying their medical bills etc.
May you attain Nibbana!
D.L. B. Rajapaksa