A new lease of life at Peradeniya!
By Samantha Lindsay
View(s):
Perhaps, going back to Peradeniya gives one a new lease of life! The corridors of the main Arts Faculty building seem to welcome us. The lovely architecture, the large sunny classrooms with wide carved doors and windows and the endless lawns and lovely trees full of flowers…..
As I walked the length and breadth of the building in October 2011, it was after almost 20 years. I peeped into the familiar English Department, with its solid wood furniture, no cubicles, no plastic chairs, it looked so much the same. Some changes are evident. The seminar room has new curtains, AC and modern furniture. In place of the rather ugly 'Gembacateen' stands a new canteen building, blending into the same architecture, with lovely stone columns. My room mate and friend from yesteryear, Lalitha Godamunna, now a lecturer enlightens me that this building won an award for its architecture.
There are a few misfits too. The Econ Department appears the same with its 'school building' look about it. However, adjacent to it are some new buildings that look posh and uniform in style.
As I wander about I see a former lecturer walk by, then a batchmate now lecturing in the Economics Department. I think of all the erudite scholars who have walked these grounds. I think of the countless strikes, black bands and graffiti. If only these walls could talk!
Lovely Peradeniya, you have frozen in time! The undergraduates look hip, jeans and t-shirt/ blouse variety, with the mobile phone in hand. Aaah! We wore jeans too, but that was only the English medium – the 'Kadumeddies' they called us. I notice that the undergraduates look young! Did we look older, I muse. We entered University at 21-plus and passed out at 26, having stayed at home during the 'bheeshanaya' –era when the local universities were closed.
My mind goes back to all the fun we had in our undergraduate days. The rag season in particular…. Once I am stopped near the Arts theatre, we are about to get our assigned 'names'!
''Namamokakada," they ask.
I give my name – 'eh ei bola maara namakney'' – (this is a funny name) one sneers.
"Amma Sinhala, thaatha Burgher,'' – I try to be helpful.
"Hmmm liyaganin aluth nama'' (write your new name down) they instruct.
"Demuhun Ansabagay," it is announced!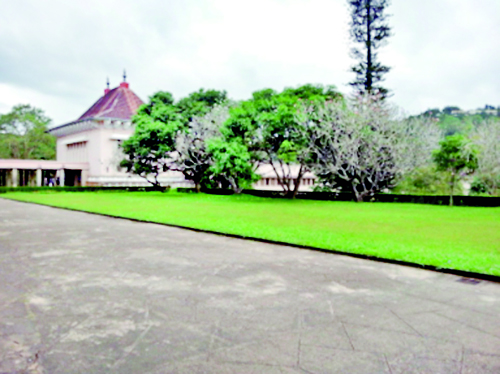 I try a weak smile and am stopped rudely.
"Panaawa kappapan," (cut your comb (teeth)) they tell me.
I try in vain not to smile, having got these terrible, anxiety induced giggles, it doesn't go well with the seniors and they release me in disgust!
So my new name meant something like –' hybrid, paralysis' and I write it down in big lettering on my file and gleefully repeat it to anyone who asks my 'name' thereafter.
Almost two decades later, my latest batchmates are a motley crew. The cultural, skills, interests and age diversity in the class adds much to the multi-disciplinary concept of learning internally as externally. The ages range from 25 to perhaps 60! There are lawyers, engineers, management consultants, teachers, social workers, development workers and health professionals, and we are following – the global MDP or the global Masters in Development Practice course.
It is run by the Department of Economics and Statistics. The live wire behind the course is Dr. Dileni Gunawardena, our dedicated no-nonsense course coordinator. This degree provides graduate level students with skills and knowledge to address global challenges in sustainable development. Thus it is truly inter-disciplinary.
Changes in teaching are evident, we have a semester system not year-end exams! And, in the classroom out come the I-pads, tabs, laptops and what not. I remember the 'not so long time ago' simple days with our half-sheets.
The classes are lively, full of debate. The students have a common 'strain'. This is not an MBA, (though it is an MBA for the development sector), the students are not interested in merely adding some letters of qualifications to their visiting card either. All seem to have a passion for the field of development practice. And, they are those who opted perhaps to stay in Sri Lanka. My weekend travel from Colombo to Kandy was tedious, but others came from as far as Jaffna, Vavuniya, Ampara and the deep south as well.
The pre MDP, in other words a boot camp, goes on swell. We learn either conversational Tamil or Sinhala depending on one's background, a primer in physics, natural sciences, statistics, maths, economics, business writing. Semester one is packed with work and weekly assignments. We link to the global classroom- University of Columbia, Earth Institute, watch Jeffrey Sachs speak on poverty. End of semester two, requires us to do some field work for three months, it's a super flexible internship period. One of my batchmates, a young miss – ends up in Gambia.
In semester three our batch organises its own field study tour and travels to Anuradhapura and we learn firsthand about the indiscriminate use of agro chemicals, the health issues and water contamination. The batch plans follow up action and advocacy.
Now almost two and a half years down the line (of course we got caught to the FUTA-strike, some of us donned the 6% for education t-shirts and walked the streets), we realise that the local universities need collaboration of this nature. The global MDP is taught in 22 Universities across the world. In the US and other 'developed'countries – it costs a fortune, in Sri Lanka it is around Rs. 250,000.
As the course nears completion and we face our final exams, we are a 'changed lot' I feel. We want to conserve energy. Except when in the computer lab, we switch off the AC and open all the windows for more sunlight. That was the powerful impact Professor R. Shanthini of the Engineering Faculty had on us when teaching us Sustainable Energy and Development. We do not pooh-pooh the words 'human rights' now, because Dr. Deepika Udugama, taught us what it means for a country to ratify and be a signatory to these conventions. Hopefully the men and women in our class are more gender sensitive too.
We are also GIS 'non-specialists' having driven Professor Wickramagamage to the edge with our lab work. We have also been naughty pleading for project submission extensions with kind folk such as Dr. O.G. Dayaratna Banda. We are knowledgeable about community health issues, epidemiology and nutrition, thanks to our wonderful lecturers from the medical faculties of Peradeniya and Rajarata. We know much about climate change after listening to Dr.Lareef Zubair whose passion for the subject was more intriguing than the subject itself. And … we are 'Disaster Sensitive' due to the hard work of Professor Sam Hettiaarachchi from the University of Moratuwa.
If I were to mention all the others who taught us it would take another page. The great lecturers from the Faculty of Agriculture, then Department of Economics, Business and Finance, and our guest lecturers from abroad, University of Salford, UK … the list is endless.
So as the course comes to an end I walk the familiar corridors and think, perhaps I will return again, I will I will. And for those who would like a Masters worth its salt I say come to Peradeniya and do apply for the global MDP; a course that integrates the four pillars of health, natural, social and management sciences in its curriculum.
(The writer is a graduate in Economics from the University of Peradeniya and is in the field of Communications having worked for Unilever Sri Lanka and the Asian Development Bank)