State assets misused, polls laws flouted, goodies given away as candidates fight for places
By Chamal Weerakkody
Regulations should be amended to deter violations, says Galle District UPFA leader
View(s):
Candidates of the upcoming PC polls continue to misuse state assets and flout election regulations, say monitoring organisations.
Monitoring organisations had advised candidates contesting seats in the Western and Southern Provincial Councils to refrain from misusing state assets during the pre-election period in order that a free and fair election is conducted. However all major parties have violated election laws by using public assets to conduct their election propaganda campaigns and are also alleged to have distributed goods and rations to people to influence them to vote for their parties.
People's Action for Free and Fair Elections (PAFFREL) Executive Director Rohana Hettiarachchie said at least one complaint per day is received by his organisation regarding misuse of state property.
He said many candidates of the upcoming Provincial Council elections have been making use of state vehicles, buildings and officials and initiating development projects to boost their campaigns. He added that contestants from the ruling party have used their influence to utilise state assets for canvassing purposes, with the help of the relevant ministers.
He said PAFFREL had received a complaint that the Ministry of Construction, Engineering Services, Housing and Common Amenities – whose Minister is Wimal Weerawansa – had decided to give away laptops to development officers of the Kaduwela Divisional Secretariat on Tuesday. Minister Weerawansa is also the chief organiser of the Kaduwela electorate for the United People's Freedom Alliance (UPFA). Mr. Hettiarachchie said PAFFREL would advise the ministry and the minister to postpone the event till the conclusion of the elections.
He said distribution, in the pre-election period, of resources such as mobile phones, hoes, computers, books and other goods can be penalised under election law. He added that the public had the right to complain to monitoring bodies and the Elections Department of such incidents taking place as well as the right to file a court case against the culprits for attempting to induce voters to cast their ballots for a particular candidate or party. He said if clear evidence is available the court had the power to unseat the candidate in the event if he/she is elected.
He criticised the ministries and other state bodies for manipulating public servants such as teachers, Grama Niladharis and other officers in the state sector by offering them promotions and transfers to lure them to assist in election propaganda campaigns. According to Mr. Hettiarachchie the involvement of state employees in election campaigns could be minimised by blacklisting them and taking them off election duties in the future,.
Campaign for Free and Fair Elections (CaFFE) Executive Director Rajith Keerthi Tennakoon said the public has the responsibility to complain to the relevant authorities and also monitoring bodies regarding such incidents of election law violations. According to CaFFE statistics, 109 complaints had been received of misuse of public property, using state employees for electioneering, giving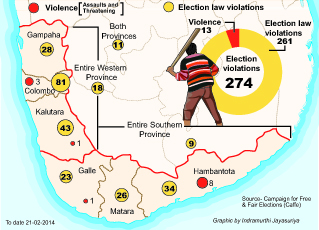 appointments and effecting transfers during the election period from both the Western and Southern Provinces. Out of 109 complaints, 25 complaints had been made of misuse of state vehicles, 13 of use of state buildings and offices, 17 of using state employees for election propaganda, 15 of distribution of state resources and conduct of state meetings and 39 complaints of appointments, transfers and promotions during the pre-election period. 133 complaints had also been received of illegal election propaganda work.
He told the Sunday Times that the ruling party candidates take the maximum advantage of the current development projects such as Divi Neguma for their election propaganda campaigns. He said the Elections Commissioner had taken action against violators of election law.
Mr. Tennakoon said the Registrar General's Department had interdicted the Thimbirigasyaya Divisional Secretariat Additional District Registrar for giving four 'ayanna's as initials to Dr. Shivanka Wijegunawardhana who is on the Colombo list of the UNP to obtain an early preferential number.
According to CaFFE sources, Kalutara District candidate Shenal Welgama, son of Minister Kumara Welgama had distributed school materials for students at an event organised to allocate buses to depots in Kalutara District for transport of students to and from schools. After President Mahinda Rajapaksa had allocated the buses the minister's son distributed the school materials to the students.
Minister Lakshman Yapa Abeywardena's son, Pasanda Yapa Abeywardena a candidate for the Southern Provincial Council is alleged to have used his father's ministry vehicles and employees for his election propaganda campaign.
Meanwhile officials of the Ministry of Construction, Engineering Services, Housing and Common Amenities have allegedly begun to provide housing loans to people in the Hambantota District.
In addition UPFA candidates have participated in an event organised by the Karandeniya Divisional Secretariat to depict development projects in the area.
These are some of the complaints received by CaFFE during last few weeks.
UNP Matara District leader Sirisena Wijewickrama said that ex-provincial council members from the ruling party not only used PC vehicles but had also conducted meetings in schools for teachers and parents of students for their campaigns.
He claimed that the reduction of violations in the Southern Province was owing to the complaints UNP candidates made to the Elections Commissioner regarding such violations. He further said ex-provincial councillors had used their budgetary allocations to distribute bicycles, mamotees, sarees, mosquito nets, fishing nets, etc., to voters.Janatha Vimukthi Peramuna Matara District leader Jinadasa Kithulegoda said some of the candidates in the Matara District are alleged to have gifted laptops to journalists to report those candidates' propaganda campaigns in a favourable light.
He further said that the police had not removed the posters and cut-outs of candidates who used the President's picture in their advertisements.
UPFA Galle District leader Chandima Rasaputra said most candidates break election regulations in an indirect manner to challenge the law. He claimed that when the Opposition Leader comes for propaganda meetings of the UNP he violates election law by using the vehicle given to him by the Government.
He said that each candidate should give priority to the public interest without tricking the people to get more votes, adding that the election laws should be amended to reduce the number of violations.