Keyhole heart surgery:Doors open for all Lankans
By Kumudini Hettiarachchi
Top Cardiothoracic Surgeon Rajitha de Silva at SJH seeks more state-of-the art instruments
View(s):
It was on the beating heart of Kanthi Perera that a pioneering team of the Sri Jayewardenepura Hospital performed keyhole bypass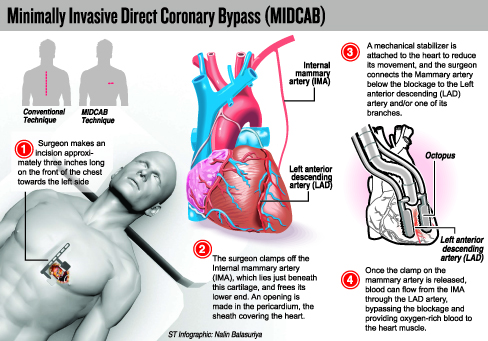 surgery for a blocked artery last Wednesday.
Fifty-five-year-old Mrs. Perera from Panadura had waited more than seven months for this minimally-invasive or keyhole coronary bypass surgery, having heard that it had been tried out at the National Hospital in Colombo successfully and was now available at the State-owned Sri Jayewardenepura Hospital.
A trailblazer in government-sector hospitals, the team-head is Consultant Cardiothoracic Surgeon Dr. Rajitha Y. de Silva. Now attached to the Sri Jayewardenepura Hospital he performed two such procedures this week, while earlier he had done two bypasses and two hole-in-the-heart repairs through keyhole surgery at the NHSL when working there.
"I performed keyhole surgery for two bypasses on two patients with a set of sample instruments at the NHSL," explains Dr. de Silva, adding that now at Sri Jayewardenepura Hospital he has got the equipment to launch and sustain this specialty.
When minimally-invasive direct coronary artery bypass (MIDCAB) surgery was initiated this week, in the operating theatre at Sri Jayewardenepura Hospital as an observer was none other than eminent Sri Lankan Heart Surgeon Dr. Ravi Perumalpillai of Oxford-
fame, the Sunday Times understands. (Incidentally, Dr. Ravi is the prime mover behind the Oxonian Heart Foundation (OHF) and hopes to help hundreds of people in the Northern Province as well as in the North Central Province and the Eastern Province.)
Contrasting MIDCAB with conventional bypass surgery, Dr. de Silva says that it would require a "small incision" of about two to three inches on the left side of the chest to get to the heart, whereas the other would require splitting the sternum (breastbone) about 10 to 15 inches.
The advantages of MIDCAB are that it is less-invasive, there is no cutting of bone, there is less pain and faster recovery, he points out, adding that as the incision is just under the breastbone, the scar cannot be seen, particularly relevant for young female patients. A risk factor, however, is that there are about 20% chances of having to switch to conventional surgery.
In the case of Mrs. Perera, she had had difficulty in breathing awhile ago and sought treatment from Consultant Cardiologist Dr. Ruwan Ekanayake. An angiogram had found that there was a 75% block in her Left Anterior Descending (LAD) Artery.
Having been referred to Dr. de Silva and hearing that a new procedure was to be introduced she was adamant that she wanted that, says her husband, Sunil Perera when contacted on the phone yesterday, adding that it is not only the expertise of Dr. de Silva that Kanthi liked but also the way he spoke to patients and dealt with them.
When the Sunday Times met Dr. de Silva on Friday, he plunged into the details of MIDCAB, explaining that to perform a bypass of the blocked area of a coronary
artery — in Mrs. Perera's case it was the LAD — the substitute conduit was the Internal Mammary Artery. The challenge that the Cardiothoracic Surgeon faces is harvesting the Internal Mammary Artery as the manoeuvring is through a small incision. This is why skill and expertise are of utmost importance.
If the artery which is to be used as a conduit is even damaged slightly,the patient may not know but after the keyhole bypass surgery, the long-term effects could be disastrous, it is learnt.
MIDCAB is mainly being performed in the USA and some countries in Europe and even in those countries only at 'select' centres, says Dr. de Silva, adding that while in our region, India does so and Singapore has just ventured into this arena.
In Sri Lanka, the Sunday Times learns that it is available in the private sector.
Unlike in the conventional method, during which the duties of the heart are diverted to the heart-lung machine, in MIDCAB, the beating of the heart is not halted while the procedure is being performed. Using sophisticated equipment, including the 'octopus', it is only the area of the blocked vessel where the graft is to take place that is stabilised, the Sunday Times learns.
The beating heart perfuses (sends blood around) the whole body of the patient and in MIDCAB, the Cardiothoracic Surgeon has to do his job while this vital task is taking place through the heart. It is here that the 'octopus' comes in handy as it is placed over the blocked artery or 'work area' to stabilise that area but allows the balance areas of the heart to continue beating.
Keyhole heart surgery is good for bypasses, valve (mitral and aortic) operations and to correct holes in the heart, adds Dr. de Silva.
His team included Consultant Anaesthetist Dr. Kanishka Indraratne, Dr. H. Amadoru, Dr. Lishendri de Silva, Dr. Nisansala Liyanage; Perfusionists Ranil Fernando and Ajith Kumara; Nurses Rupa, Shiromi, Benita and Nalika; Technicians Sujeewa, Wijesuriya and Ajith; and minor staff Priyantha, Lalith, Sumana and Prasanna.
Raising keyhole cardiac surgery to int'l level is his dream
This Cardiothoracic Surgeon has a dream and he is hoping that Sri Jayewardenepura Hospital Chairman Nimal Bandara and Director Dr. S.A.K. Gamage will help him raise keyhole cardiac surgery to an international level as they have already supported him to the hilt in initiating these procedures.
Having been trained locally by NHSL's Consultant Cardiothoracic Surgeon Dr. Chandima Amarasena and in England by leading Keyhole Cardiac Surgeon Dr. Inder Birdi and Sri Lankan Cardiac Surgeon working there, Dr. Arjuna Weerasinghe, Dr. de Silva's vision is to develop keyhole cardiac surgery and surgery linked to end-stage heart failure.
Dr. de Silva has also been strongly influenced by Dr. Ravi Perumalpillai who encouraged him on his decision to take to cardiac surgery and Dr. V. Subramaniam who pioneered MIDCAB surgery in New York in the 1990s and with whom he is in close touch.
Next on his agenda to help patients is to perform MIDCAB for not just one block but two or more. This he hopes to follow-up with hybrid procedures which would include minimally-invasive procedures for bypasses and minimally-invasive procedures for stenting, done in tandem.
More state-of-the-art instruments Dr. de Silva longs for and he is confident that Mr. Bandara and Dr. Gamage will fulfil his wishes in his quest to aid patients.