Emergency service found wanting following fires on buses using the CKE
By Kosala Ranabahu
View(s):
Two separate incidents on the Colombo-Katunayaka Expressway (CKE) where two fires were reported within a span of five days, has put to test the security and emergency arrangements on a road used by thousands every day, with the majority of them travelling to and from the Airport.
An SLTB bus travelling along the CKE last week caught fire at the 15.4 km-post near Ja-Ela.
No injuries were reported from the 41 passengers in the bus at the time of the incident.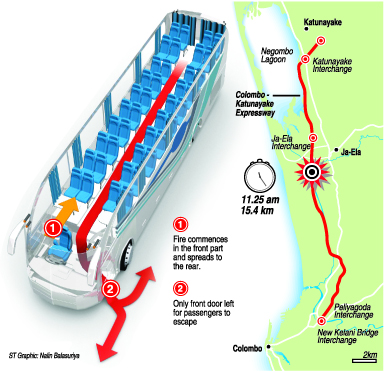 The charred luxury bus worth nearly Rs. 10 million is reportedly in the custody of Pamunugama Police for further investigation, and the loss to the SLTB has yet to be determined.
An official of the Pettah SLTB depot told the Sunday Times that the SLTB was charged Rs. 20,919 by the Road Development Authority (RDA) for the damage caused to the highway by the fire.
The CKE Emergency service was quick to extinguish the fire.
CKE's Operation, Maintenance and Management Division Director T.K. Ranathunga said this was the first time a public transport vehicle had caught fire on either expressway.
"In an emergency, most people forget our hotline number 1961, and we receive the message from others passing by," he added.
In another instance on Monday (17), a passenger had got off a bus that caught fire on the CKE, and reportedly walked on the highway, as directed by the driver. He was apprehended by the police, as walking on the highway is illegal.
The Sunday Times learns that the passengers of that bus did not get any response from the emergency service for about half-and-hour, and therefore, this particular person started walking towards the exit.
"People should not walk on the expressway, as it is illegal. The best thing is to keep a safe distance from the vehicle that caught fire and wait for help" said Rohaan J. Abewickrama; Honorary Fellow of the Chartered Institute of Logistics and Transport.
Speaking on the role of an emergency service on an expressway, he added, "They should attend each and every accident at the earliest. But the issue is they are not adequately equipped to deal with those."
"Locating the emergency service stations has a bearing on the response time. Developed countries have a system called Advanced Automated Detection which Sri Lanka is yet to install," he stated, adding that, although the authorities intend to get Japanese technology for the Southern Expressway, it is not used anywhere in the world. He said it was the responsibility of the Public Transporters to ensure the buses were well equipped with fire extinguishers and emergency exits that are easy to access and open in an emergency.
"The emergency service on Sri Lanka's expressways is not up to international standards. Therefore, The Government should invest on the emergency services, so that it can save money, rather than spend on healthcare, after an accident," he added.