Deadly drought drying up country's water supplies
By Nadia Fazlulhaq
Salinity levels rise in rivers as rains fail
View(s):
Despite intermittent rains last week, experts fear the three-month-long severe dry weather conditions will strangle power generation, agriculture and drinking water supplies as authorities struggle with limited water storage in reservoirs, rivers and water treatment plants.
The Meteorology Department's rain gauges remained close to zero for weeks while temperatures went up to 36 degrees, in the Ratnapura, Colombo, Kurunegala, Hambantota and Puttalam districts.
Sporadic rains fell last week, but the maximum rainfall was 40mm while the country was in need of falls of more than 100mm at reservoir and river locations.
The Agriculture Department's Chief Climatologist, Dr. Ranjith Punyawardena, said this drought had depressed the agriculture sector with a 7-10 per cent reduction in yields and serious repercussions would ensue because of the water shortage.
"Heavy rains are expected only during end of March and the present infrequent rains are not enough to fill up reservoirs," he said. "The upcoming Yala season will present severe difficulties for farmers whose paddy fields are supplied with water from the smaller tanks in the Vavuniya, Anuradhapura, Kurunegala and Hambantota districts." (See related story on Page 10).
Paddy cultivation supported by the Mahaweli river would have better conditions.
"Farmers should concentrate on other field crops such as soya bean, green gram, black gram etc.," Dr. Punyawardena said.
He said the eastern parts of the Central Hills such as Badulla, Randenigala and Walapane were also suffering from dry conditions and this would continue for the next four weeks.
The water levels are low in the Castlereagh and Moussakelle reservoirs which are consequently struggling to generate hydro power.
Farmers complain that the combination of the morning chill and extreme hot weather in the afternoon is damaging up-country tea plantations and other crops, particularly in the Nuwara Eliya and Ambagamuwa areas.
Water levels in rivers and streams have decreased at an alarming rate causing the livelihoods of people in these areas to suffer.
There is a growing shortage of drinking water supply in the Western Province. Salinity is increasing in both the Kalu Ganga and Kelani Ganga due to the drying up of underground water and low water levels in coastal area rivers.
National Water Supply and Drainage Board General Manager Ranjith Balasuriya said that following a ministry-level request, several reservoirs — mainly Laxapana and Kotmale — had allocated more supplies to water treatment plants for consumption.
"The water allocated will be adequate until the first week of April. Last week's rains too have lessened the salinity in the river water. Nevertheless the public are being requested to cut down water wastage and control consumption," he said.
The Board is also involved in blocking a section of the Kalu Ganga estuary with about 150,000 sandbags in an effort to prevent salinity in that stretch. The Sunday Times learns about Rs. 9 million has been allocated for the one-week project which will employ about 150 workers, including divers who have to dive several metres deep to build up the sandbag walls.
Kalutara's District Secretary U.D.C. Jayalal said 52,000 families had been affected by salinity in the Kethhena water treatment plant and at present drinking water was being supplied in bowsers to families in Beruwala and Panadura from Pinwatte, Kalutara, Aluthgama, Dodangoda and Bomulla.
About 100 temporary tanks are to be built to provide water to the area's residents.
S. A. Norbert, Professor at the University of Colombo's Department of Geography, told the Sunday Times that while February is known to be the hottest month of the year the current dry spell is a sign of drought continuing into the future.
"Usually there are rains in November and December, sometimes even causing floods. But this time there was no such rain and dry weather prevailed for a few months," he said.
He said global warming and a buildup of greenhouse gases were the causes of the increasing number of environment disasters including the recent floods and last year's particularly warm summer in Britain, heat-waves in Australia, flash floods and landslides in the North Indian state of Uttarakhand, typhoon Haiyan in the Philippines that claimed more than 6,000 lives, the earthquake in Sichuan, China that killed about 200 people and the two high-magnitude earthquakes in Pakistan that killed about 800 people.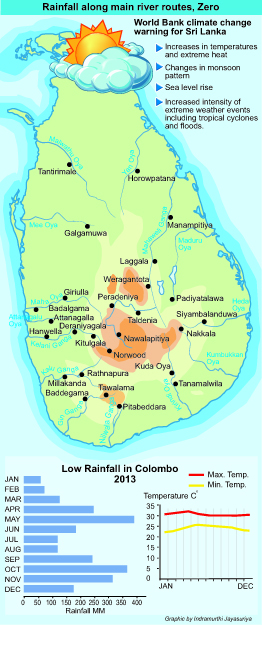 He said Sri Lanka should strengthen its National Climate Change Adaptation Strategy.
"It is said that climate change will determine the political strength of a country in future. Unfortunately our politicians, who can send out the message of nature conservation, tend to ignore the importance of the issue and some set bad examples," he said.
Prof. Norbert emphasised the importance of retaining the skills of qualified experts in the meteorology, climatology, physics, atmospheric dynamics, Geographical Information Systems (GIS), Remote Sensing (RS) etc. by offering good salaries.
PhDs in these fields can earn about US$ 4,000 a month overseas (about Rs. 500,000) while here they are paid a government employee's salary, sometimes less than Rs. 50,000 he said.
Last year, the World Bank report, "Turn down the heat: Climate extremes, regional impacts and the case for resilience" stated that weather changes are to affect agriculture, water resources and human health and that, in Sri Lanka, a decrease in water levels in the Central Highlands would result in competition for water between the agriculture and power generation sectors.
Increases in temperatures and extreme heat, changes in the monsoon pattern, sea level rises, increased intensity of extreme weather events including tropical cyclones and floods are some of the natural hazards to be experienced. Sri Lanka is also to experience heat waves and coastal erosion.
The Meteorology Department's Deputy Director (Forecasts) Anusha Warnasuriya said the current rains would not bring in the water required to overcome the severe shortage.
"The present isolated rainfall will cover only 17 per cent of the loss incurred during the dry spell. There needs to be heavy rain (100mm or more) for at least a few days to areas where reservoirs and rivers are situated. It is only at the end of March or beginning of April that heavy rains are expected," she said.
Farmers refused more water

The Irrigation Department has rejected requests from farmers to release more water for agriculture work with the water levels in reservoirs and rivers dropping drastically low.

"Drinking water should be given priority. We have allocated a certain amount of water for farmers and are not in a position to release more. If there are no heavy rains in February and March, the Yala paddy season is going to be severely affected," said the Director General of Irrigation, Badra Kamaladasa.

Last week Water Supply Minister Dinesh Gunawardene requested Irrigation and Power and Energy ministries to reduce the water released for irrigation and hydro power generation purposes.

At present hydro-power accounts for 19.9 percent of the country's energy energy generation – usually it is about 45 percent.

Ceylon Electricity Board spokesman Bandula Thilakasena said although there was no risk of power cuts the reservoirs had not received sufficient rainfall during the second quarter of last year.

"Last year, heavy rains were limited from April to June and it is from that water the power generation is taking place. If there is a dire requirement for drinking water, the use of water from hydro reservoirs for power generation will be limited," he said.
(Additional reporting by Ranjith Rajapakse from
Hatton and Sunil Thanthriarachchi from Kalutara)