Three young boxers for Asian Youth Championships in Thailand
By Naushad Amit
View(s):
Three young pugilists, W.A.I Sanjaya and siblings Prabath Chanuka and Shammitha Bhanuka will represent Sri Lanka at the Asian Youth Boxing Championship which will be held in Bangkok over eight days beginning from January 24. The Sri Lankan trio will be among the record number of youth boxers that will compete at the Asian Boxing Confederation (ASBC) event.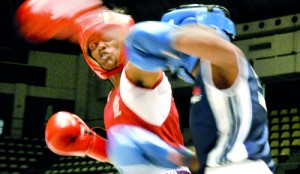 The three Sri Lankan boxers, all schoolboys, will hope to pinch the successes they tasted locally as they compete among a host of top contenders from over 20 Asian countries.
Sanjaya, a boxer from Vidyartha College Kandy, will compete in the 49kg weight category. Currently he is 17-years-old. Sanjaya has been a constant winner at leading schools boxing tournaments held from 2009 to 2013. He is a four-time gold medal winner of the prestigious Stubbs Shield Championships, from 2009 to 2011 and again in 2013. He has won the best boxer awards at the ABA Cadet championships in 2011 and at the Stubbs Shield in 2013.
Twin brothers Chanuka and Bhanuka will represent Sri Lanka at the Youth Championships in the 52kgs and 56kgs weight categories respectively. They represent Vidyarathana University College in Horana, and has exhibited exceptional skills at several leading tournaments at top level. Chanuka has won the Silver medals at the Youth Championships and Stubbs Shield Championship held in
2012 while Bhanuka has managed to steal the Gold medals from his twin. Bhanuka who stands ahead of Chanuka who has traveled a long way in boxing. He has won the Gold medals at the Stubbs Shield for three consecutive years from 2011 and at the Youth Boxing Championships in 2012 where he made an impact in the history of school boxing.
The trio was picked to represent Sri Lanka based on their performance at the trial meet held from November 23 to 25 at the Royal College rings in Colombo. Three officials will accompany the young trio to the Asian Youth Boxing Championship where Sri Lanka has been an active contender in the past.
Among the officials are Susantha Weerasena, Amila Aravinda and Bandula Wickramasinghe who have performed well in their duties as coaches. Weerasena will be the manager of the contingent while Aravinda, who coaches Slimline BC and Vidyarathana University College and Wickramasinghe, the coach of Vidyartha Kandy has been appointed as coaches.
Among the top contenders at this year's championship will be Kazakhstan, Uzbekistan, India, Iran and China, who have sent large contingents for the championship. The host nation, Thailand, Kyrgyzstan, Turkmenistan and Mongolia will also field large delegations for the event. South Korea has selected eight boxers while Chinese Taipei will send a record number of seven boxers to Bangkok. Philippines, who has won four gold medals at the last edition of the ASBC event held in Subic Bay, have retained some of their previous winners.
Sri Lanka will be among the developing nations alongside Indonesia, Jordan, Macau, Malaysia, Nepal, Palestine, Pakistan, Vietnam and Syria — despite their ongoing war – who are hoping to make a huge impact at the championships. The championship will be held from January 24 to 31 in Bangkok, Thailand.