Magnificent, Majestic, Mahela, Thank you!
By Hemantha Warnakulasuriya
View(s):
Sometimes, I am deeply saddened when the Sri Lankan cricketing Icons, like Mahela, Malinga and Kumar, are criticised for not doing enough for Sri Lankan Cricket and reversing their role when it come to the IPL and money. Many pundits oozing with jealousy, which is the national trait of our tiny nation, who were playing cricket when it was a game where there was no money, but only prestige, are those that level these criticisms.
A Cricketer, or for that matter any sportsman, belongs to the world. He has a unique gift which is universal. This is but for a short period, as they retire before lawyers do. Lawyers do not retire at all. They make money till they die. Mahela or Malinga cannot force themselves to be bought at auctions. They have to have the potential to be bided for. This depends on how they perform, or they would become redundant. Malinga has not grabbed many wickets during the last IPL season. In fact, Sunil Narine beat him and even some mediocre bowlers did better than Malinga. But yet, the Ambanis retained him. Amongst the IPL bowlers, only Malinga, from this Test playing nation, has bagged more than 100 wickets. Who else can boast of a 'quadtric' taking 4 wickets from 4 balls? Twill e owners would not risk losing the player who had won many matches for them. . Ambani, the richest family in India would pay stupendous amounts to buy cricketers from the world. They have invested heavily on Malinga.
The days when Ben Navaratna came on a cycle and kept wickets, then went to work on the next day and earned a pittance as match fees, are gone. Today, there is no spectator sport, other than 'elle', and 'chakgudu', that is not commercialised. And, with the advent of Television, money is one of the main lures. Cricket has existed for more than 100 years, only a very few, not more than 10, have scored 10,000 Test runs. This tiny nation, which has a lesser population, as such cities as Bombay or Madras, has two greats in that list. Mahela and Kumar.
We, as a nation, must be proud that a virtual beach cricketer, who bowled with the tennis ball for fun, is now a world celebrity. His humble beginnings are not something to be rubbed in and penalised. Instead, we must adore our beach cricketer for being the darling of Ambanis and thousands of fans, who still think of his greatness and the commentators, who continues to endorse the fact the Malinga is the greatest death bowler we have today. A few years ago, Chaminda Vaas was similarly christened as the 'Doctor of Death'.
During the most turbulent times, when our nation was castigated by the West as a country full of genocidal maniacs killing Tamils with impunity, it was a Tamil like Muralitharan who showed the world that we have amongst us the greatest bowler of the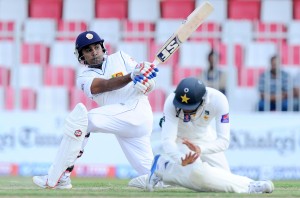 world.Muralitharan worked with the Sinhalese and cricketers of other races in unison to take all those wickets. The manner, in which the nation welcomed and rejoiced, when Murali took his 800th wicket in the presence of the President, was a great tribute to the nation, showing that we are people who accept Tamils as our own extended family. Then, our education system had produced the greatest communicator, the cricketing world has known, Kumar Sangakkara. In his speech at the MCC, he spoke about the passion of cricket interwoven with our psyche which made those accusers hide their face in shame. Kumar spoke not only about our passion for cricket but also about social discrimination and the plight of the Tamils.
What has Mahela done, other than making money, some jealous cricketer of yesteryear may ask. He is accused of subverting the English cricket tour due to his commitment to play in the IPL. A few days ago I saw Mahela, after a long lapse, scoring a century away from home in Dubai. If anyone says Test cricket is boring or is not a Modern game, for busy people, he should, if he knows the basic rules of cricket, have seen Mahela's innings. It the Majestic stroke play that made me watch the game with awe. Cricket is a funny game. It is almost effeminate. The manner in which Mahela bats, is similar to Nijinsky's mastery of movements defying gravity, as a ballet dancer. With economy of movement, Mahela's mastery of facing the zooming leather ball and paddling it to vacant areas in the slips is indeed enthralling. If the movement of the bat is a few inches away, the ball will zip into the fielder's hands. So, to defy the buckets of hands, waiting to grab the ball, and deftly cares it to evade them, is sheer Magic. His cover drive, which is a picture that paints the ball screeching through the bladeless swards of the Dubai ground, is another act which is akin to the mastery of a brush drawing of a Chinese painter. With one single stroke, without lifting the brush, he paints a bamboo sheaf, which would hang for eternity in a Rich Chinese Mandarin's home, where the quality, artistry and the spirit of the drawing will be discussed for many years to come. Similarly, Mahela's artistry, shown when he is batting to his full potential, unmoved and undone, by the rapacious critics, who would welcome his loss of form and class, is something that gets implanted in your grey matter, as long as Alzeimer will not affect it. To me, it is the ultimate joy that a Sri Lankan could behold, if he is not bored by the extensive hours of watching. It comes rarely and when the artist speaks with his blade, it become worth the boredom, which sometimes engulfs you, when watching cricket. For me, it is the ultimate satisfaction one gets like the satisfaction I get in re-reading the Japanese Haiku poems and studying and admiring the priceless art work of the Chinese Brush drawings. With the least possible bat movement, when Jayewardena waits for the red cherry to come, and then like the Chinese artist, with the least laconic movement of his very versatile wrists, plays the ball between the fielders and their pursuit to outrun the ball, is a rare moment of beauty which only the British invented Cricket could give a connoisseur the delight of seeing something extraordinarily skillful from a Master. The wait was and is worth.
Thank you Mahela for giving us the opportunity, even through the limitations of TV screen, to watch you a score a century and win the game. Your prophetic words about our inexperienced pace attack, became so true. And, to them and in that young Kusal Silva, the young 'Sunil Gavasakar', the selectors have discovered a boy with great potential. Thank you for resurrecting Sri Lankan cricket from the abysmal abyss it fell into in recent times.