Australian-Open and the Draw
View(s):

Australian-Open is the first of the four Grand-Slams of the year. It attracts the best and it is the dream of every good player to be in this main draw. A good 'main-draw' will bring out the best Tennis in any event. This makes any draw a critical instrument for an event to succeed and for the players to perform well. What is in a draw, how does it affect a player and why does it attract our attention so much?

Tournaments can have a short draw of 16 players, to a regular draw of 32 to 64. Australian-Open, being a Grand-Slam, permits 128 entries and the event lasts two weeks. There are three ways that a player could enter the Australian-Open main-draw. First is called 'direct-entry' by being in the top 128 of the world ranking. Second is 'by-qualification' by being eligible for the qualifying-rounds with a ranking position within the stipulated 'cut-off mark'. Then, the player must win through two qualifying rounds to be in the main-draw. Third, by 'wild-card' that is an award of free entry to the main-draw by the tournament organizers. There are strict criteria to be eligible to this privilege.

Seeding concept

The other aspect of interest in the draw is the 'seeded' player concept. It is a method to place good players apart in the early rounds of the draw. By design, seeds one and two can only meet in the finals. First four seeds can only meet in the semi-finals and the top eight only in the quarter-finals. It is also designed to eliminate weaker players in the process. This increases spectator appeal for the event and retains good players in the draw longer. For this reason tournament organizers will not ignore the world rankings in the seeding process.

Once the draw is done, the tournament is conducted by the referee of the tournament using the regulations laid down by the International Tennis Federation [ITF]. The regulation is very strict and does not permit any alteration to the draw once matches begin. ATP the men's professional body and WTA the women's professional body monitor the seeding and the tournament in all events globally. There is big money in tournaments. The total prize money in the 2014 Australian-Open is $16.6 million. Men's and Women's winner will get $ 2.6 million each this year.

'Every match is a big match'

Australian-Open seeding this year has followed the official world rankings of ATP and WTA. For the players being seeded is no guarantee when it comes to winning. The difference between number one and one hundred in modern Tennis is about two-strokes. This means, that if the number one player plays with a handicap of minus 30 [two points] in every game against number 100, they will be even in strength. Number 100 may even have an edge to win. For this reason every match becomes a big match. There are other factors which are of threat to seeded big names at the Australian-Open. Rod Laver the last to achieve a Grand-Slam stated that "it is the ability to win on a bad day, is what matters to be a champion." Every record in Tennis will support his observation. The big names must find a way to win against weaker players when they are not playing well too. No player can play their best, every day. Players' playing-form peaks and declines in an inevitable cycle. It is a well known fact and players bring this into their training considerations to peak at the right time. However, this is a delicate factor that can go wrong easily

Playing at 40 Celsius!

This is a worry for many players and for the seeded, it becomes an issue. Tennis is a high intensity interval game. The intervals are meant for recovery after a high intensity rally. In Melbourne, temperature goes over 40 degrees Celsius. There can be little recovery when players breathe hot air at 40 Celsius. This often leads to muscular issues which curtail performance and induce injuries. Under these conditions, if seeded players do not win the early rounds without much stress and strain they will be too tired in the quarter-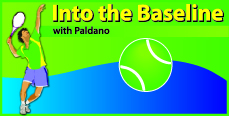 finals. To win the Grand-Slam title, a player will have to win seven rounds and could play up to 35 sets and could top 25 hours against very good opponents. Whoever wins will also lose 10 kilos in that heat. Try walking at 40 Celsius for an hour or should I say 'don't!
Two coaches-to-a-player trend
2014 is seeing a start of a new trend. Tennis does not permit coaching during a match. This I doubt will ever change. Coaches are watched during matches and many have been penalized for breaking the no-coaching code. About 15 years ago there were no coaches by the court side. Now there is a team for every player in the top 10. Another new trend came to being in the recent past and it is very prominent now. Novak Djokovic, Roger Federer and some others are having two coaches. The trend is to have a past-player also as a coach. Djokovic has hired Germany's Boris Becker as his first coach. Federer has hired Sweden's Stephan Edberg as his additional coach. Lleyton Hewitt has Tony Roach of Australia as his coach. All these coaches were top ranked past players. Good reasons are been cited for this trend. Regular coaches will attend to stroke-making while the 'past-player-coach' with their experience will assist in the game-making tactical aspects. Tennis being an Open-Sport, tactics wins matches while the techniques are there to assist. All are curious over this new development. Is there real benefits or it is only to enhance the 'circus'? Also, if so much outside help is needed, how smart are the players? Why are the coaches given so much weight in a game where coaching is not permitted? Only time will give the answers. On record there has been one 'bad tasting' experience with this development. Maria Sharapova hired the famous Jimmy Connors of USA and fired him after one match, just one match!
Tough match is a good match
Any player coming through to the semi-finals without being 'stretched' in the early rounds is unlikely to win the semi-finals. I have observed this over the years. A good match in the early rounds is a blessing and it is the best preparation to win the title. However surviving it, is a high-wire walk without the safety net. World's number two Djokovic this year has a relatively easy draw in the Australian-Open. He has to face Stanislas Wawrinka ranked 8 who has shaken Djokovic a good few times. This could be a problem for Djokovic if someone does not push him to the limits in the early rounds to sharpen his game.
All these will make 2014 Australian-Open a mega show. Today will be the beginning of its second week and do expect another week of good Tennis. —-
–George Paldano, former international player; Accredited Coach of Germany, ITF and USPTR; National, Davis Cup and Federation Cup Coach–gptennis.ceylon@gmail.com-