Want to go fishing?
This week on Take 3 we're diving headfirst into some of the city's colourful, crowded and rather smelly aquariums.
View(s):
Nilmini Aquarium
No 35 A, Chitra Lane, Colombo 05, Tel: 0112502987, website: nilminiaquarium.150m.com, open 7 days of the week from 9-6 p.m.
Our visit didn't start off on the best footing- on the Friday afternoon we visited the aquarium had an 'open' sign on the door but was locked. On inquiry from the next shop we were told to give a ring to the number on the door and sure enough, a lady answered five minutes later.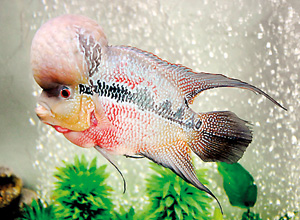 The Nilmini Aquarium has been around for about 40 years; a very long time indeed in the fish world. It's not the cleanest of places and the layout shows little aesthetic consideration but they stock a wide range of mainly fish tanks and fish food. You'll find things like fish pellets, aquarium pumps and tank spot lights in the back of the shop.
The focus is definitely on the tanks, which come in all shapes and sizes and can even be custom-made to your preference. These are priced anywhere from Rs.1500 for dainty little fish bowls with their own oxygen system to up to Rs. 20,000 for a fairly large tank with the full works.
They have what seemed to be a fairly small selection of pet fish-your everyday favourites like the carp and goldfish are here, but you'll also find exotic creatures like the Arowana fish (a small one sells for Rs. 3,500 while a large one can go for as much as Rs. 100,000). We also bumped into them at Diyatha Uyana, where the products are better displayed and the staff more helpful.
Diyatha Uyana Aquarium
Diyatha Uyana, Battaramulla-all day
If there was ever to be an aquarium market then Diyatha Uyana is it- here you'll find an array of aquarium owners and their wares.
We started with a tour around the massive collection of tanks, each representing an aquarium owner (you'll find their contact details at the bottom left of the tank). This is the only aquarium we found clean and visually pleasing-but then again it's in the great outdoors at Water's Edge.
The Diyatha Uyana venue is like an aquarium symposium. Make sure you check out the stalls on either side for whatever you're looking for.
North West Aquarium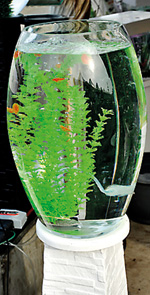 No.56, Thimbirigasyaya Road, Colombo 05, Tel: 0112502723, website: northwestaquarium.com, open 7 days a week till 7 p.m.
The North West premises look small from the outside but is laid out like Ali Baba's cave once you walk in. They stock a fairly wide range of pet fish-from the exotic and very expensive Arowana (about four or five varieties are available) to the sharp-finned Silver Shark (Rs. 250 for a pair), Lafferius (Rs. 1500 for a pair) and even your average goldfish and carp.
Even better, they're well-informed about their products and will reel off as much fishy facts as you need. We were assisted by Nilusha, who guided us through a veritable treasure trove of other paraphernalia like fish food (they stock special versions and can bring down what you need), medicine (vitamins, fungi-repellents imported from Singapore), tank equipment like UV lamps (to minimize damage from sunlight) and even ornaments for a colourful space. They also import tanks, which can start anywhere from Rs. 300 for a small fish bowl to much more for the larger tanks. Unfortunately, they don't manufacture their own like Nilmini Aquarium so you'll have to do with what they have (we suggest you go to Nilmini's for tanks and North-West for the fish).
They've got a team of professionals who will assist you in the care of your tank and fish, and even have a delivery process for a minimal amount. Just to help you make your mind up, North-West also publishes a magazine about caring for your pet fish which they will provide you with. In terms of service, knowledge and variety, this is our pick of the lot.