SLEF conducts training programmes on Ecotourism in Turkey
By Sanath Weerasuriya
View(s):
President of Sri Lanka Ecotourism Foundation(SLEF) Palitha Gurusinghe, has been invited by the Ministry of Forestry and Water Affairs, Turkey, to conduct a training Programme on Ecotourism for the officials of the Wildlife Sector and National Parks in Turkey.  The programme had commenced at Gazelle Resort in Bolu City in Turkey on the 23rd December, 2013.
Main Theme and focus of this training Programme is to increase the knowledge on sustainable tourism/ecotourism of the Ministry staffs who are dealing on ecotourism issues in the national parks in Turkey. The participants to be trained on more than 40 modules coupled with workshop sessions linked to Ecotourism, Sustainable Tourism development.
At the opening ceremony of the Training Session, the Director General of Ministry of Forestry and Water Affairs remarked; 'Turkey is one of the fortunate countries in the world as a country possessing vital resources for people's food security. Turkey has three bio-geographical regions called Euro-Siberian, Mediterranean and Irano-Turanian. Because of these transition zones Turkey's climatic and geographical features change within short intervals of space due to its position as a bridge between two continents. Turkey has acquired the character of a small continent from the point of biological diversity.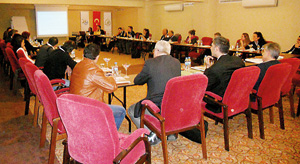 Turkey has forests, mountains, steppe, wetlands, coastal and marine ecosystems and different forms and combinations of these systems which are very important building blocks that help in developing ecotourism in Turkey. He appreciated much the support and contribution extended by Palitha Gurusinghe, President of Sri Lanka Ecotourism Foundation, towards helping his officials and sharing Sri Lanka experience in the ecotourism sector. During the Workshop Sessions, Palitha highlighted the need to formulate National Policies, Guidelines and Strategic Action Plans on Ecotourism in Turkey.
He was of the view that without National Policies and Guidelines in Ecotourism a country might find it difficult to position the same as an ecotourism destination, and to promote and show case ecotourism products and market them internationally. He emphasized that these policies would help the country to attract more up market international ecotourists to Turkey.  Dr. Nihan Arpa, Landscape Architect, and the Director of Ministry of Forestry and Water Affairs, Turkey who coordinated the Training Programme, is well-known among the ecotourism fraternity as the driving force behind the Ecotourism promotion and development in Turkey