DeeZone leader Damian in highway crash
View(s):

Popular band 'Dee Zone' was on tour in the United States during the months of November and December. They were in action at another concert in Dubai and Bangalore as their final destination for the year 2013, before coming to Sri Lanka. But unfortunately they met with a serious motor accident on their way to Bangalore, just before the scheduled concert.

'Dee Zone' is the newest player in the music scene in Sri Lanka led by veteran Damian Wickremathileke of Purple Rain fame.'Me and my band DeeZone was on the way to perform at a concert in Bangalore, we have met with this unfortunate incident' he said. 'Me and my band DeeZone was on the way to perform at a concert in Bangalore, we had this unfortunate incident' he said.

'We took the flight to India on the 16th December night. And we had to travel a few hours on the highway to Bangalore …The band was split in two vehicles …  Myself and Georgy was in the back while Pathum sat in front with the driver in our vehicle … Since we were all very tired after touring , and the flights being back to back, we had fallen asleep. All I remember is waking up in shock to a huge bomb going off kind of a sound, and excruciating. I felt the pain on the right side of my chest, which was crushing my lungs. Next thing , I woke up on the floor between the seats…Yes I had passed out …' Damian explained the horrible incident.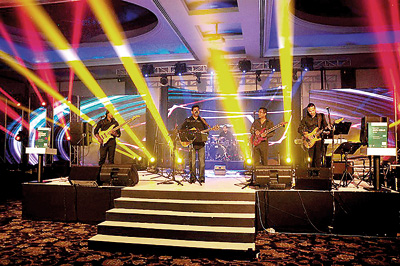 'The scan showed four broken ribs and a punctured Lung, and Pathum with serious injuries. I am also glad we survived that ride to Bangalore . We Reached Bangalore eventually and was met by others- Akash, Robbie and Nigel … who greeted us with joy and was with us and took care of us, right till the end…' he added. The leader and the creator Damian of 'Dee Zone' said 'Now we are home safely slowly progressing. We should start out usual music and practice soon'.
'We had good potion of work last year, as a young band, when compared with others. We played quite a number of dances during the last few months' he said.
'Dee Zone' performs at various hotel circuits in Colombo on regular basis. 'Apart from the regular venues, we play at private gigs, Corporate functions, weddings and other parties in and around in Colombo' he added.
'Dee Zone' has a wide range of repertoire starting from modern dance music, techno, retro music, classics and jazz.
'Sinhala classics and baila too are in our repertoire as generally audience requires these at any function. We always perform according to the requirements of our clients' said Damian.