'Address Nehe' A plot about people without address
View(s):

'Address Nehe' (No Address) a new Sinhala film is a story about a section of people in this society who does not have their own identity has completed its production and is ready for release. 

Produced by Janitha Marasinghe for Janitha Films, the film combines a fine cast with veterans and talented new comers. After a long silence yesteryear superstar Sabeetha Perera returns to the silver screen in the movie to play along with Mahendra Perera, Kamal Addaraarachchi, Jackson Anthony, Roshan Ravindra, Dharshan Dharmaraj, Sheshadrie Priyasad, Akila Dhanuddhara, Madhavee Wathsala, Hemal Ranasinghe, Aruni Rajapakse, Bimal Jayakody, Dinusha Rajapathirana, Praveen Sandeep and Tharindu Nadeeshan.

Set in a poor urban setting the film revolves around a few characters who fight different battles to continue their lives. Hitler of Nasiwatta is a thug of the underworld. At the time of his imprisonment, he resembled Adolf Hitler. However, he intended to be a "different man" when he is released from prison. But despite his intentions, he had to come back to the same old Nasiwatta.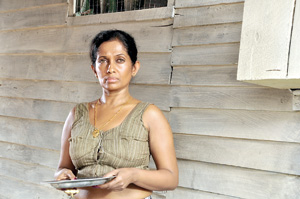 Pinsara Mudalali appears to be a charitable and pious person. However, no one knows that he is the invisible force who secretly controls Hitler. Chaplin is a differently-abled beggar who is mute. He makes a living out of performing as Charlie Chaplin on the street to educate his daughter. However, on the day when he has to take on the role of Adolf Hitler the narrative will end.
Subha is Chaplin's daughter and studies at Law College. However, she doesn't know that her father is a beggar. Kapila is a law student who is in love with Subha. However, Subha doesn't know that Kapila is the son of Pinsara Mudalali. Sandya is a prostitute in Nasiwatta. However, no one but Chaplin knows that Subha is Sandya's daughter.
Goring is Hitler's sidekick. A snake. But his venomous fangs have been removed.Embilipitiye Karaa is the newest thug to arrive at Nasiwatta. He detests older gangsters in the area. A criminal by profession, he has licentious habits.Every innocent person, thug, lover, student and dealer gets involved in one story. A charitable and religious person is the invisible hand that manoeuvres all these innocent people like evil puppets.
With the revelation that Sathgunawath Pinasara is Subha's father and not Chaplin, the narrative ignites. Hitler is imprisoned again.
Story, script and direction by Jackson Anthony, the film is soon to be released in cinemas.