New measures to ease traffic blocks near popular clothes store
By Chathuri Dissanayake | Pix by NilanMaligaspe
View(s):
After a week of complaints by those affected by the huge traffic jams caused by patrons of the popular clothing store 'House of Fashion', the Borella police have deployed extra policemen to the area especially during peak hours. They have also taken measures to help the store manage its parking facility better.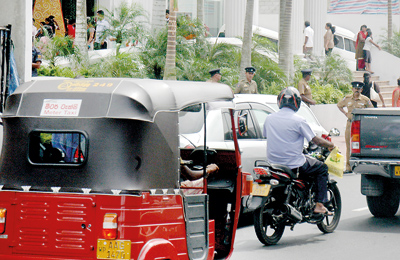 Since then, though traffic does build up from time to time, it is managed effectively most of the time. OIC Traffic Borella, IP Sanjeeva Rajapakse said "Earlier the company delayed in letting vehicles into the car park of the building. "We have ensured that this does not happen anymore.
"There was also an issue with their parking system which we have changed. The area now has a capacity to park 260 vehicles. The company has also purchased another block of land which can accommodate 75 additional vehicles". The OIC added 27 extra policemen had been deployed to manage the traffic during the season.
Of this number five have been stationed near D.S. Senanayake Junction in order to manage the traffic near the new shopping complex.
"We have also deployed a motorbike unit to patrol the area and ensure traffic is moving and to channel any vehicle parked on the roads to the two public car parks -one in Bakery Watta and the other behind the Borella cemetery", IP Rathnayake said.