Cold weather, rain to greet New Year
View(s):

Cold spells, thunderstorms and heavy showers are set to greet the New Year, Met Dept. officials warned yesterday.  Most parts of the country recorded temperatures below 30 degrees Celsius, with Nuwara Eliya recording 11 degrees and Badulla 18 degrees this week.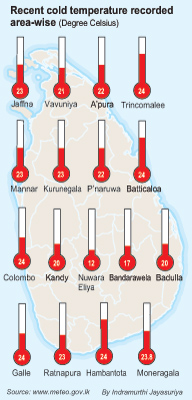 According to the Meteorology Department, temperatures in Colombo and Galle will be between 30 degrees Celsius and 24 degrees Celsius (86 and 75 degrees Fahrenheit) while Kandy will be colder with the temperature between 27 and 20 degrees Celcius (86 degrees to 68 degrees Fahrenheit). Anuradhapura's maximum temperature was 29 degree Celcius while Batticaloa continues to maintain a maximum of 26 degrees Celcius. Jaffna's temperature will be between 27 and 23 degree Celcius.
"Chilly nights and mornings will be experienced throughout the western parts of the country while the northern and eastern parts will receive heavy showers as a result of the North East monsoon. Adding to these weather conditions are the atmospheric disturbances that cause thunderstorms and strong winds," Met. Department Director General Lalith Chandrapala said.
The weather chief said that areas that are not affected by the North East monsoon, will experience chilly weather due to the heating of the surface during cloudless afternoons. Nuwra Eliya District Secretary (Government Agent) D.P.G. Kumarasiri said there are sudden drops of temperature and there is a possibility of the temperature going down to 8-9 degrees Celsius (42 t0 48 degrees Fahrenheit).
"Most of the victims of extreme cold weather are beggars and those visiting Nuwaraeliya. When the temperature starts dropping we are to provide necessary facilities to street dwellers. Unfortunately, those visiting are not aware of measures to be taken during such weather," he said.
According to him, during cold weather it is important to wear warm clothing such as sweaters, jerseys, socks etc. and more than one layer, have extra blankets, replace wet clothing as soon as possible. Mr.Kumarasiri said there had been several deaths in previous years due to inhalation of smoke caused by burning logs.
"It is essential to have a chimney or other way to let out the smoke. But those who visit cold areas are unaware of this,"he said.
Meanwhile, children, the elderly and those suffering from heart, kidney or lung disease, circulatory problems or respiratory illnesses, such as asthma, should be extremely careful as the chilly weather can worsen their condition, he said.
Met. Department also warned of a weather disturbance to the South-East of the country, that may bring strong winds in almost all areas and rains off the south eastern coast.
Fishermen are warned of rough seas from Pottuvil to Galle via Hambantota and wind may go up to 70 km per hour.