Biggest drug haul: Kick the habit, no more political chits
Pressure mounts on Premier with calls for resignation and allegations that a Pakistani suspect bankrolled Jayaratne Jnr's election campaign
View(s):
What is described as Asia's biggest heroin haul is continuing to rock the UPFA Government. Despite repeated calls by one of the ruling coalition allies, the Jathika Hela Urumaya (JHU), that Prime Minister D.M. Jayaratne should resign, the 82-year-old veteran hill country politician has dug in his heels to stay. Known popularly as Dee Moo after his initials, Mr. Jayaratne told colleagues in Parliament this week, "I have no plans to go. I have done no wrong."
Mr. Jayaratne's assertions became stronger after he had a one-on-one meeting with President Mahinda Rajapaksa. Yet, the JHU wants to continue its campaign urging the Police to probe him.Premier Jayaratne found an unexpected ally coming to his defence in Parliament on Friday.
It was Mangala Samaraweera, his former Ministerial colleague and now the UNP's Communications Director. Mr. Samaraweera told Parliament that Mr. Jayaratne should not be faulted. When he was Minister of Ports and Aviation, Mr. Samaraweera said, he received letters from several ministers asking for waivers of demurrage charges. Such letters had even come from the then Prime Minister, Mahinda Rajapaksa. Mr. Samaraweera said he had obliged them after examining the applicant's suitability.In defending Premier Jayaratne, Matara District parliamentarian Samaraweera's argument was that the old guard of the Sri Lanka Freedom Party (SLFP) were now being penalised. However, he has irked sections of his own party for rushing to Premier Jayaratne's aid unsolicited. They complain that it has created confusion among the party's support base that the UNP was defending the Prime Minister over a controversy related to dangerous drugs.
However, the minister in charge of ports no longer holds authority to order waivers of demurrage. This is because a private company — South Asia Gateway Terminal — now operates the Colombo Port. That was why the Prime Minister's Coordinating Secretary, Keerthi Sri Weerasinghe, addressed a letter dated August 23 to the Manager of the SAGT.

The letter is self-explanatory. It was revealed exclusively in the Sunday Times of Nov. 10. It says: "I would be much thankful to you on behalf of the Hon Prime Minister that if you could take appropriate action to grant a waiver of duty and concession of SAGT charges on the above container which has been imported by Rohaan Impex at No T-30, Maligawatte, Railway Quarters, Colombo 10.
"According to Mr Kamil the proprietor of Rohaan Impex for not having a proper knowledge of import procedures as this is the first container they have imported to Sri Lanka and they are at the starting point of their business. Also, I wish to bring to kind notice that they are not in a position to bear the amount of higher duty and other charges.
"Our kind attention to this request and taking necessary action for same is highly appreciated." Even if seeking demurrage waivers are a normal practice, the letter itself raises questions over other issues. Here was the Prime Minister's office certifying that the proprietor of a company does not have "proper knowledge of import procedures as this is the first container they have imported to Sri Lanka and they are at the starting point of their business."
It raises a number of other questions. One is whether the Office of the Prime Minister of Sri Lanka, as a matter of routine, issues letters to new business ventures which do not even know the basics of import procedures. Is it not the responsibility of the company in question, when they are venturing into business, to either recruit a competent person who knows import procedures or in the least temporarily hire one of them? In certifying that the importer in question was a novice unaware of import procedures, the Prime Minister's Office has set a new benchmark. They are able and willing to offer letters instead of arranging for lessons for such importers.
The consignment of heroin arrived in Sri Lanka from the Pakistani port of Karachi on June 6 this year on board the "Northern Power." On board was a 40 foot container declared to be carrying bathroom fittings and synthetic grease. The cargo was consigned to Rohaan Impex whose address was given as T-10 Railway Quarters, Maligawatte. Since registration in 2011, this is the first consignment that was arriving for the company.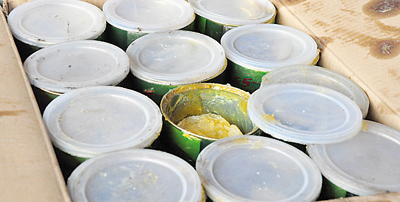 Unknown to the importers, the Customs had received a tip off from the Police in Pakistan that a quantity of heroin was on its way to Sri Lanka. They kept a close watch on the container. As no one turned up to clear the cargo, the demurrage was mounting. Customs were sending repeated reminders to the local company.
In August, two months after the container had arrived; a local clearing agent had turned up. He was to explain to Customs officials that there was a delay in calling over. He said they had to obtain certification from the Industrial Technical Institute that the grease in the container was indeed "natural grease." This was in contrast to the claim in the cargo manifest that it was "Synthetic Grease."
The Customs officials doubted the claims of the clearing agent and insisted that the importer be present to clear the cargo. On August 30, the clearing agent, the local importer and the Pakistani shipper were present at "Rank 10 Terminal" of the Ports Authority at Orugodawatte. Customs officials were there with officers from the Police Narcotics Bureau.
When the container was opened, there was first a layer of cardboard boxes. When they were pulled down one by one, there were cans. Customs opened a few of them and found they contained grease. There was still no cause for any suspicion. A few more similar checks and they found polythene covered packages inside the grease cans. These were found to contain 261 kilograms of heroin in all . The number of tins was 17,500. A Customs official, who did not wish to be identified, said, "I was reminded of a consignment of potatoes from Pakistan. Thrown in between were potatoes made of plastic where heroin was surreptitiously hidden."
Three persons – Amal Karship Ashish (said to be the Pakistani exporter), Mohamed Kamil (owner of Rohaan Impex) and Mohamed Rilvan (Clearing Agent) were detained. The main Sri Lankan suspect had developed a friendship with the Pakistani while they were working in Kuwait some years ago. They hatched the plan in Kuwait before they returned to their respective countries, investigations revealed. Police Narcotics officials say that according to their investigations, the Pakistani national has had close links with the Prime Minister's Coordinating Secretary. During the Central Provincial Council elections campaign, the four had had a meeting with Premier Jayaratne though he was unaware of the antecedents of the Pakistani. Contact had been made through Gampola Urban Council member Tharanga Vittachchi. He, however, declined to make any comments. In earlier remarks made to the Sunday Times, Mr. Vittachchi claimed he had on his own approached the Prime Minister's Coordinating Secretary and obtained the letter.
Anuradha Jayaratne, son of Premier Jayaratne, who polled the highest number of preferential votes at the Central Provincial Council has flatly denied that the Pakistani national spent for his election campaign — an accusation led by his political rivals. They alleged that Rs 20 million had been spent by the Pakistani drug dealer but Jayaratne jnr. has described the allegation as "part of a malicious campaign" against him.
When asked about the progress of the investigations, Police Narcotics Bureau Director Kamal Silva told the Sunday Times that they were continuing. He said they had recorded a statement from Urban Councillor Vittachchi. "Further questioning of persons will depend on the progress of the inquiries made." he said.
Meanwhile, Customs Spokesperson Leslie Gamini said the Customs had carried out its investigations and handed over its report to the PNB for further action.