Looking to remodel rugby in Sri Lanka
By Naushad Amit
View(s):
For Alastair Saverimutto, challenges are part and parcel of his life. Since 2003, after cutting short his professional career in rugby in 1996 due to an injury, Alastair, as an individual has braved all tides to become an expert in his trade.
Six months after assuming duties as the Chief Executive Officer of Sri Lanka Rugby Football Union (SLRFU), Alastair added the formula to the rugby passion of all islanders, with his brainchild, the Serendib International Cup, in a bid to revolutionize the sport into the next level.
"To be honest I didn't know and the world does not know about Sri Lanka rugby. Because of that, because I'm very commercial and after realizing it as the opportunity I'm here to kick-start the move. The world should know about Sri Lankan rugby and that's my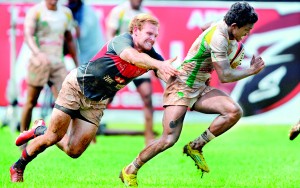 challenge," he said optimistically.
The former England Under-19 flyhalf, who went on to represent top English club sides Bath, Bristol and Gloucester as a professional player, before turning into football administration went on to say that one really does not need to be technically an expert to become a top administrator. He is of the view that sometimes the sport will stagnate at the same level unless experts think out of the box. Alastair states that as a rugby playing nation, Sri Lanka has put their weight on the field, but they have done it without any professional, business and structural approach.
"Sri Lanka is an amateur rugby playing nation in bracing on professionalism. In England I was an amateur for years before reaching professional status. As far as I'm concerned rugby went professional in 1995 and though it's too long Sri Lanka is now close to embracing it. It's not easy and if you want to make professional changes, you can't do it overnight; it takes time and the changes have to be seen from the grassroots, on and off the field," Alastair explained.
The rugby specialist Alastair who later became a top administrator at several English football clubs Everton handling Commercial Operations, at Bournemouth as CEO and at Gabala FC in Azerbaijan as Chief Operating Officer, is glad to be back in the sport he is naturally comfortable at. But his first assignment in rugby administration as CEO of SLRFU has been tough so far.
"I've been in football administration at top level for ten years. I don't know or understand football but I do understand the business of football. You don't have to be a technical expert to understand the values of the business. But rugby is in my blood. I was fortunate to play in England at different levels. My brothers played for Ireland and one of them, Chris played in a World Cup and a Six Nations Cup Tournament. I was grown to be a professional player in rugby. And to take a country that has passion into the global rugby radar is the challenge I enjoy," Alastair stressed.
So far with what he has assessed, Alastair is of the view that it's high time Sri Lankans get out of the bags of being amateurs. He firmly believes that if professionalism is to be adopted one needs to be bold and brave enough to initiate what could be the change that needs. With that hope Alastair's brainchild, the Serendib International Cup 2013, which will be the first-ever tournament to be held in Sri Lanka featuring two other teams outside Asia, from Africa and the Europe, will be played from next weekend.
"If you are trying to drive the professional line and attitude, you need people with sleeves rolled up, people with experience in building brands, in building commercial propositions, in building commercial assets, like what I'm building here with the Serendib International Cup. So the challenges are extreme, but they are positive. The majority of people here are so positive about rugby in this country."
By today Alastair has managed to create a fascinating hype through the Tri-Nation Series which also features Poland and Madagascar, through the newly re-branded webpage of the SLRFU. He proudly boasts of the SLRFU website as most dynamic, if not the most professional site run by a rugby union in Asia which has managed to generate over 11,000 'likes' on the social networking site, Facebook in just four months.
"The Serendib International Cup is all about building a brand, a business, all very much on to the radar. We have got a brand now which is exported into the territory. But I knew, very early, that this brand was not going to be something that could be done single-handedly at domestic level. I had to go big, the most extreme way that could possibly do. That's the only way that we can kick-start this country into really meaningful professional way. So I went for it."
"Peoples' worries or concerns were such that many of them doubted it. In life you got to put your head down and do it, that's why I'm paid to do. This tournament, was as my knowledge and expertise, is a commercial asset for this country. Sri Lanka needs such one; it relies too heavily on external sources. Sri Lanka needs to generate its own revenues. And once it's generated in sufficient numbers, in the near future, it will be the first intellectual asset that Sri Lanka will have, the same way Hong Kong built its Sevens Tournament. But it was not built overnight. It took many years. This potentially is the second tier World Cup and it's far bigger than a normal start," he went on to explain.
The inter-club league tournament which will kick off in four weeks is not an area that has caught the eyes of the strategic thinker, who goes on to say that his Serendib International Cup could involuntarily help the domestic tournament. Alastair thinks that if he spent his energy on the domestic tournament at this juncture, trying to improve its standards with other changes, may as well consider that it would have gone a waste.
"I think everybody acknowledges that the Serendib International Cup, in itself, is going to change the face of the domestic league. Rugby in this country will be seen in a different light-up with this tournament. The world and many in Sri Lanka will start to understand the vision and the ambition of this country, and then hopefully a lot of that will rub off in to the domestic league and it will generate more interest among people and sponsors. Club rugby is a difficult business, it can only exist though sponsorships. So it's very important that we do heavy duty strategic planning. The schools can be a viable level to approach at this stage. It can lead the interest into the club tournament," he pointed out.
Besides the upcoming Serendib International Cup tournament, Alastair's next strategic aim is based on local schools. While stating the Sri Lankan schools rugby structure as one of the strongest in the world, he added that it still has room to improve.
"Unfortunately in the business of sports it needs money to grow. The Indian Premier League is a very good example for that. And equally what I intend to do in schools in not that dissimilar, I got to look at strengths and weaknesses and create a product that's going to entertain and drive sponsors and support it.I have had meetings with schools and the SLRFU and got them closer. It's just about timing out and looking forward to spearhead a real meaningful way forward. Again it will be a win-win situation," stressed Alastair who firmly believes that he is duty-bound to do it, partly being a Sri Lankan.
comments powered by

Disqus