Ananda's Buddima rowing a balanced boat
View(s):

Buddima Wickramarathne has fashioned a reputation for himself as a quick learner and hard worker in both his alma mater, Ananda College, as well as the school fraternity at large. This year, after captaining the Anandian rowing team to victories in the Under 18 and Under 20 age groups of the Sri Lanka Schools Rowing Nationals, Buddima has deepened this impression and welded a fresh dimension to it: inspired leader.

At the Rowing Nationals he stood imposingly amongst his teammates, cheering lustily every time any of his oarsmen were in the waters of the Beira and bellowing in celebration whenever they crossed the line in pole position.

However, the tall, broad-shouldered Buddima effects a wholly different attitude away from the field of competition, appearing easy-going, modest and occasionally even slightly bashful.

Perhaps it is this mentality which keeps him grounded and impels him to ascend to even greater heights in sports and academics. Already he has made significant gains in both streams of endeavour, excelling in waterpolo in addition to rowing and recording 8As and 1 B at the O' Level examination.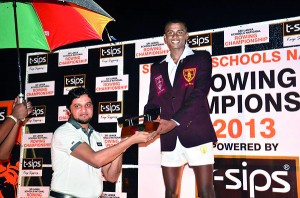 Buddima was already a part of the waterpolo team when he attended an exhibition conducted by the Ananda rowing team in 2009. He would hardly have guessed that a year later, after being encouraged to take to the sport by members of the squad, he would not just be rowing but doing it so expertly that he was orchestrating spectacular triumphs.
But even though this progress seemed to materialise effortlessly, there was a period of strife and adjustment explains Buddima.
"It was hard practising six days a week, especially with studies. And I was only 14. But I didn't give up because I enjoyed doing it. Plus in rowing you get a good feeling of belonging to a group."
He adds that another important resource fuelled his progress and thirst for progress: a deep-seated desire to win. These factors, along with a steady flow of advice from senior teammates and astute coaches helped him, and eventually his team, emerge as a formidable
force in the water.
Despite having to move slightly away from waterpolo due to the increasing demands of his rowing, especially given his position in the team, Buddima was quite gifted in the sport. In 2011, he was part of the All-Island Runner-up Anandian waterpolo team which went on to tour Malaysia.
A member of that distinguished and dying breed, the allround student, Buddima stresses that studies are just as important in his life as sport, and seeks to impart on his academic pursuits the same zeal amd resilience that have enabled him to succeed in the sports arena.
However, Buddima notes that he would never have achieved such equilibrium in his student life if not for his parents, and he is grateful for possessing such shining beacons of supportand guidance in his life. With their help and his natural gifts of grit and intelligence, Buddima says he will seek to chase after his new big dream, joining the Sri Lanka Air Force, where he says he will look to continue nurturing his profound passion for rowing. DS.
comments powered by

Disqus