Abeysinghe's rule of the pool
By David Stephens
National and Junior National Aquatic Championships 2013
View(s):
Matthew Abeysinghe continued to carve through his opposition with the same ease with which he glides across the water, as the newly-crowned Milo Most Outstanding Schools Sportsman of the Year tore to a record-setting victory in the men's 200-metre freestyle event of the National and Junior National Aquatic Championships, held at the Sugathadasa Stadium yesterday.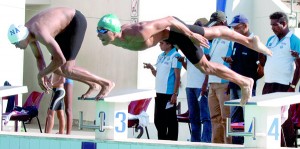 Abeysinghe, swimming for the Killer Whales Aquatic Club, planted an immediate rubber stamp on his new credentials with a spectacular start, in which he exploded like a firecracker off the blocks and sped across the pool like a man possessed.
Only a few seconds in, it was exceedingly clear that no-one in the field was likely to reel him in, and the only detail in doubt was whether he would crack the record he set only a month ago. This he did, although only by the skin of his teeth, replacing the previous timing of 1.52.76 with a new mark of 1.52.75.
Shehan de Silva of Trinity College Kandy, who was frustratingly relegated to the role of a prop in Abeysinghe's masterful play, grabbed second place in 2.01.67 ahead of Sri Lanka Navy's K. Rupasinghe (2.05.80).
The third day of these championships provided another plentiful harvest for the Killer Whales stable as Mathew's brother Kyle continued the club's record breaking feats with a majestic swim of his own in the boys' Under 14, 200-metre freestyle event.
Kyle beached his fellow Killer Whale Kavindra Nugawela firmly in his wake with an imperious 2.08.85 swim brimming with confidence and power.
Nugawela touched home in 2.17.00, one second ahead of the British School of Colombo's Joshua Jesuthasan.
In the Under 14 girls' Freestyle swim, Uththama Silva of Mahamaya College Kandy threw down the throttle to propel ahead to a 2.27.8 win over Lyceum Wattala's Deekshi Gunasekara. Gunasekara to her credit, held on determinedly to stave off the threat posed by Pramodi Malshik of Viharamahadevi Balika Vidyalaya.
Dimuth Akalanka Peiris of St. Peter's College was another on the list of the usual suspects to dominate in the junior category who notched up a commanding win. He pounded down the pool to splinter the Boys' Under 14 50-metre butterfly record. Radush Sathasivam of Lyceum Wattala did his best to pressure and pass Peiris, but the Peterites' pace was too blistering to contain and Sathasivam had to content himself with a second-place swim of 29.79.
Meanwhile the men's 50-metre butterfly in the Senior Nationals also yielded a scintillating and keenly-contested affair. Cherantha De Silva (25.55) of Ananda College just pipped Kanitha Munasinghe of Royal College at the post by a fraction of a second after both men set a frantic early pace. K.P Manawadu of Sri Lanka Navy was also in with a sniff early on but last ground down the stretch to finish in 26.95.
The National and Junior National Aquatic Championships, organised by the Sri Lanka Aquatic Sports Union, are set to conclude today at the Sugathadasa pool with an exciting lineup of finals, featuring the country's best swimmers, slated to be worked off.
comments powered by

Disqus