60s and 70s extravaganza with former Jetliner
View(s):

Former Jetliner and well known singer from the '60s and 70s, Conrad de Silva will be performing live at the Musaeus College Auditorium on Thursday, October 3. Conrad will be backed by a band synonymous with that era, Sohan & The X'periments, and will be performing many of the songs that made him one of the most popular singers of that golden era.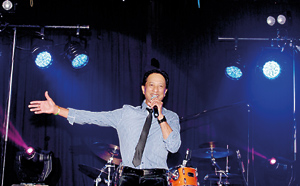 Conrad performed in Sri Lanka in March this year as a part of the original Jetliners reunion concert, and was one of the crowd favourites on the night. This time around, he is back in Sri Lanka, proudly following his son Andrew's tour of Sri Lanka, the latter having won Australia's Got Talent last year.
Andrew will also perform as a featured artiste on Conrad's night, but it will be an entirely 60s and 70s extravaganza. It will include duets by the pair in which they will perform a couple of songs featuring rollicking hits from the '60s!
Tickets are available at www.anything.lk online and through their outlet at Odel till September 30. Thereafter tickets will be available from their office at 176/1 Thimbirigasyaya Road, Thimbirigasyaya.
comments powered by

Disqus