Public warned of rains bringing possible dengue outbreak
View(s):

Health authorities warn the public, especially within Colombo's suburbs, of a possible dengue outbreak with the onset of intermittent rains. The warning comes with a sudden increase last month with the Colombo District topping the list of dengue victims with 23,569 cases. Among the vulnerable areas in the district are Kolonnawa, Maharagama, Dehiwala-Mt. Lavinia, Kaduwela, Nugegoda and Kotte.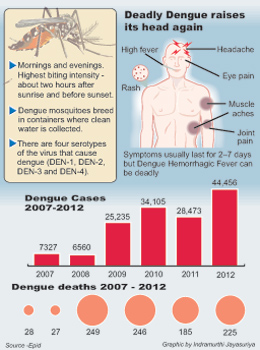 This year, Colombo District recorded 7,175 cases, followed by Gampaha District with 2,704 and Kurunegala District with 2,396 cases.  A special dengue eradication programme was held in Battaramulla this week after a number of cases were reported in the area including at a military base.
Senior Public Health Inspector (PHI) of Battaramulla and Colombo District Public Health Officers' Union president Premasiri Wijesekera said over 2,000 premises, residences, private and public institutions and construction sites were inspected. 
"Cases were filed against 145 locations for violating the Mosquito Breeding Prevention Act while 216 were warned. Several military personnel involved in construction work in Akuregoda and temporarily housed in barracks, contracted dengue fever. Fogging and spraying of larvicide was also done in the area," he said.
According to him, in suburban areas, discarded containers, waste disposal and construction sites were the main reasons for the increase in mosquito-breeding. Health Ministry Epdeimiology Unit Senior Epidemiologist Dr Hasitha Tissera said that a susceptible population and more breeding sites have made the suburbs vulnerable to this deadly mosquito-borne disease.
"An increase in August to 3,219 cases, from July's 2,900, suggests a change in the rain pattern as well as more breeding sites. Usually, there is a significant increase from October to December. But this time, it may even be earlier," he warned.  He said the Health Ministry has commenced a pilot project in several hospitals with ultrasound equipment to detect plasma leakage.
"Patients suffering from dengue fever recover gradually with plenty of liquid and rest, but those with dengue hemorrhagic condition need special treatment and need.. to be identified soon.
"At present, blood count and clinically inspecting the chest cavity or abdomen is done to identify plasma leakage that could lead to hemorrhagic condition. But ultrasound examination is a more sophisticated method used to confirm liquid leakage," he added.
The National Hospital Colombo, Infectious Diseases Hospital Angoda, Colombo South Teaching Hospital Kalubowila, Ragama, Jaffna, Karapitiya and Kurunegala Teaching Hospitals are some of the hospitals presently using this equipment.
Dr. Tissera said that the Health Ministry has taken a policy decision since mid last year, not to make public the death toll.
However, last year recorded a staggering 225 dengue deaths and 44,000 cases islandwide.
comments powered by

Disqus