Over 500 complaints of violence, shootings mar run-up to PC polls: Observers
By Joshua Surendraraj
View(s):
The campaign for the Northern, Central and North-Western Provincial Council elections were marred by violation of election law, violence, abuse of state property and involvement of state officials in electoral activity, election observers have pointed out Over 500 complaints had been recorded, they said.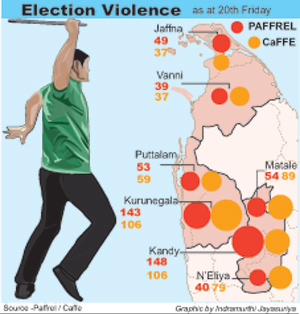 A striking feature during campaigning was a significant increase in intra-party violence which has been reported on an almost daily basis. The cause célèbre- the struggle for preferential votes. This intra-party rivalry superseded the traditional rivalry between government and the opposition.
By Friday election monitoring bodies, Campaign for Free and Fair Elections (CaFFE) and the People's Action For Free and Fair Elections (PAFFREL) reported an overall 579 and 535 violations of election law. Over 7,000 local and foreign monitors were monitoring the polls yesterday.
The CaFFE group in an interim report said military personnel were involved in propaganda activities. It said its observers confirmed military personnel had attempted to obtain copies of the voters' lists through Grama Niladaris, Divisional Secretaries and Election Officials. 
Military officials had also officially requested the Jaffna Elections Commissioner to provide them with copies of voters lists.
The request was rejected by the Commissioner who said "the army has nothing to with the election." Similar attempts were made to obtain voter lists through Grama Nildaris in Mullaitivu, CaFFE said.
CaFFE said they were very concerned about the last minute military deployment in Jaffna, as elections were a civil affair and had nothing to do with the military.
All propaganda activities were expected to stop by midnight on September 18 by order of the elections department.
CaFFE Director Keerthi Tennakoon said "two of the most serious incidents of election related violence in the north was allegedly committed by S. Ramanathan, the father of UPFA Jaffna group leader Ankajan Ramanathan. The group also reported other violent incidents :
An incident of shooting at the residence of a supporter of former Central Provincial Councillor Thilina Tennakoon, the Sri Lanka Freedom Party (SLFP) organiser for Kandy District which was attacked on September 9.The election office of Kandy District UNP candidate Lalith Ranaraja at Yatiwawala was shot at by an unidentified gang, who came in a double cab on September 9.
In the Central and North-Western provinces, two major instances of violence were reported on September 15. Supporters of United National Party (UNP) candidate, W.M.P.B. Warawewa were assaulted at Mahaiyawa, Kandy by a group which arrived in three defender jeeps; a vehicle carrying his propaganda material was damaged.
Meanwhile supporters of National Unity Alliance (NUA) were assaulted while they were distributing leaflets at Kalpitiya Road, Norochcholai.  Mohommad Firoze, NUA's Chief Ministerial candidate for the Northwestern Provincial Council, was admitted to the Puttalam Hospital following the attack.
PAFFREL in a report said special attention needed to be paid to the Kurunegala, Nikaweratiya and Dambadeniya areas.
The group said it had recorded 102 incidents including reports of ten cases of assault, eight cases of abuse of state property, and conducting of six unlawful meetings.
It added, of 79 incidents reported in the Northern Province 46 were from the Jaffna district while 22 incidents were reported from Kilinochchi. In one instance, a candidate of the Tamil National Alliance (TNA) was intimidated, threatened and assaulted at gunpoint PAFFREL said.
The monitoring body also reported an incident of intra-party rivalry between ruling party candidates seeking preferential votes, where firearms were used. PAFFREL charged inducements were being offered to buy votes especially in the Kurunegala and Kandy districts.
Police spokesperson SP Buddhika Siriwardena said 141 persons had been arrested for violation of election law as well as for engaging in acts of violence." He added 24,000 police personnel were deployed to maintain peace on election day.
comments powered by

Disqus