Eco healthy development of SL without following Europe, US: Nobel Laureate
View(s):

'Future Earth' programme to keep SL in step with global strategies to make Earth a safer place
Nobel Laureate in Science Prof. Yuan Tseh Lee visited the Peradeniya University's Chemistry department and the Sri Lanka Institute of Development Administration, where he conducted lectures on the Environment changes taking place.

He was in Sri Lanka this week on a programme named 'Future Earth'.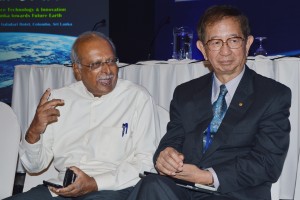 A workshop too was organised by the Coordinating Secretariat for Science Technology and Innovation (COSTI) this Tuesday and Wednesday, where Prof. Lee spoke on the 'Transformation of Human Society.
Future Earth is a 10-year international Science Technology and Innovation initiative on Earth System research that will develop the knowledge to respond effectively to the risks and opportunities of global environmental change. Through the discussion, experts met to look at how we should develop activities in Sri Lanka in line with such global strategies.
Prof. Lee, along with two of his colleagues, was awarded the Nobel Prize in 1986 for their contribution to the dynamics of elementary chemical processes. They invented an instrument to understand how chemical reactions occur when molecules collide. The Education Times met with the professor while he was here.
"This is my first visit to Sri Lanka. Here the human development index is very high. There is good education and healthcare in this country. When I came here and went to the cultural triangle, it reminded me of the countryside in Taiwan many years ago when I was growing up. Because then, our culture wasn't westernised and there was much greenery," he said.
He explained that Sri Lanka has a good environment with just 0.6 tonnes per capita carbon dioxide emission, while the global average is 5 tonnes. "In the United States it is almost 20 tonnes. So here it is very low. In Europe, they have to make drastic changes on carbon emission . Sri Lanka could develop in an ideal way in an environmentally healthy manner, without following the footsteps of Europe and the US," he said.
He said that, this way, we can set an example to the rest of the world of how a country could develop with an environment both wonderful and sustainable.
Prof. Lee, as the president for the International Council for Science (ICSU), looks at the environmental programme and does much research on Earth systems. "We see that global change is moving us into a very dangerous situation. The ICSU is now working with the International Social Science council, with UN organisations having started 'Future Earth', where we look at how earth systems are changing, how humanity is influencing the changes, analyse and predict where we are headed, and how we can transform our society into a safe and sustainable group," he said.
He said that, through this, they wish to make the earth a safer place.
He said that, through discussions, they hope to pass much information to students and teach them how to behave and organise a better future for themselves.
"I always said that we lived in a good environment, but will be passing on an earth which is horrible. Here we will encourage our students to participate early and strive for a better future," he said.
Talking of the difference of students then and now, the Professor said that, currently, students are too busy doing too much of heavy homework, and thus don't have the time to learn what they want to learn. "They also don't work as hard as they did because of the lack of motivation. In order to solve problems, we read much and also researched. In the process of research, whatever I need to know about, I researched on and was very much focused. We weren't distracted much by many things," he said.
Future Earth for economically, environmentally sustainable development
Minister of Scientific Affairs, Tissa Vitharana said that, when informed of Future Earth, he was interested because Sri Lanka is in the process of a sustainable development programme for our country and get it implemented.
"The Future Earth programme was working on the same line under a global dimension and also for regional development. This is essential for Sri Lanka. We decided to have this workshop in our country to address the problems that will come up regarding the environment," he said.
Minister Vitharana said that he believes that this will help develop ourselves be not just economically sustainable but also environmentally sustainable. "Development should go in hand in hand with the environment too, so that we can ensure a better future," the Minister added.
comments powered by

Disqus