Tenacious Thisuri thrives on tennis court
Pix by Mangala Weerasekera
View(s):
Only a few months ago, a downcast Thisuri Molligoda found herself struggling through a trench of frustration and disappointment.Sidelined with a wrist injury for many months, one of the junior tennis circuit's top stars was unable to train consistently and frequently stumbled over opponents she'd usually dismiss with minimal exertion and abundant virtuosity. Gazing at her now though, her game saturated with the confidence borne of being crowned a junior national champion, it's fair to say that those clouds of anguish and gloom are now positioned far in the distance of her burgeoning career's exquisite landscape.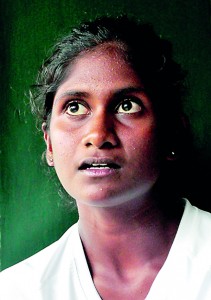 In the Under 18 girls' finals of the Junior National Tennis Championships, Thisuri thrilled those gathered courtside with an enthralling duel against fellow Visakhian Hasindi Lokuge. The game's momentum rose and cascaded with each wave of scintillating play before arriving at its final crescendo with a thunderclap of brilliance from a resolute Molligoda, who took the game and the title, 5-7, 6-2, 7-5.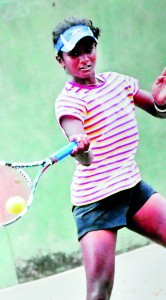 Her campaign represented a return to her dominant past form and signaled a renewed intensity in her play as she also overcame Kavindya de Silva, a player who has troubled her during their previous exchanges at lower rungs of junior tennis.
"After I stopped (due to her injury) my comeback was really hard. I lost to many players who I used to beat very easily and I was mentally down. But I trained and worked on my weaker points and did a lot of physical training and gradually improved my game," Thisuri explained.
A winner of Under 14 and Under 16 titles during past appearances at the junior nationals, Thisuri long ago demarcated a border for herself as a prominent future prospect, occasionally even squaring up against top national stars such as Amrith Muttiah, the current national women's champion.
But her exhibition in the Under 18 finals this year compelled her to channel an element of grit many current players may not possess. "I lost the first set and I was down 3-1 in the second. So I thought 'This is not going to work'. But I concentrated and kept more balls in court and won the second set. But play stopped in the third set when I was leading 5-1, and continued the day after. Then I was scared and I missed 10 match points and it was only in the 11th match point that I won," she says.
Nervousness aside, there are very few chinks presently in Thisuri's amour, and a diligent and disciplined work ethic has seen her thrive where others have trembled. Oftentimes during the weekend Thisuri can be spotted on court, enduring hours of grueling training. Fitting then that her two international idols are world tennis' toughest and most physical competitors: Serena Williams and Rafael Nadal.
Thisuri hopes to continue down her present trail of success and one day take the Sri Lankan women's tennis crown. With her coaches' wise counsel, her parents' unwavering support and her own insatiable desire to conquer all comers on court, there is very little doubt that hers is a name destined to hover around the upper echelons of women's tennis for a very long and illustrious period.- D.S.
comments powered by

Disqus