Kimiko makes more waves in the pool
View(s):

Fourteen-year-old swimming star Kimiko Raheem qualified for the Youth Olympic Games to be held in Nanjing, China 2014 at the recently-concluded fourth FINA World Junior Swimming Championships in Dubai. For Kimiko, the youngest of the Raheem family, with swimming champ sisters Mayumi and Machiko, this year has been her best with several records.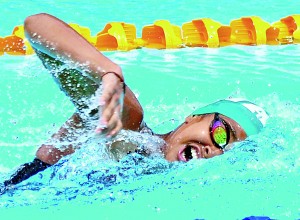 The others who qualified for Youth Olympics are Matthew Abeysinghe, her elder sister Machiko Raheem and Chrenatha de Silva.
At the Hamdan Bin Mohammed Bin Rashid Sports Complex, Dubai, Kimiko was able to finish the 50m Backstroke event by clocking an impressive 30.70 seconds. This year at the 15th FINA World Championships in Barcelona, Spain she also set a new Sri Lanka record in the 200-metre backstroke event.
Kimiko also holds national records in the girls' 50-metre backstroke, 100-metre backstroke, 200-metre backstroke, 50-metre free style, 50-metre butterfly.This year she was adjudged the Best Female Swimmer in the swimming championship of the National Sport Festival after she scored four new meet records.
At the 40th Milo All Island Schools Swimming Championships, Kimiko set a new record in the girls' Under 15 category 50m Butterfly event with a time of 30.51 seconds.Kimiko, born in 1999, used to swim since the age of three. "I remember watching my sisters winning medals and performing superbly at meets. Their achievements were my inspiration. I tried netball and athletics, but my passion for swimming was greater," she told Education Times.
Though breast stroke was her favourite at the beginning, her liking towards back stroke grew with time. "Most of my records are in the backstroke events. But Mayumi was a breaststroke champion while Machiko is more of a freestyler," she said.
A student of Asian International School, Kimiko said the school administration has been very understanding, with teachers always willing to help them with missed lessons.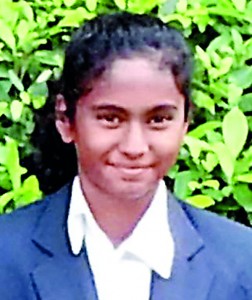 "At the FINA Junior World Championships in Dubai and Barcelona World Championships I was able to compete with foreign swimmers and observe their moves. Next year we have many challenges overseas. Therefore continuous training is needed," she said. Her ambition is to enter the medical field while becoming a professional swimmer.
"I would like to represent Sri Lanka at a future Olympics just like my elder sister Mayumi did," said Kimiko.Mayumi won gold medals in the women's 50,100 and 200-metre breaststroke events at the 2006 South Asian Games held in Colombo and represented the country at the 2008 Beijing Olympics.
She said that the three of them had the encouragement, support and blessings from their parents and the guidance from current coach Manoj Abeysinghe.
Nadia Fazlulhaq
"Kimiko is another Deepika Chanmugam and will definitely set records and make the country proud. Commitment and keenness lead her to victories," said Jeff Jacotine, Sports Director of Asian International School.
comments powered by

Disqus