BARAKA launches new brand and marketing strategy
View(s):

Bio Extracts (Pvt) Ltd, a subsidiary of leading conglomerate Expolanka Holdings PLC recently unveiled its new brand logo, total packaging and a renewed brand strategy for its herbal gealthcare product range BARAKA.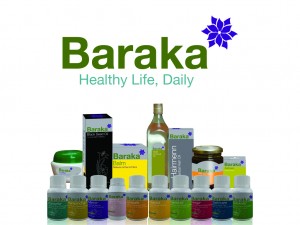 The new logo depicts a graphic motif of the flower that bears the Black Seed which is known for its medicinal value over several centuries, the company said in a statement.
"With a rich history that spans over 20 years and today's growing concern for healthy living, we took measures to re-launch our brand by revitalising the brand with new packaging and supporting it with an integrated communications strategy to enable us to take our products to more and more consumers. We as a brand will continue to spread our footprint to more global markets," noted company CEO Riza Bahardeen,.
Black seed, a revered herb used as a 'panacea' (meaning cure all ) for over thousands of years have in the recent past undergone intensive research studies and today has scientifically proven its value in its health giving properties. This combined with the rich herbs of Sri Lanka evolved the range of the Baraka healthcare products. The Black Seed is a complex sustenance of more than 100 compounds, a combination of fatty acids, volatile oils and trace elements that is believed to contribute to its effectiveness. Mr. Bahardeen said he wished to recognise the contribution made by Trevor Reckerman, Consultant to Baraka and Juragan Majid, Head of Marketing and Sales, Expolanka Pharmaceuticals Ltd who developed a comprehensive brand marketing plan based on meticulous market research and close knit consultations with key stakeholders.
Bio Extracts (Pvt) Ltd, established in 1993, manufactures a range of natural healthcare products under the brand name 'Baraka'. It is exported to 30 countries worldwide covering markets such as Spain, the US, Canada, Africa to Europe and many Asian countries.
comments powered by

Disqus