Venturing into the Duckworth/Lewis system
By Naushad Amit
View(s):
The D/L method was devised by two English statisticians, Frank Duckworth and Tony Lewis (D/L method). This is a digital engine designed to calculate limited overs matches those are interrupted by weather or other circumstances. This is generally accepted to be the most accurate (closest) method of setting a target score thereafter.
The guide is that each team in limited-overs matches has two resources available with which to score runs: wickets remaining, and overs to play. When overs are lost, setting an adjusted target is not as simple as to reduce the batting team's run target proportionally. This is because a team batting second with ten wickets in hand and 25 overs to play can be expected to play more aggressively than one with ten wickets and the full 50 overs.
Arguably they can consequently achieve a higher run rate. The Duckworth–Lewis method is an attempt to set a statistically fair target for the team batting second. The system is based on the score achieved by the first team, taking their wickets lost and overs played into account.
The method is accepted by the International Cricket Council (ICC) to be the most accurate in setting a target score according to Chinthaka Jayanath, the Statistician of Sri Lanka Cricket (SLC).
"Much is dependent on resources available. If the resources are fully with the team that bats first, they have a huge advantage, even to win the game. For example, at the final league match of the Tri-Nation Series in West Indies between India and Sri Lanka, the calculations supported the side batting first. It doesn't give a clear picture of a possible total that a team could get. In this scenario, India was 119 for the loss of three wickets in 29 overs and they could have neared 200 or beyond. Likewise they even could have been bowled out for a lesser total. However the method fully supports the side batting first and it may clearly come unfair by the side chasing. This is when people start to feel that there's something wrong somewhere," Jayanath elaborated.
According to another statistician of SLC, Anura Ratnayake, a former cricket scorer who is also a serious researcher on D/L method, says though the system is widely accepted as the best possible remedy available surpassing the previous methods it still has room to improve.
"People generally think D/L is all about cricket and rain delays. It is not only about rain delays and interruptions, because as Sri Lankans those are the only possible mode we can experience. There are modes beyond rain that can interrupt a game of cricket. Some possibilities are wasp attacks, crowd invasion, heavy winds, lightening or an emergency landing of an aircraft. All these can cause the delay and it is when the D/L method comes to act. The truth is it is a comprehensive method which came after some tailor-made methods and the well-known Parabola System which very much in use nowadays. But it must be noted that more emphasis could be put in to develop the D/L method which eventually has depicted weaknesses at times," Ratnayake noted.
It is not novel that the theory of the D/L method is to help the teams and spectators see a final decision to a cricket match, especially in One Day Internationals or Twenty20s. This method is also officially adopted by the ICC member countries to conduct their respective limited overs competitions. But there are many instances when the method faced criticism. One recent occurrence came when majority of Sri Lankan fans carped on the target their team received after curtailing India to 119-3 in 29 overs at Port of Spain in Trinidad. After an almost five-hour delay, Sri Lanka was given a revised target of 178 runs in 26 overs and eventually succumbed at 96. This was exactly the sort of loophole Jayanath and Ratnayake were claiming about.
"I have studied the system seriously and identified 16 possible ways and over 50 probable ways that a match can be interrupted. Depending on the circumstances I have made my conclusions as to who will emerge winners according to available resources. There's very little chance that a possible verdict would change unless otherwise a miracle comeback or the side defending their target not exploiting to their potential," Ratnayake further explained.
Presently SLC makes use a Professional Edition of the D/L method computer software, despite it was introduced as a mathematical chart. Initially the method needed the services of a well versed statistician with a sound knowledge in mathematics but nowadays the method is by far used by a D/L manager, the scorers, the television production crews and even the commentators. According to Jayanath the Standard Edition of D/L can be obtained by anyone from the ICC with a written request.
"Sudath Pasqual was the first from Sri Lanka to do an ODI match on D/L and after he was elevated in the SLC ladder, I was then appointed as the D/L manager for international matches in Sri Lanka for five years. Now we've got Asoka Chandrasekera and Anura Ratnayake and there's also Chaminda de Silva, Thushara Cooray and Chamara Silva from the Scorers' Association. But unfortunately we've not taken the risk of calculating the D/L method manually. Why should we do a mistake and mislead others when there is technology available. But one person who never touched the computer and was able to calculate the D/L was Sriyan Samararatne. Ratnayake also has that capability," Jayanath explained.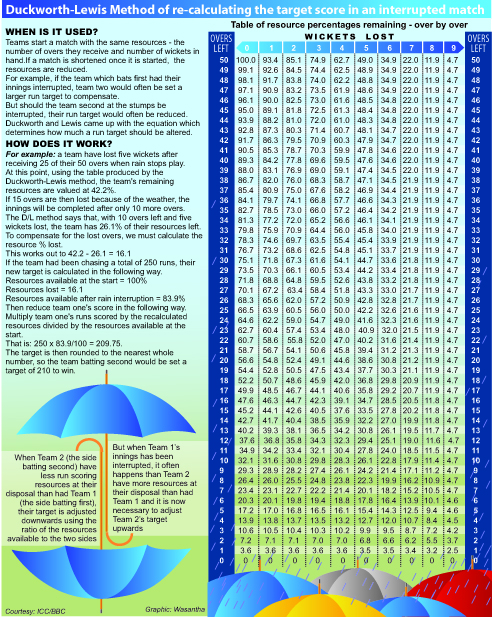 The D/L method which sometimes changes the whole fate of a team has a standard applicable procedure to follow be it at international or domestic level. When a game is interrupted once or several times, the match referee communicates with the scorer to check on the score and the scorer officially informs the D/L manager. The match referee then confirms the total for the D/L manager to go ahead with the process of calculating the revised target.
"Accurate data should be entered into the system to obtain the correct revised target. There are number of columns where you can feed data as and when the match is interrupted. It is essential to feed the correct data as and when interruptions occur, otherwise the revised target of the score on par will read a different figure," Ratnayake explained. In Sri Lanka there were two instances when wrong revised targets were given from the software. Both were resulted after inaccurate data were fed under different circumstances.
"One of the two instances when calculations were mistaken was at a Premier match in Colombo by the umpire, Gamini Perera and the second at the Royal-Thomian Limited Overs game by me. On both occasions, lack of proper coordination, interference and wrong data entry caused the problem. The correct figures were fed at wrong slots at both occasions, resulting in unimaginably high revised targets," recalled Jayanath.
Follow @timesonlinelk
comments powered by

Disqus