World-class Professional Education and Training now in Pannipitiya
PACE Institute helps people to become Outstanding Performers in the workplace
View(s):
Fulfilling excessively needed professional educational requirements, PACE Institute – The Institute for Professional Academic and Cognitive Excellence launched its first institute in Pannipitiya catering to the professional education and training needs of the employees, students & corporate sector organizations. The institute is conveniently located on the High Level Road and is highly accessible to large populations in Maharagama, Homagama, Awissawella, Athurigiya, Thalawatugoga, Piliyandala areas, saving their time, energy and money. There is no other institute in this area that can match PACE when it comes to providing lectures for international and national professional examinations and training to be top employees.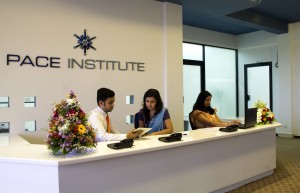 CEO Sajith de Silva says," We are different from other institutions. Whilst providing lectures for International and national professional qualifications, we are truly committed to helping individuals to develop to be top performers adding essential attributes. The employees with right professional attributes are always recognized as valuable assets and move fast up the career ladder. Our mission is to empower human capital for enterprise excellence. This is a challenging task, but someone needs to do it today"
Both school leavers and employees can study at PACE and benefit from fostering their career. Further PACE- Continual Professional Development programme (CPD) will provide continual career development support. PACE will guide even O/L qualified individuals to choose the right career and become leaders in it.
Professional qualifications are important, but it isn't the only criteria to become a valued employee. Other essential professional attributes are also important. So we provide both. Management is concerned that many employees today are unable to apply themselves practically in business situations and that soft skills development has gathered paramount importance today.
PACE Institute is a trend setter in today's "professional education, training and guidance" that has tactically invented its objectives to help organizations and individuals to fill the void by generating much demanded value employees with the right mind-set, qualifications and capabilities. PACE aims to bring about a prototype modification in occupation-based education venturing beyond the conventional methods of lecturing and engaging students in more practical approaches.
PACE parent company- eBEYONDS is an internationally recognized professional digital marketing solutions company with qualified professionals who add great value to PACE. Successful students will be trained at eBEYONDS and at other recognized organizations.
PACE offers lectures for many professional examinations and has already partnered with many International professional bodies.
Pace School of Information Technology conducts Professional Diploma in IT, Red Hat systems administration, Oracle Certified Java Programming, Zend Framework Certification courses. PACE parent company eBEYONDS can add enormous value to PACE students.
PACE School of Accounting offers lectures for many international & national accounting examinations such as AAT, ACCA and CIMA.
Pace School of Management & Marketing plays a major role in training management personnel much required for the corporate sector.
PACE school of Cognitive development conducts soft skills development, corporate Training and finishing programmes. The most significant part is that learners will be awarded a "PACE Value Professional certificate" in addition to professional qualifications.
PACE student counselors guide you to choose the right career path considering your inner strengths and desires.
PACE boasts of an accomplished team of lecturers and administrative staff with a clear understanding of its goals to accomplish its mission.
PACE has hi-tech computer labs, with Wi-Fi enabled, state-of-the-art facilities that meet needs in the digital era, which makes studying a fun activity.
It is the ideal time for you to re-think your options, learn to become top performers and stand out from the crowd.
Follow @timesonlinelk
comments powered by

Disqus