The Story of my American Education
View(s):

I started at Saint John's University (also known as the College of Saint Benedict/ Saint John's University) in the Spring (January) of 2011. The university is located in the state of Minnesota, and one thing about this state is that it snows, a lot. The first time I saw snow was when I came to Saint John's and that itself was a new experience for me coming from a country with no snow at all. The education factor is important, but what you must also learn and understand is that being independent is something that every American values a great deal.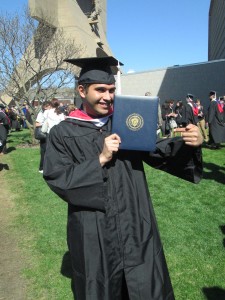 Saint John's University, a private liberal arts college, offers an exceptional education entwined with good moral values. The best thing about going to a liberal arts college is that a student is allowed to take a number of courses and then pick which major they would like to go into depending on how much they liked certain courses. The classes (about forty students) are not as big as those in state schools (which can amount to around one hundred students). Hence, there is a lot of student-teacher interaction and the teachers also care a lot about the progress of the students. There are a number of extracurricular activities, seminars, events, and functions all around the campus every day of the week.
Students in the American education system are graded on a continuous assessment scale. This means that a grade for a class is given depending on how well a student has done for that class throughout the entire semester. Unlike in high school, college courses require a lot of commitment and depending on the major selected, the amount of work will also vary. But no matter what, my advice to you is that you go all out from the beginning and do well in every class. Do not wait until you realize that your GPA is dropping, by then it would already be too late. I was a psychology major and I had a lot of reading to do. I made sure to complete any work and reading that I had before I went out and partook in the other events offered on and around campus. By doing things this way, I was sure that I completed what had to be done and never had things piling up.
The campus environment at Saint John's University is very community based. There is a good mix of Americans and international students, and everybody is friendly to each other. Friends are important, and what is better than having friends from all over the world! One important point I would like to mention is that Saint John's University is an all-boys campus while the College of Saint Benedict is an all-girls campus. Everything is co-ed (from classes to activities) apart from the dormitories/residence areas. Students travel between the campuses for classes on a bus called the Link (the name itself is ironic as it links the two campuses together). The bus ride to and from each campus is another part of the campus life.
I also got an internship as a career guidance counselor in a high school located a few minutes away from the campus. During my time in this internship position, I gave a number of presentations, met with individuals from different colleges and companies, received training in the job market, and worked with a number of students all the while helping them to plan a better future for them after graduating high school. In the time I did this internship, I felt that I grew a great deal from a college student into a real man, ready to face the world.
At the time of writing this, I have graduated from Saint John's University with a Bachelor of Arts degree in Psychology in the Spring (May) of 2013. I am now preparing to start a Master of Arts degree in Clinical Psychology for the coming Fall (September) of 2013. After that, I plan on completing my PhD in order to become a licensed psychologist. Each person has their own dreams and goals and they are all driven in different ways to accomplish them. If your goals push you towards an American education, I would say, take it and make the most of it. I would also like to take this opportunity to thank all the people in my life that have helped and supported me to get to this point. I shall also do my best to inspire others.
Orlando De Kretser, alumnus of Lyceum International Nugegoda and American National College (ANC) sought the guidance of Scholarships for USA (Pvt) Ltd (www.scholarshipsforusa.com) to transfer to a top US school for spring '11 with maximum financial aid and generous transfer of ANC credits to major in psychology. Among many offers SUSA was able to attract Orlando who opted for St.John's University's (SJU) in central Minnesota. Among the top three Catholic universities in the nation and among the top 100 private liberal arts schools nationally CSBSJU (www.csbsju.edu) was introduced to Sri Lanka by SUSA in '06 in its quest to make top quality US higher education increasingly accessible and affordable to Lankan youth. Since '06 CSBSJU has embraced Lankan youth from Jaffna, Anuradhapura and many other areas from all ethnic groups and different beliefs. SUSA is proud to see another Lankan benefiting from world's best education.
Follow @timesonlinelk
comments powered by

Disqus