Tharaki heading to Augustana
View(s):

Dhaneesha Tharakie Pahathkumbura has been recently accepted to Augustana College in Rock Island Illinois USA (www.augustana.edu) with its highest international scholarship. She plans to begin her freshman year in the fall '13 (September) majoring in Mathematics. She is an alumna of Bishop's College and Gateway International Rajagiriya.

She became the latest successful placement of Scholarships for USA (Pvt) Ltd (www.scholarshipsforusa.com) who since '01 have helped over 200 Sri Lankans entering US Colleges and Universities with maximum financial aid. She was recently introduced to the island's top management guru Prof. Gunapala Nanayakkara – the architect of Postgraduate Institute of Management (PIM) and the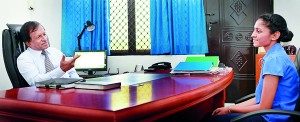 current Director of Graduate School of Management (GSM) to share his views and experiences on western education and how best to leverage it and following were his views;
Firstly, one needs to be mindful of the cultural ways of thinking and behavior we carry overseas where the things are very different. We confront straight ways of thinking which is alien to our circular ways. We need to learn these differences and play the game accordingly.Secondly, one must look at the variety of opportunities available to learn, some of which are outside the classroom. They include companies where life's experience is abundant on the one extreme, and gymnasiums where you shape your mental and physical conditions to expand your capacity. Thirdly, (not finally though), your social success is of utmost importance. How you choose your friends, relate to foreigners, to American citizens, to academics and to communities over there are vital choices that would either make or break your learning processes.
Augustana College is one of the latest additions to Scholarships for USA who are passionately committed to promoting world's best higher education to furthest corners of the island. Each summer directors of SUSA travels extensively in US to team-up with schools offering world class education at the most affordable cost. SUSA's mission is to make US education increasingly affordable and accessible to Lankan youth.
Augustana is a selective, private liberal arts and sciences college founded in 1860. Located in a scenic 115 acre wooded and hilly campus on the Mississippi river (similar in more than one way to Peradeniya) it offers nearly 90 majors covering many areas of study. With its 2,500 students (from across the US and 20 countries) it makes a perfect school to be in close contacts with ones professors and other students. In the words of Madushika Lansakara (class of '05) and a former President of the Student Government Association "there might be hundreds of other schools that open more doors, but once there, Augustana graduates stand up better than anyone else".
Asked about the guidance received from SUSA this is what Tharaki had to say; " I was well aware of Dissanayakes ability to select schools that were perfect matches for Lankan students as I had watched closely how they helped my elder sister who did recently graduate in two degrees with honors. Nowhere else one finds two parents who put their heart and soul together to help each student who seek their assistance with the best of US education at the most affordable cost. They are genuinely caring, trustworthy, open minded, transparent and efficient. Words cannot express how grateful I am for this opportunity they had made possible".
Follow @timesonlinelk
comments powered by

Disqus