SLIM holds open day for CIM students
View(s):

The Sri Lanka Institute of Marketing (SLIM) the national body for marketing in Sri Lanka and the, the country's the longest standing accredited study centre for Chartered Institute of Marketing (CIM, UK), recently conducted (on June 18) an open day for CIM students, with a view to educating them on what prospects this unique qualification offers.

The programme held at SLIM Business School in Colombo was well organized to add value to students, taking them step-by-step through the process of being a CIM student to advancing to various levels in the career path.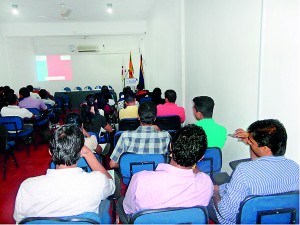 Eminent lecturers in the likes of Dhanesh R Jayathilaka, G S Sylvester, and Saliya Weerakoon touched crucial points that justifies why one should select CIM as a career path and what makes it special studying at SLIM.
Dhanesh R Jayathilaka explained why one should select CIM at SLIM. Importance of being part of SLIM & benefits, and the uniqueness of SLIM. G S Sylvester's lecture gave an insight to CIM. He spoke on why one should follow CIM? What is Marketing? how to start CIM? while Saliya Weerakoon spoke on the Importance of selecting Marketing and its impact to Life. In conclusion, past student Malshan Dissanayake explained how SLIM has encouraged him, how he selected Marketing and the secrets behind clinching a World Prize.
SLIM President Gamika De Silva said he is extremely happy with the progress CIM has made in Sri Lanka. "Today it stands tall as one of the most sought-after Marketing qualifications in the country. A growing number of employers are specifying the CIM qualifications for marketing and sales positions. This also goes very strong into the capabilities of SLIM to market this programme locally."
Sanath Senanayake (CEO/ED SLIM) commenting on SLIM's educational impact said , the institute provides quality coaching, study material and maintains very high standards enabling students to deliver exceptional results. "Lowest course rates, individualised tutoring and multiple support sessions too have given SLIM, a special recognition.""
The Chartered Institute of Marketing (CIM), established in 1911 is the leading international professional marketing body with some 50,000 members worldwide. It's also a founder member of the European Marketing Confederation which networks with over 150,000 marketers.
Sri Lanka Institute of Marketing, the national body of marketers of Sri Lanka founded in 1970, is a member of the Federation of Chamber of Commerce and Industry of Sri Lanka and of ESOMAR, the Federation of Marketing Research Industries. It is also a member of the Asia Marketing Federation, member of the FCCISL, affiliated to the World Marketing Association.
Follow @timesonlinelk
comments powered by

Disqus