Using theatre and laughter to bring communities together
By Smriti Daniel
View(s):
On the best days there are 17 kids from Chiraddikulam and 26 from Kakkaiyankulam but Nushelle de Silva is the one constant. In 2011, the young Princeton graduate convinced a university committee that she deserved a Building Bridges grant to support a year-long project in the north of Sri Lanka where the children from two villages with different ethnic majorities (one predominantly Muslim, the other predominantly Tamil) could discover a shared space. Beginning in May 2012, Nushelle would conduct drama workshops and arts and crafts sessions as well as orchestrate creative writing courses. Now, Nushelle is in the running for an NPeace Emerging Peace Champion Award. She'll only know whether she has won in August, but she has other things to worry about while she waits. Before she leaves for MIT in September to continue her studies, Nushelle has a play (or two) to stag.
The plays are the culmination of the year's work but Nushelle has had to postpone them more than once. "The final performance has thus far been beset with tragedy of the most comical kind, and has been a lesson in persistence," she says, admitting "I'm not patient or persistent by nature." Nushelle has had to learn both in the face of flooding rivers, severe rainstorms and mud clogged roads, all of which combined to ensure their chosen dates in November, then December, then April were a no go. Now Nushelle is aiming for July. Despite all the setbacks and her own not inconsiderable doubt, she has found the process rewarding and believes her little protégés (all children between the ages of 9 and 11) have benefitted at least a little from it.
"I know how excited and gratified I am to see those children waiting for me when I arrive. I really do believe they feel as excited as I do, that this Akka has once again brought a bag full of plastic balls and crayons and glue and paper and scissors all the way from Colombo, for them," says Nushelle. "I like to believe that there's something special about that, and when I'm really doubtful, I go back and read my first few blog posts about the mousy children of Chiraddikulam, and think about Loheswari, (who is from Chiraddikulam) who rarely uttered a word and yet put on an incredibly good performance as a teacher during one of our improvisation sessions. She has one of the main roles in the play!"
As a young girl, Nushelle had something in common with Loheswari. She describes herself then as both introverted and anti-social and says that the theatre helped her become more confident and comfortable about interacting with people. She has since taken on challenging roles like a role in The Skriker, where she played 14 different personas so successfully that she was awarded the Francis LeMoyne Theatre Award for distinctive achievement in theatre. A student of architecture, Nushelle's interests remain diverse.
Since early 2010 she has been a volunteer for the Citizens Initiative Trust, an organisation that assists formerly displaced communities in post-war Sri Lanka. The Trust assists the people of Chiraddikulam and Kakkaiyankulam as well. In 2010 Nushelle was able to use the funds allocated by the Princeton Class of 1978 Foundation Grant for Community Service to help build community centres in these two villages and her work with them has since won her the 2011 Davis Projects for Peace Award.
Nushelle reveals that while Citizens Initiative is unfortunately winding down, Building Bridges is now working with Connect, another Colombo-based youth volunteer group, to expand this initiative to other regions and communities in 2013 and beyond. She feels deeply indebted to the many individuals who have freely given of their time, money, and advice in moving the project forward.
Though Nushelle is leaving soon, she hopes to be back again for a month in December and then again over the summer of 2014. She hopes to assemble a larger team that will carry on the project and that MIT might prove as generous as Princeton with their summer grants. (Connect has already offered to help with some funding.)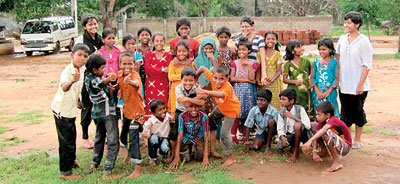 In the meantime, she's looking forward to their final performances where the children will act for an audience made up of their families and adults from both villages. She's adapted two Sybil Wettasinghe stories, choosing the funny pieces Abdul Soyamu and Muththata Pol Kiri because she believes laughter is a great way to bring the communities together. She's averse to preaching and knows there's a better way to make her point: "I felt that seeing their children interacting as friends, and acting in the play as members of the same family, would be enough." Read about the Building Bridges program online at: http://buildingbridgesproject.wordpress.com/
Follow @timesonlinelk
comments powered by

Disqus